10 Highly Successful People on the Times They Got Rejected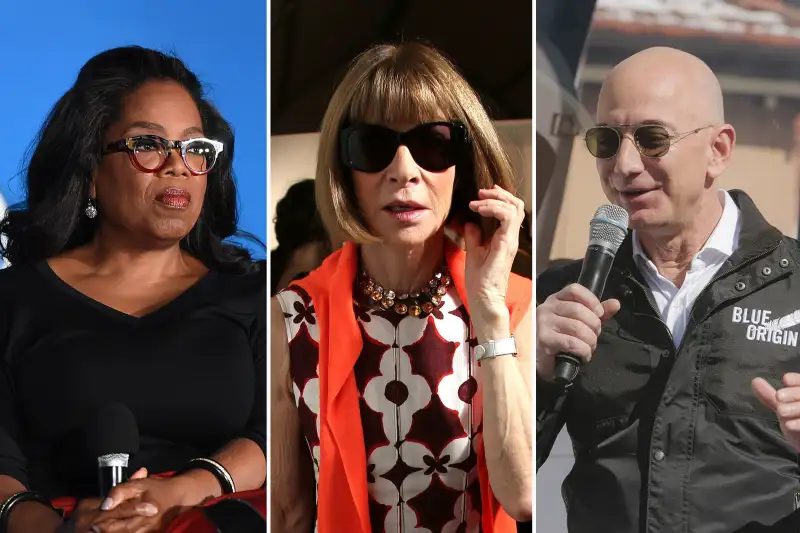 Remember that time you got fired? How about betting big on something only to come up short. Real short.
It happens to everyone, even those at the top of their game, even if it seems like they were always destined for success.
Many of these people's paths included missteps, straight-up stumbles, and rejections. Often these failures were actually the beginning of something great, or a moment to pause and consider a reinvention.
Check out these stories below of failures and setbacks from people who are universally thought of as always winning.
1. Meryl Streep's 'Ugly' King Kong Audition
When Meryl Streep was 26 years old, she auditioned for a role in King Kong. Not only did she not receive a call back — the actor's standard variety of rejection — the famous producer Dino De Laurentiis Sr. said "che brutta" when he saw Streep. That's how ugly in Italian.
"It was sobering," Streep said, describing the early sting on The Graham Norton Show. "I'm sorry I'm not beautiful enough to be in...King Kong," she added.
She's now been nominated for more Academy Awards than any other actor in history.
---
2. Arianna Huffington dropped out of governor's race from lack of support
In 2003, Arianna Huffington ran for governor of California against Arnold Schwarzenegger. "It is not just politically imperative, it is morally imperative that we do not allow this state to be hijacked by the Republicans," Huffington said in a speech to supporters.
But polls showed Huffington capturing just 2% of the vote, and so she stepped out of the race, just a week before the election. "It was a failure," she told Inc. Magazine, "But I learned a tremendous amount about the power of the Internet. I also learned a lot about myself, about communicating, being able to touch people's hearts and minds, and listening."
She made use of those lessons.
A few years later, she founded the Huffington Post. Forbes named her one of the most influential women in media in 2009. Two years later, she sold the company to AOL for $315 million.
---
3. Jay-Z couldn't get anyone to put out his record
Jay-Z has sold more than 36 million records, is the creator of entertainment company Roc Nation, which manages Kanye West and Rihanna (among others), and he's the founder of Roc Nation Sports. But his early days of trying to breakout from the Brooklyn streets to professional rapper were met with false starts.
"I went to every single record label, and they were like, 'This guy is terrible. He's nothing',' Jay-Z told MTV in 2001.
So he took matters into his own hands, launching Roc-a-Fella Records and releasing his debut Reasonable Doubt on his own.
"I could have easily been like 'Maybe what I'm talking about ain't right! Nobody wants to sign me! That would have stopped the suffering," he said. "But I didn't."
---
4. Anna Wintour was fired after 9 months
In 1975, Anna Wintour was fired from her position as fashion editor at Harper's Bazaar, just nine months after she'd been hired. But it turned out to be a blessing, she thinks.
"Everyone should get sacked at least once," she told author Alistair Campbell in the book Winners. "It forces you to look at yourself...It is important to have setbacks, because that is the reality of life. Perfection doesn't exist."
Today of course, she's a fashion icon and the Editor-in-Chief of Vogue.
---
5. Jeff Bezos's prime flop
It was the summer of 2015, and Jeff Bezos was ready to take on the iPhone with Amazon's Fire Phone. Originally priced at $199, lackluster sales made it so the phone was soon going for a buck.
Fortune declared, "Amazon's stumble with the Fire is a major setback for the online retailing giant." A Fast Company story on the product failure began with one question: "What the hell happened?" Wired magazine wasn't even surprised; they published a story headlined: "The Amazon Fire Phone was always going to fail."
Of the moment, Bezos told the Washington Post (which he owns)"If you think that's a big failure, we're working on much bigger failures right now."
He's now one of the richest people on Earth.
---
6. Richard Linklater had to file for unemployment
When Boyhood director Richard Linklater was 27 years old, he worked at the Double Tree Hotel in Austin, Texas, as the night bellman. One night he bragged to a guest about how he spent his shifts mainly reading and writing.
Turns out that guest was an assistant regional manager at the Double Tree Hotel. Linklater was promptly fired 10 days later.
"But there was a silver lining," Linklater told Wealthsimple. "I qualified for unemployment. And having all that time to work on my writing without working a night job made a huge difference for me."
---
7. Oprah Winfrey was pulled off the air
Jordan Strauss—Invision/AP
Oprah Winfrey was a 22-year-old, already smitten with the screen.
She was a co-anchor of the 6 pm newscast on Baltimore's WJZ-TV. One day, the general manager called Winfrey upstairs. He told her that she was being taken off the evening spot and getting a demotion.
"It grew me into a real woman," she told The Baltimore Sun. "I came in naive, unskilled, not really knowing anything about the business — or about life. And Baltimore grew me up."
8. Sallie Krawcheck was fired, twice
Sallie Krawcheck spent almost 30 years as one of the most successful executives on Wall Street. But in 2008 she was fired from her position as CFO of Citigroup.
"I feel like I got a divorce," she reportedly told friends after it happened.
Krawcheck was soon hired to run Bank of America's global wealth management unit. Within two years, there was a restructuring at the bank that led to Krawcheck losing her job, again.
This time she didn't look for another position at a bank. She cofounded – and is now the CEO – of Ellevest, a digital investment platform for women, which has the backing of tennis star Venus Williams.
"If you don't get fired at least once, you're not trying hard enough," Krawcheck wrote on LinkedIn.
9. Stephen King's first book was rejected by 30 publishers
When Stephen King was writing his first novel Carrie in the 1970s, he was living in a trailer, driving a broken-down Buick and putting in hours as a gas-pump attendant. His wife, Tabby, worked at Dunkin' Donuts.
When he finished the novel, he sent it to 30 publishers. They all turned it down.
"There is a time in the lives of most writers when they are vulnerable, when the vivid dreams and ambitions of childhood seem to pale in the harsh sunlight of what we call the real world," King said in 2003 at the National Book Award ceremony. "If my wife had suggested to me even with love and kindness and gentleness ... that the time had come to put my dreams away and support my family, I would have done that with no complaint."
But she didn't, and King has since published more than 50 novels. Oh, and he's the 19th best-selling author of all time.
10. Harrison Ford was told to quit acting
Harrison Ford's first role was as a hotel bellman in Dead Heat on a Merry-Go-Round. Ford had all of two lines. One day the head of new talent, a man who worked on the set, asked Ford to come into his office.
"You're never going to make it in the business, just forget about it," Ford told Conan O'Brien of the moment on Conan in 2013.
Despite that man's projections, Ford would go on to act in more than 50 movies, and of course, become one of the faces of Star Wars. He also got the last laugh.
As he told the story, one night he was out to dinner when a waiter placed a business card in front of him. On the back was a note from that head of talent who said he'd never make it.
"I missed my bet," it read.