After a Luxury Consignment Shop Goes Bust, Sellers Say They Lost Thousands of Dollars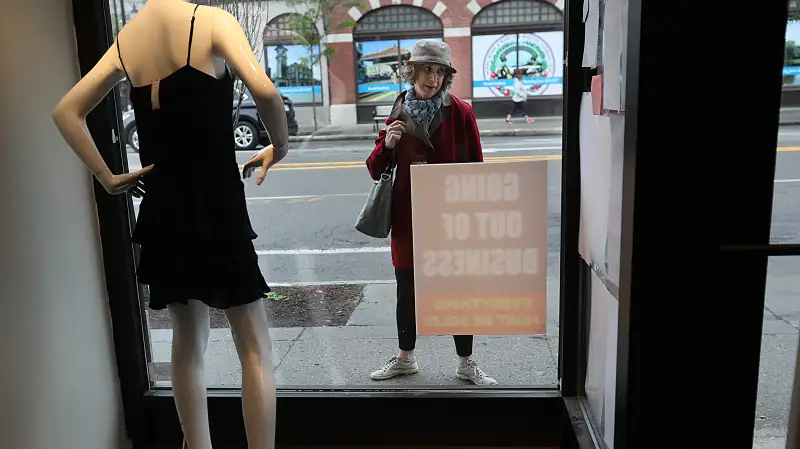 Suzanne Kreiter/The Boston Globe—Getty Images
One day this past spring, Tatiana De Palma says she handed over 14 designer items, including her Chanel pumps and a Hermès purse, to the consignment store 2nd Time Around, in the Chelsea neighborhood of Manhattan.
"They said they'd be happy to take my nice things," De Palma recalls.
DePalma then waited for the store employees to call, she says, to tell her that her items had been sold and that her check was being issued.
She waited. And she waited.
A few months later, De Palma had still not received that call. What she did get, however, was an email telling her that 2nd Time Around's more than 30 consignment stores were shuttering.
A notice that was posted on 2nd Time Around's website blamed the broader retail market. (That page appears to have been taken down, although a cached version is visible here.) "Because of a convergence of market forces hitting all brick and mortar stores — including increased competition from online retailers combined with skyrocketing rents — we have made the difficult decision to close our stores," the notice said.
In the retail arena, that's a common story. But when it's a consignment store that shuts down, it can leave behind a unique set of consumer victims: would-be sellers who still haven't been paid for their items, nor recovered them.
The notice on the store's website said: "All consignors whose items were sold from May 1 onward, including all items sold during the going-out-of-business sale will be paid in full. At this time, the company cannot commit to paying consignors whose items were sold prior to May 1." It is not clear whether the store did indeed pay all sellers whose goods were sold during that later period.
Such consignment store shutdowns have recurred several times across the country, with closings hitting would-be sellers in North Carolina, Virginia, Rhode Island, California, and Florida, among other spots.
As with traditional retail, part of the problem is online competition. "They have massive amounts of merchandise for sale online," says Adele Meyer, executive director of the National Association of Resale Professionals. "If a consignment store's sales slow, or their expenses go up, and they dip into consignor money, then they don't have the money left and they can't pay suppliers."
Often these uncompensated consignors find themselves with no recourse. Some 2nd Time Around sellers say they arrived at stores to try and take back their items, only to find the doors padlocked. New York City's Department of Consumer Affairs tells Money that it stepped in at one of the store's locations, helping sellers retrieve their belongings from the landlord who evicted the shop.
De Palma says she ended up receiving partial payments from the store and was able to pick up some articles, but she says she is still owed around $2,700 for three handbags and Chanel sandals — items that, she adds, a salesperson told her were sold.
Money made multiple attempts to email and call 2nd Time Around for comment, using contact info on the company's website, but was unsuccessful. The consignment chain was owned by venture capital firm General Equity Capital, according to Crain's New York Business; Kristin Kohler Burrows became CEO and president in 2014. But the investment firm's phone number is disconnected, and it couldn't be reached. And when reached on the phone, Burrows was eager to distance herself from the situation.
"I left 2nd Time Around eight months ago," she said. "I tried to separate myself. I have no comment other than that."
New York's Department of Consumer Affairs currently recommends that consignors "who feel they have been deceived by these stores" file a complaint with the state attorney general. One problem with that: A spokeswoman at the attorney general's office says it's referring 2nd Time Around complaints to the Department of Consumer Affairs.
More than 200 people joined the Facebook page 2ndTimeAroundNeedsToPay, in what the page's creator says is an effort to organize and hopefully find legal representation.
One of those people was Anne Wesner Papp, who in May brought in her vintage Louis Vuitton suitcase to the 2nd Time Around in Summit, New Jersey. An employee there told her the store would price her suitcase at $1,200, she says, and that if it sold for that price, she would receive around $900.
But, like De Palma, she says she was left waiting in silence. She wrote emails and left voicemails at the store, she says, until a manager finally called her back and told her that her suitcase had been stolen. (Other consignors say they were told their items had been lost).
Wesner Papp met with a lawyer, although the discussion was discouraging, she says. "He said that if the store is dissolving, it's impossible to hold anyone responsible for anything," she says.
There are still measures an uncompensated consignor can take, says Adam Singer, a consumer protection lawyer in New York. In general, he says, consignors should first contact the store directly and ask for payment — and if it doesn't seem likely that they'll receive money, they should immediately demand whatever items are still unsold.
If these steps lead nowhere — as some 2nd Time Around sellers say has happened so far— consignors should file a lawsuit in small claims court, Singer says. If damages are not enormous, consider representing yourself or simply consulting with a lawyer, to save on legal fees, he adds — but either way, act fast.
"The sooner they go, the higher up in the credit hierarchy they'll be," Singer says. "If the company no longer exists, there will be no company to collect money from."