Mark Bittman: Here's Why Meal Kits Like Blue Apron Are a Waste of Your Money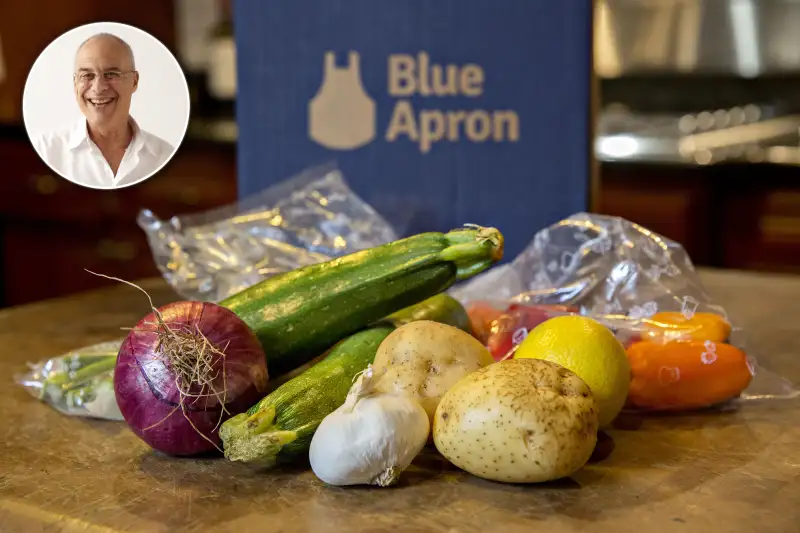 (inset) Romulo Yanes—courtesy of Mark Bittman; Dan Acker—Bloomberg via Getty Images
Are meal-kit services worth it?
Money recently did a deep dive into the budding business, cooking and tasting the big six, figuring out what to do with all the trash, and learning exactly what types of people are jumping on the meal-in-a-box bandwagon.
But what do true foodies think of this fast-growing industry? Money spoke with Mark Bittman, author of the How to Cook Everything Series and former lead food writer for the New York Times. He also worked briefly as the chief innovation officer at Purple Carrot, a vegan meal-kit company.
Should you buy into the hype? Read below for some thoughts from an expert.
What do you think the meal kit trend says about the relationship between consumer and food today?
I don't think meal kits are consumer driven. I think they're venture capitalist driven. There's not a demand for meal kits; meal kits are creating their own demand. And the Whole Foods-Amazon deal is going to shake up this whole industry like nobody's business.
Why would venture capitalists be so hopeful about meal kits if that interest isn't technically there?
The job of venture capitalists is to go where there is risk and possible huge reward. That is what meal kits are, at the moment. Meal kits are the flavor of the month.
Why haven't they completely taken off?
I think the packaging really turns people off. Have you seen a meal kit? It's massive. You get these boxes, you unpack the food, you have a few little bags of food, and now you have this enormous waste problem. And they're not inexpensive. If you know how to cook, you can prepare meals for much less money than what meal kits are costing you.
I question labor practices as well as sourcing practices. Just as in restaurants, what's happening is you're seeing less than ideal ingredients and you're seeing labor treated less than fairly. Blue Apron especially is bragging about all the work they're doing with farmers, and that they're local and sustainable and da, da, dada. I'm extremely skeptical about those claims.
What's causing your doubts?
I've spoken to the farmers who've dealt with them and they're skeptical of those claims as well. And I've heard Blue Apron people talk in public and they don't sound like people who're doing much more than blowing smoke when it comes to procuring sustainable ingredients and supporting farmers who're doing the right thing.
A lot of these companies are selling an experience. They allow consumers to skip their trip to the supermarket and try out fancy recipes. Do you think there's an experience value to meal kits?
I spent a great portion of my career advocating for home cooking. If you go to any normal supermarket and take home ingredients, you're going to have as rich, if not richer of an experience, than if you use meal kits. I'm not saying it's more convenient. But in the long run, it makes more sense.
So meal kits won't be the death of super markets.
In the short-term, supermarkets are going to be fine. In the long-term, supermarkets will act as hubs for companies like Amazon, where people go to pick up ingredients and pre-ordered meals. It's going to be a hybrid of every way you could imagine of getting food into the home.