4 Questions to Ask Before Passing Down the Vacation Home to Your Kids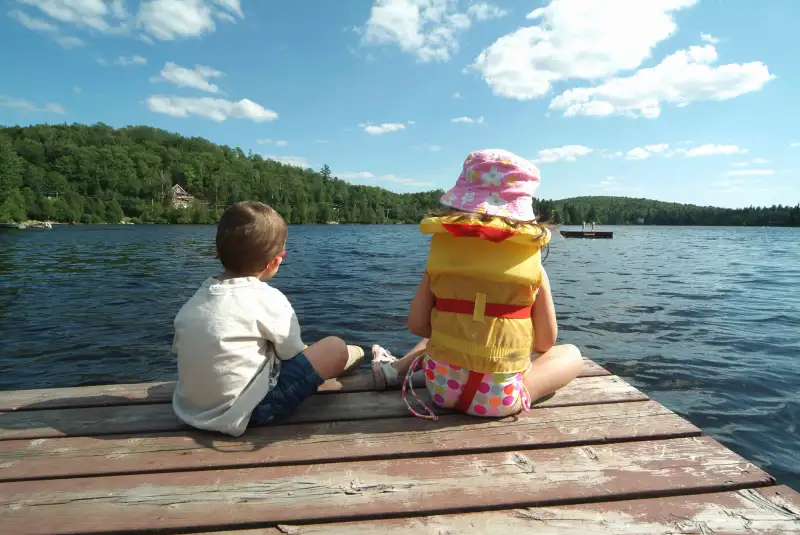 Spyros Bourboulis—Getty Images
As you're basking on the deck at your lake house this summer, or tossing a Frisbee in front of your beach condo with your grandkids, you may start to consider: Will my family continue to enjoy this getaway after I'm gone?
If you want to keep your vacation house in the family for future generations to use, it's time to start planning. Failing to take the right steps to ensure a home's future ownership -- ideally as part of an overall estate plan -- can lead to painful family disagreements.
Ask yourself the following questions to ensure you're making the best decision for your family.
Who Actually Wants It?
A long-held second home can hold strong sentimental value; many couples want to leave vacation homes to their children (or other family members) as a way to preserve the associated memories. Perhaps that's why many overlook one critical step: finding out whether family members actually want to own it.
For heirs, practical issues could include how far they'll have to travel to visit the home and whether their income can support upkeep, taxes, and other costs. Then there's another factor: If that ski condo would make up the bulk of their inheritance, some of your kids might actually prefer, or require, a more liquid asset.
What's the Best Form of Ownership?
There are different ways to leave a vacation home to your children or family members. One of the simplest methods is to leave the vacation home outright in your will to the particular children or family members you wish to inherit it. Your estate would transfer the deed to your children, and each of the people you cite will own an equal portion.
But what's simple for you may bring added complexities for your heirs -- and, in some cases, cause disagreements and resentment. Equal ownership means all owners would have a say in all decisions concerning the home -- when each can use it, whether to rent it out, whether to sell it and for what price, and what projects to invest in to fix it up, for instance. And each owner would bear an equal responsibility to pay for all associated costs.
Another option is to pass down your vacation home through a trust, which can help alleviate some of the tension caused by outright ownership. You'd select a trustee to be in charge of all decisions concerning the home, and your heirs would become the trust's beneficiaries.
What that means, in practice: They'd have the right to receive rents (if the home were rented) and be able to use the home according to the terms you specify. But the trustee would make the ultimate decisions concerning the property, and be empowered to referee any disputes, helping bring them to a civil conclusion.
The cost of setting up such a trust can vary, but budget at least $2,000 to $3,000. The trustee may also be entitled to annual compensation once he or she takes over, although the amount can vary widely, based on experience and state law.
Who'll Pay for Upkeep?
Vacation homes can be costly, and your children or other heirs might not be able -- or willing to cover house expenses with their own money. So one key question to consider is whether to set aside additional money to cover the home's ongoing costs. After all: If your kids will need to rent the house in order to afford it, they probably won't be able to use it during prime vacation times.
That's why many families who set up a trust leave extra money to cover operating costs. If you can manage that, add up how much it will cost to operate the vacation home for a year; include things like real estate taxes, insurance, and utility bills. Multiply that by the number of years you would like the trust to be able to support the home. Most people pay for at least five years' worth of expenses -- enough to pay for the home in the short term, during which time the children can determine if they actually want to keep it, and which really want it.
What's the End Game?
Even if you'd like the vacation home to stay in your family for years, it may not be possible. As time passes, your heirs' families may grow, leaving more people to share the home -- many of will be related to each other only distantly -- and less time per descendant.
If this seems like a problem your family might face, you can draft your trust so that a sale of the house can be "forced" upon the occurrence of a certain event. For example, let's say a majority of the trust beneficiaries want the vacation home to be sold. In that case, the trust could give each beneficiary the right of first refusal to purchase the house for its appraised fair market value. And if no child wishes to purchase the home, the trust can require that the home must be sold to a third party, and the net proceeds divided among your descendants as you wish.
Owning a family vacation home is a great privilege, and planning to pass it on to your family is a great way to ensure that generations to come have the opportunity to enjoy it. However, before you do so, it's important to take steps to assess whether it is in fact the right thing for your family to inherit, and how it would be cared for over the years.