Car Dealers Have Way Too Many EVs (and That's Good for Buyers)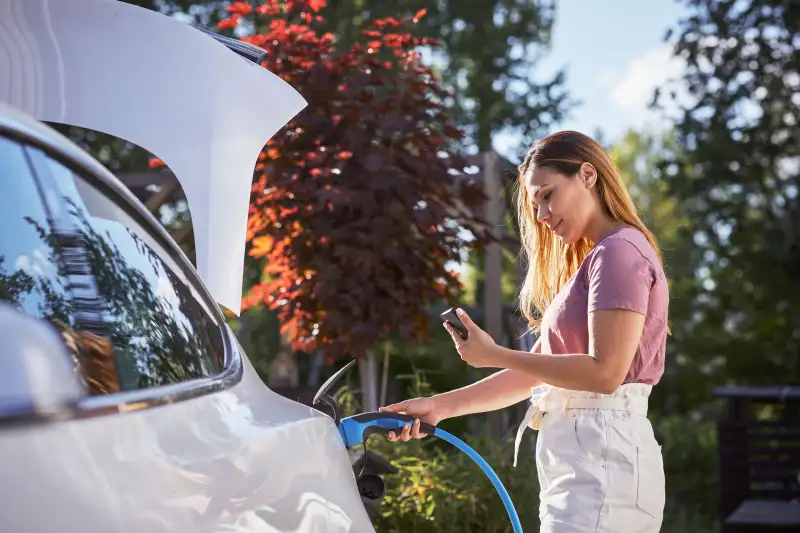 The tide has turned when it comes to the availability of electric vehicles, and that's good news for potential buyers of battery-powered cars and trucks.
After a prolonged period in which EVs quickly disappeared from dealerships, the electric vehicle industry now has the opposite problem: unsold models are piling up. About 92,000 EVs currently sit on dealers' lots; that's a 342% increase from a year ago, when only about 21,000 did so, according to automotive research firm Cox Automotive. (At the current pace of sales, it would take 92 days for dealerships to sell all their electric vehicles. That's 50% more time than the 60 days that's considered normal, and nearly double the 51-day supply of new vehicles overall.)
It's not that Americans are losing interest in buying new electric vehicles; sales continue to boom. But a rise in EV production is outstripping the rise in demand. That means you're more likely to find the EV you want on a dealer's lot, and at a better price.
Indeed, according to Cox, new EV prices are down 15% in the past year as competition has heated up with the introduction of new, often cheaper models and due to price cuts from several automakers, including Tesla and Ford. And industry analysts see more good news ahead for EV buyers.
What experts say
The trends now playing out result from the EV's evolution, according to Cox's Chief Economist Jonathan Smoke. "With the expansion into more traditional brands, many more models, many different form factors, and finally, more price points, we're basically seeing adoption not quite keeping up with the pace of new models becoming available and choices being available in the marketplace," Smoke said on a recent industry call.
Though they're down overall, EV prices have also been volatile in 2023. Automakers are jockeying for market share amid the rollout of new EV tax credits that can total up to $7,500, and experts say fluctuations in lithium prices are also a pricing factor.
Here are more industry insights:
Tesla's steep price cuts earlier this year were unprecedented for the auto industry because automakers don't usually slash sticker prices. Lower prices helped Tesla increase sales in the first half of 2023 by nearly 27% from the same period last year, according to Cox.
The company's strong first-half performance and continued market dominance could be contributing to the increase in dealers' inventories. Unlike most traditional automakers which rely on dealerships, Tesla sells its vehicles directly to consumers.
So if Tesla's new prices are pulling potential customers away from other brands, that could be part of the reason why more EVs are sitting at dealerships.
The EV glut doesn't mean waitlists have vanished entirely. Wait times for Ford's F-150 Lightning electric pickup truck, for example, remain long and some trims are sold out for the year, according to Cars Direct.
The next step
Going forward, the EV price war could continue with automakers lowering MSRPs. Dealerships could also be forced to lower sales prices if demand doesn't pick up relative to supply, experts say.
For consumers, higher EV inventory may be a signal that dealerships won't be able to charge as much for their cars as they continue to ramp up production. "Historically, it has been seen if inventories pile up, dealers have their margin, and they give discounts from their margin," says Debapriya Chakraborty, an EV researcher at UC Davis's Institute of Transportation Studies.
Here's more on what may lie ahead:
Most automakers (aside from Tesla) aren't making a profit on their EVs yet, which means they'll be reluctant to lower their prices unless they really must, says Stephanie Brinley, a principal automotive analyst at S&P Global Mobility.
Price cuts could be more likely when or if automakers' margins get higher. Brinley notes that some of the EV price cuts this year, including those on Tesla's Model 3 and Ford's Mustang Mach-E, came when those automakers got access to newer, cheaper batteries that they swapped in to cars. So yes, you can now get those cars at a lower price point, but it's also a different car, she says.
Do automakers overestimate EVs' appeal?
Even as EV sales are robust, rising inventory may indicate the industry has more work to do to convince Americans to make the switch from gas to electric. Here's why:
Access to home chargers could dampen further sales. Up to now, EV buyers have often been affluent homeowners who can install chargers at their residences, says AutoPacific President and Chief Analyst Ed Kim. They're also more likely to own multiple vehicles, including non-EVs. That, Kim says, means they may have a backup option with longer driving range than an EV for a longer trip.
With EV production rapidly increasing and major automakers like Hyundai, Kia, Ford and General Motors producing more EVs, automakers need to cater to a broader swath of buyers. "These are the vehicles that are intended to really start the mainstream consumer on the path to full electrification," says Kim.
EV makers now have to convince shoppers that their cars' ranges and the country's charging infrastructure are good enough, even for customers who can't charge at home and for whom an EV would be their only vehicle.
The bottom line
Potential EV buyers aren't necessarily enthusiasts who are willing to pay a huge premium over a similar gas-powered alternative. Kim thinks downward pressure on prices is still mounting, even six months after Tesla sparked the EV price war. Lower prices may be the only way to convince mainstream consumers to try something "drastically new" and buy up the growing stock of EVs at dealerships.
"Going to an EV requires a lot of change of personal daily habits compared to driving a gas car," Kim says. "There's a lot of people who just don't want to deal with change — who don't want to do things differently than they've been doing it all their lives."
More from Money:
EV or Hybrid? Car Buyers Have a Clear Favorite
The Best Electric Cars of 2023
Rates are subject to change. All information provided here is accurate as of the publish date.