Everything You Need to Know to Give Stocks for Christmas
Money is not a client of any investment adviser featured on this page. The information provided on this page is for educational purposes only and is not intended as investment advice. Money does not offer advisory services.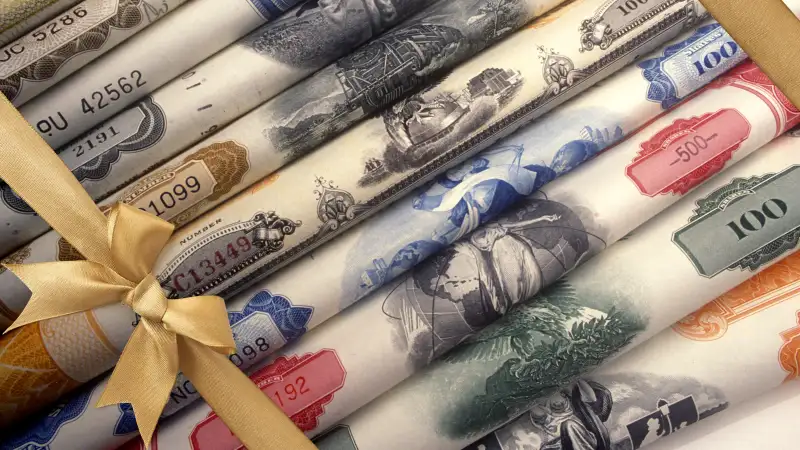 Money (photo illustration)—Li Jingwang (bow); Kord.com/Getty Images (stocks)
Before you resort to the Starbucks gift card for the collegian in your life—again—or an Apple gift card for the hip techster in the family, why not consider giving a share of Starbucks or Apple stock? Looking for that je ne sais quoi for a Frozen fanatic/sports geek/theme park devotee? A share or more of Disney , parent of the ESPN Network, plays to those passions.
Anyone who had received shares of those stocks five years ago has more than tripled her money, making stocks one Christmas or Chanukah gift that can keep giving well after the holiday season is past.
It's true that giving shares of a single stock violates all principles of diversification. But c'mon, it's a heck of a lot more engaging for a child or young adult than some shares of, say, the Vanguard Target Retirement 2060 mutual fund .
And maybe, just maybe, introducing a youngster or young millennial to the world of investing via some shares in a company they know—and like—tip the scale toward stocks when they eventually start investing in a 401(k) or Roth IRA. Millennials have been slow to embrace stocks. That's understand given the fact they and their portfolios had to live through the financial crisis. But it also will make it harder for them to reach their long-term savings goals.
Your first gift-giving task is to choose one of these three ways to gift the stock:
1) Make A One-Time Gift, Stock Certificate Included. Sites such as giveashare.com and uniquestockgift.com allow you to purchase a share that comes with a framed stock certificate, which gives the recipient something more tangible than a brokerage statement to hang on to, and hang up. The certificate may be a real-deal stock certificate or a replica. For example, in 2013 Disney, with its fab animated stock certificate featuring Walt, Mickey Mouse, and Donald, stopped issuing the real deal, choosing instead to register owners only electronically. But you can still get a collectible version of the stock certificate:
There's a steep price to pay for being able to hand over a physical gift. At giveashare.com a framed copy of one share of Apple was recently $214, a staggering $100 more than the share price of Apple. At uniquestockgift.com the pricing is more a la carte. On top of the share price, you will pay a $69 transfer fee, and anywhere from $2.95 to $48.95 for a frame. A customized engraved plaque will run another $6.
2) Transfer Stock You Own. You can have stock you own transferred to another account. Contact your brokerage and ask for a stock transfer form. For recipients under the age of 18 the transfer must be made into a custodial account with an adult (usually a parent) listed as the custodian.
3) Deal Directly with the Company Whose Stock You Want to Gift. Some companies, including Harley-Davidson, Mattel, and Nike, offer direct stock purchase plans, and you can have dividends automatically reinvested in more shares. FirstShare, an online site that offers dividend reinvestment programs (DRIPs) has a list of companies offering direct investment. Fees vary at each company. For example, Harley-Davidson will let you get started with just a one-share purchase. In addition to the share price itself, there's a $5 purchase fee plus another 10 cents for each share.
Once you've decided how to give the shares, you'll want to pick a company that both taps into the recipient's interests and has at least some potential to grow over time. Because the major indexes are at or near all-time highs right now, screaming deep-discount values are hard to come by these days. But the following gift-friendly stocks all offer value compared to the 1,500 stocks that Morningstar closely analyzes, which on average currently sell for 4% more than the estimated "fair value."
Kids' Play
Both Disney and Mattel currently trade at small discounts to Morningstar's fair value estimates.
Movie Buffs and Binge Watchers
Having shed about $100 in its share price since this past summer, Netflix is currently priced at an 11% discount to Morningstar's fair value price of $386.
Coffee Lovers
Starbucks recently traded at about an 8% discount to fair value.
Budding Buffetts
If there's someone on your gift list who has shown more than a passing interest in how stocks/markets/investing works, a share of Berkshire Hathaway is one of the best ways to learn through ownership. Anyone can read Warren Buffett's annual shareholder's letter, but reading it as a fellow shareholder will likely resonate more. Berkshire Hathaway B shares recently traded around $150 a share, a slight discount to Morningstar's $157 fair value estimate. (And if your gift goes to someone with a car, Berkshire Hathaway shareholders are also eligible for an 8% discount on GEICO insurance. GEICO is a wholly owned subsidiary of Berkshire Hathaway.)
Tech Enthusiasts
You know Microsoft for its Windows and Office software. If you've got a gaming fan in the family they know Microsoft for its wildly popular Xbox console. In the most recent quarter, Microsoft sold 2.4 million more Xbox units. The stock recently traded right around fair value. Apple requires a little bit more faith, as the current stock price is at a 14% premium to Morningstar's fair value estimate. That's not nose bleed territory, but whoo-boy, the time to buy Apple was last Christmas or Chanukah, when the stock price was nearly 40% lower and the price/earnings ratio was below 14. Today it's a more expensive 17.4. Unless you have a crazed Android devotee, Google doesn't have the tactile product-connection you get from Apple and Microsoft. But it's actually the best value of the bunch right now, trading at nearly a 4% discount to its estimated fair value. (That said, a single share is north of $500.)
Social Media Mavens
Twitter trades a slight discount to fair value. Facebook , by contrast, is near a 30% premium -- not an easy price to "Like."