5 Insanely Decadent Easter Brunches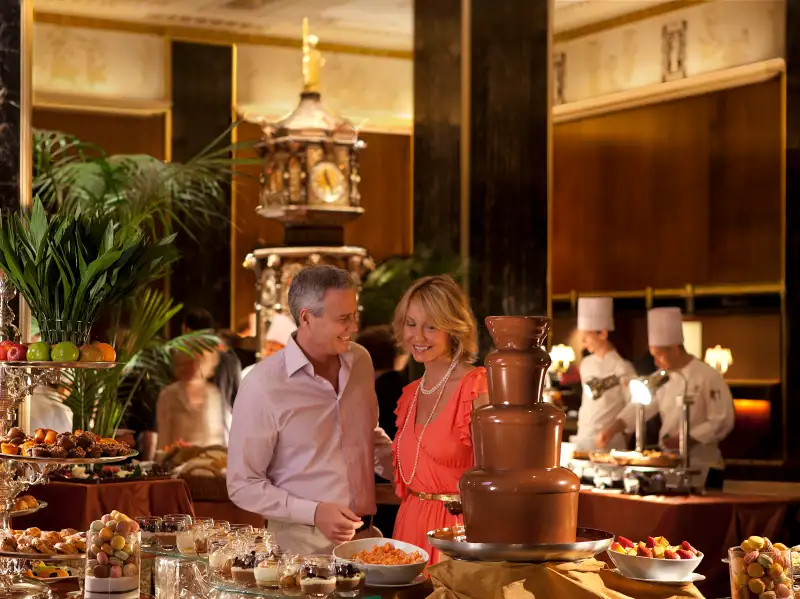 Sammy Todd Dyess / Courtesy Waldorf Astoria
Easter is a time for Christians to gather with their families to celebrate the resurrection of Jesus, go on an egg hunt, eat entirely too many Peeps, and, of course, indulge in a decadent brunch, filled with smoked salmon, eggs Benedict, and mimosas. And if you can afford to spend a few hundred dollars on pancakes and oysters, well, there are some pretty impressive dining options out there this year.
Scarpetta, in Los Angeles, is offering a $110 Easter brunch complete with oysters, snow crab legs, ribeye, eggs Benedict, and pancakes. You can also imbibe bottomless mimosas, bellinis, and Bloody Marys for a reasonable (by standard L.A. brunch standards) $22.
Diners at The Greenhouse, a restaurant in The Jefferson, a boutique hotel in Washington D.C., will enjoy a three course meal with options including "roasted organic barbecue spiced half chicken," crab cakes, smoked salmon, pancakes, lamb, and more, for $105 per person.
Burlock Coast Seafood & Spirits, located in the Fort Lauderdale's Ritz-Carlton, is offering an unlimited brunch that includes a raw bar, sushi and dim sum, a crepe station, made-to-order breakfasts, and much more, all for a mere $135 per person. According to its Facebook event, valet parking is also included.
Peacock Alley, nestled in the Waldorf Astoria in New York City, offers a weekly Sunday brunch over $100; for Easter, Fox News reports the price for the buffet has increased to $175 per person. That includes smoked fish and meat carving stations, a raw bar, over 100 desserts, caviar, lobster, and more (notably, not drinks). But you'll have to wait until next year to book your holiday meal there—according to the restaurant's Facebook page, this year's is all booked up.
Just a few blocks away, the Rainbow Room in Rockefeller Center is serving an extravagant Easter brunch, costing $125 per person. Patrons there will enjoy smoked salmon and caviar deviled eggs, carrot cake pancakes, and a live jazz singer, according to Eater.
Of course, you could also just make your own Easter brunch for significantly less money—even the Easter ham will cost less this year.