Fairway Independent Mortgage VA Loans Review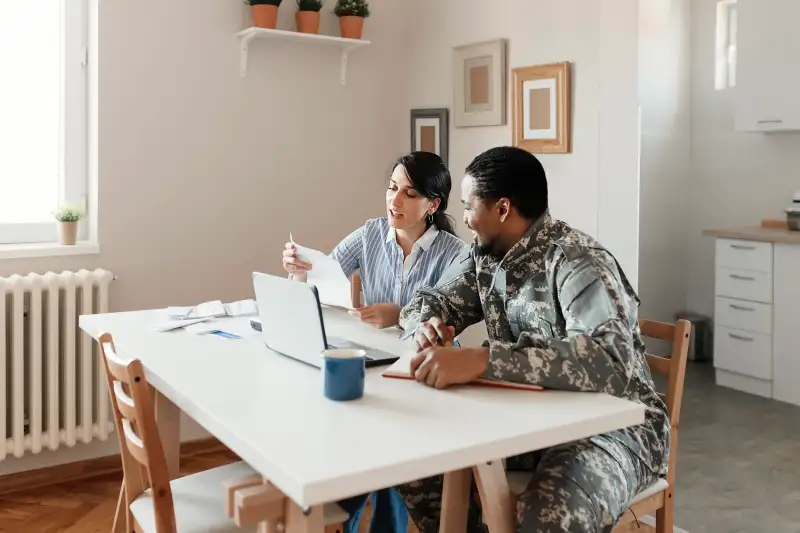 Fairway Independent Mortgage Corporation is a mortgage lender headquartered in Madison, Wisconsin. The company operates 700 offices across the U.S. and is licensed to do business in all 50 states and the District of Columbia. Its range of products includes options for first-time and experienced homebuyers as well as programs tailored for veterans, rural borrowers and those with low incomes.
If you're looking for the best VA loans, you may want to consider Fairway, which provides specialized services for those who require extra assistance in obtaining a home loan. Read on for our review of Fairway Independent Mortgage's VA loan offerings to see if they may be right for you.
Best for alternative loan options
Fairway Independent Mortgage is a full-service mortgage lender that offers borrowers access to a range of mortgage options in addition to fixed-rate conventional loans and adjustable-rate mortgages (ARMs). From conforming and jumbo mortgages to reverse mortgage and Veterans Affairs (VA) loans, the lender has a range of alternative loan options. It also offers renovation loans such as Choice Renovation, HomeStyle and VA renovation mortgages.
For those who need extra financial assistance, Fairway provides government-backed Federal Housing Administration (FHA) loans and down payment assistance programs. The company also offers loans for self-employed borrowers and those without Social Security numbers.
Fairway Independent Mortgage VA Loans pros and cons
Pros
Widely accessible
Wide range of loan types
Offers use of helpful loan tools
Cons
Non-transparent mortgage rates
High origination fees
Loans are transferred to another loan servicer after closing
Pros explained
Widely accessible
The Fairway Independent Mortgage Corporation is licensed to operate in all 50 U.S. states. The company has more than 700 branches throughout the nation and employs 10,000 people and 4,000 licensed employees nationwide.
Wide range of loan types
Fairway features a wide selection of mortgage products and special programs. The company offers both VA and non-VA conventional loans, including:
Loan options with down payments as low as 3%,
Loans with no private mortgage insurance (PMI) requirement
Low adjustable-rate mortgages for five to 10 years
Fixed-rate options that range from 10 to 30 years
Fairway's VA home loans for active-duty service members, veterans and eligible surviving spouses may help you avoid a down payment, prepayment penalties and private mortgage insurance (PMI).
The company's special programs and other loan offerings include jumbo mortgages and government loan programs such as USDA and FHA mortgages for qualified borrowers. Fairway also offers rate reduction refinance options to help you lower your monthly payments.
Offers use of helpful loan tools
If you're shopping for loans from the best mortgage lenders, Fairway provides free loan tools, resources and programs to help you during the application process. These include:
CrediTools: Fairway's CrediTools allow users to track their credit score progress in real-time and provide free access to personalized credit improvement plans tailored to clients' individual circumstances. These credit plans are designed and implemented by experienced loan officers who have specialized knowledge in the areas of credit repair, debt resolution and financial literacy.
Educational tools: Fairway's website offers a variety of educational resources to assist potential home buyers through the mortgage process. One example is the Fairway mortgage calculator, which gives you an estimate of your monthly mortgage payment. The website also features helpful guides on topics like raising credit scores and how to apply for loans. Plus, its locator tool can help you find experienced loan officers in your area who can accommodate your questions.
Cons explained
Non-transparent mortgage rates
Fairway's website provides little to no information about rates, fees and terms for a mortgage loan. Potential borrowers must speak to one of their loan advisors to obtain a personalized quote and apply for a mortgage.
High origination fees
Lenders charge origination fees as part of the closing cost. Fairway charges around 1.25% more in origination fees compared to other mortgage lenders.
An origination fee is a cost associated with obtaining a loan. It is usually a percentage of the loan amount, typically ranging from 0.5% to 1%. This fee is charged by lenders as compensation for the loan application service.
Loans are transferred to another loan servicer after closing
When you take out a mortgage with Fairway, the company will not be your loan servicer. Fairway will transfer your loan to a new mortgage service provider once your loan closes and inform you when you should make the first payment.
You will receive a notification from Fairway informing you that your loan was transferred to another company. This other company then becomes your loan servicer, and it will be your new point of contact if you have any issues or questions about your account.
Fairway Independent Mortgage VA loans plans and offerings
Fixed-rate mortgage
Fairway's fixed-rate mortgage terms offer homeowners flexibility and control over repayment options. For VA loans specifically, customers can select a 30- or 15-year loan term.
The 15-year loan term will require higher monthly payments. However, it offers advantages such as faster equity build-up in your home and a lower overall interest rate due to fewer years of interest accumulation.
Jumbo
Fairway's jumbo loan products are designed to help buyers finance larger loans than may be available with a standard conforming loan. They're available as VA, conventional and renovation loans and may allow you to lower your down payment to 10%.
The company also offers borrowers specialized jumbo loan programs, such as:
Jumbo reverse mortgage: If you're aged 62 or older, this type of loan can allow you to access funds from your home's equity without making monthly payments. The amount available depends on the value and age of your property, as well as your age and current interest rates. To qualify for the best reverse mortgage, you must have substantial equity in your property. This will determine how much you can borrow.
Super-jumbo loans: Super-jumbo loans are much larger than both conforming and standard jumbo loan limits, typically starting from $1 million or more. In addition to having much higher loan values, super-jumbo loans come with higher interest rates and require stricter qualifications. You must demonstrate that you have significant wealth, often through investments or other assets, as well as a strong debt-to-income ratio to qualify for one of these mortgages.
U.S. Department of Agriculture mortgage
The U.S. Department of Agriculture or USDA mortgage provided by Fairway is an excellent and affordable option for rural homebuyers. It offers a variety of features to make homeownership more accessible, such as lower credit score requirements, eligibility for gift funds to cover closing costs and 100% financing with a required guarantee fee.
The company's USDA loan comes with a fixed rate of 30 years and has notably low-interest rates and closing costs. Fairway also offers a streamlined USDA refinancing option. This program allows existing USDA loan holders to refinance without undergoing a lengthy appraisal process or submitting income documents.
FHA mortgage
FHA mortgage loans are insured by the U.S. Government's Federal Housing Administration. This type of mortgage is a great choice for first-time homebuyers or buyers with low to moderate incomes.
With an FHA mortgage loan, you can finance up to 96.5% of the purchase price of your new home, making it easier to come up with the down payment and closing costs. Unlike conventional loans, which call for PMI if providing a down payment of less than 20%, FHA mortgages don't require PMI at all. However, they require an Up Front Mortgage Insurance Premium (UPMIP) and a mortgage insurance premium (MIP) to be paid instead.
Renovation mortgage
Fairway's renovation mortgage loans allow you to buy a new home with all renovation and repair expenses covered. You can also use this renovation loan to refinance your existing mortgage and upgrade or make changes to a home you already own.
Your loan program may be eligible for specific home repairs or upgrades that could help you improve your property and add value over time. Talk with your Fairway mortgage lender about all the available options for repairs and upgrades when you're creating the plan for your project.
Fairway Independent Mortgage VA loans pricing
Fairway Independent Mortgage doesn't publish its most up-to-date rates for refinancing or home purchases. The company also doesn't provide detailed information regarding loan fees. To get an idea of loan rates, we used the Fairway Mortgage Calculator and generated a basic quote based on the following information:
Home price: $300,000
Down payment: $60,000 (20%)
Loan term: 30 years
Interest rate: 5%
PMI: Included
Tax and insurance: Included
Property tax: $5,550 (1.8%)
Annual hazard insurance: 1,260
Homeowners association dues: $0
After providing the loan information above, we obtained the expected monthly mortgage payment of $1,856. To get an accurate and comprehensive estimate of your loan and the best Fairway mortgage refinance rates, contact a loan officer.
Fairway Independent Mortgage financial stability
In 2021 and 2022, the Fairway Independent Mortgage Corporation reached a total loan volume of $72.5 billion and $42.02 billion, respectively. Having been around for over 26 years, it is a financially stable lender with high levels of trustworthiness.
Fairway Independent Mortgage has also earned an A+ rating from the Better Business Bureau (BBB). These accolades indicate a high standard of business operations and customer service.
Fairway Independent Mortgage accessibility
Availability
Fairway Independent Mortgage is a national mortgage lender that operates in all 50 states and Washington, D.C. However, Fairway doesn't have a physical branch in West Virginia.
Contact information
For complaints and customer service help, you can speak with a Fairway representative using the toll-free number at 1-877-699-0353 or by sending an email by clicking the "Contact Customer Service" link on the Fairway website.
For servicing and loan information, consumers may contact the Fairway Independent Mortgage customer service toll-free at 1-800-201-7544 or by clicking the "Contact Servicing" link on the website.
You can contact the Fairway headquarters through the company's toll-free number at 1-866-912-4800 from Monday through Friday, 8:30 a.m. to 5:00 p.m. CT.
User experience
After clicking on the "Get Started" and "Get Pre-Approved Now" buttons on Fairway's website, you can provide some basic information and your phone number for a callback. There isn't an online mortgage application option, but there is an app called FairwayNow that helps connect you with a loan officer to learn more about your mortgage options.
The FairwayNow app is designed for loan officers to provide real-time communications regarding loan applications. It comes with a secure portal to upload documents, with status tracking and messaging options that you can use to stay up to date on the progress of your application.
Fairway Independent Mortgage customer satisfaction
Fairway received a score of 733 out of 1,000 in J.D. Power's 2022 U.S. Mortgage Origination Satisfaction Study. The industry average is 716, meaning that Fairway does better than most other companies in the industry regarding customer satisfaction with their mortgage origination services.
Fairway Independent Mortgage VA loans FAQ
How long has Fairway Independent Mortgage been in business?
Fairway Independent Mortgage Corporation was founded by Steve Jacobson in 1996, which means it has been in business for over 26 years as of 2023.
Is Fairway Mortgage legit?
Fairway Independent Mortgage Corp. is a legitimate mortgage lender that has provided mortgage solutions for over 25 years. Fairway operates in all 50 U.S. states and in the District of Columbia.
What credit score do you need for Fairway Mortgage?
You need a credit score of at least 580 to qualify for a VA mortgage loan with Fairway.
How we evaluated Fairway Independent Mortgage VA loans
Our team researched VA loans from over 30 leading mortgage lenders to identify the best jumbo mortgage lenders and best home equity loans for veterans and their families. We compared Fairway Independent Mortgage VA loans to other lenders offering VA loans and evaluated the company based on its fees, rates, customer service, closing fees, repayment options and added benefits. In our analysis, we particularly focused on specialized programs, origination fees, APRs and funding fees.
Summary of Money's Fairway Independent Mortgage VA loans review
Fairway Independent Mortgage Corporation is an excellent option for borrowers searching for government loan programs, such as VA and FHA loans, reverse mortgage loans, special physician mortgages and much more. In addition to its wide range of loan options, the lender provides helpful tools for personalized credit improvement plans and access to knowledgeable experts throughout the duration of your financial improvement journey. Fairway's website is quite helpful, as well, thanks to a number of educational resources on credit scores, loan application guides and more.