How to Spot Fake Online Reviews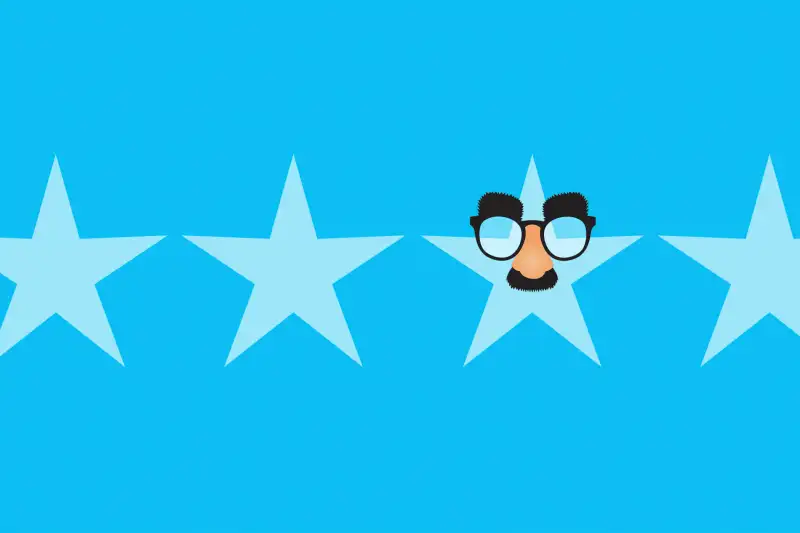 Photo illustration by Sarina Fin
Bad news for shoppers who rely on web reviews: New research has demolished the illusion that star ratings realistically reflect product quality. "Average user ratings are only slightly better than a coin toss" in helping you make a decision, says Bart de Langhe, who teaches marketing at the University of Colorado at Boulder. His analysis of 1,272 products on Amazon found a "very low correlation" between ratings and quality.
One reason for the disconnect: Fake user reviews. To crack down, Amazon has initiated three lawsuits over the past 15 months, most recently targeting companies that sell positive reviews to vendors. Both Amazon and Yelp also say they use algorithms to filter out suspicious posts—although some still slip through, says Boston University's Georgios Zervas, who has studied Yelp user reviews. He estimates that about one in four submitted reviews are fakes.
To avoid getting duped, experts suggest a skeptical approach.
Look past the stars
Don't focus on overall ratings or generic statements ("makes great coffee"), particularly for products without many reviews. "If it's a small sample, don't even look at the average rating," says de Langhe; he suggests a threshold of 100 if comparing two similarly rated products. It's better to focus on specific remarks—say, how easy the coffeemaker is to clean. And watch the wording: People paid to write bogus reviews are often given language to use, so be skeptical of ultra-positive or negative reviews with similar phrasing.
Be elitist
Don't take just anyone's word. On Amazon, use the "filter by" menu to show reviews labeled "verified purchase only." (It won't guarantee the reviewer didn't get a payoff, but at least it shows that a purchase was made.) Other sites also let you filter feedback—at Sears and Kmart, for instance, you can sort by "verified purchase," while Yelp lets you select only the regular reviewers it designates as "elite." Another suggestion: Check out a rater's other assessments. Lots of five-star reviews with short, generic comments? That's a red flag, says Zervas.
Plug it in
A new website, Fakespot, grades the reliability of Amazon reviews. Wondering if a toaster really deserves five stars? Copy the Amazon product page URL, paste it in at Fakespot, and click "analyze." The site replies with a letter grade that rates how much you should trust the review.
Get a second opinion
Even if you see plenty of reviews, check other sites. "There may be fakes on any platform," says Dina Mayzlin, associate professor of marketing at the USC Marshall School of Business. Mayzlin's 2013 study of hotel user reviews found discrepancies between Expedia, which restricts its reviewers to customers who "paid and stayed," and similar site TripAdvisor, which doesn't. "If you notice huge differences between platforms," she adds, "you need to be skeptical."