How to Get Fast, Free Last-Minute Shipping on Holiday Purchases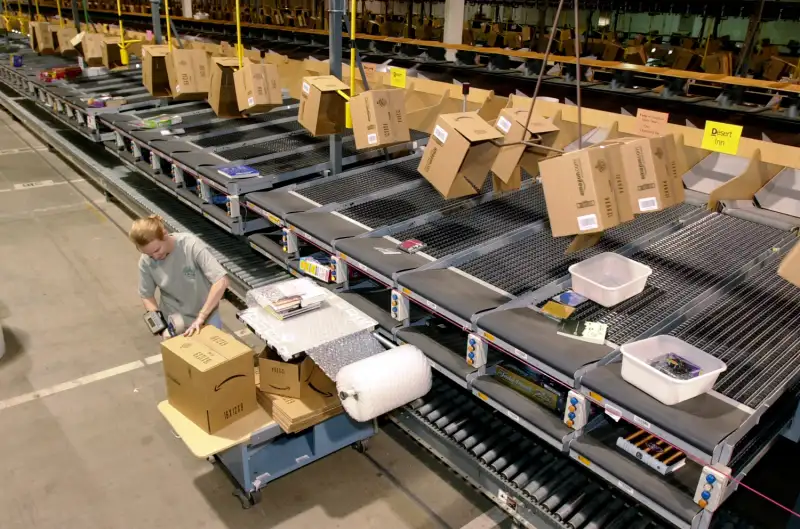 Brian Corn—The Wichita Eagle/AP
Here's everything you need to know about last-minute online holiday shopping, including how to ensure your orders will arrive in time to tuck under the Christmas tree—and how to not pay top dollar (or any money whatsoever!) for it.
The sooner you order, the better. While many retailers are guaranteeing that orders placed very late in the game—perhaps even by December 23—will arrive by Christmas Eve, it's unwise to bank on these guarantees holding up. After last year's debacle, in which orders from Kohl's, Amazon, and others failed to arrive in time for Christmas, retailers have tried to push shoppers to place orders earlier to help avoid the mad rush in the few days before December 25. It shouldn't surprise anyone, however, that many consumers are procrastinating, and that retailers are yet again guaranteeing last-minute delivery to entice desperate shoppers into placing late orders.
But there are two simple reasons why you should make online holiday purchases asap: 1) Doing so will save money, because (with the exception of Free Shipping Day—see below) the likelihood of free shipping disappears the longer you wait, and you'll pay through the nose for expedited delivery at the very last minute; and 2) even though retailers and shipping services have taken steps to avoid a repeat of last year's troubles, Mother Nature or sales overload could still cause shipping delays. After shoppers were burned last year, why take the risk?
More retailers are offering delivery guarantees. Heading into the 2014 holiday season, retailers seemed a little hesitant to make the sort of last-minute shipping guarantees that were commonplace in 2013. According to a survey conducted in the fall, 21% of retailers said they would set their deadlines for guaranteed December 24 delivery at December 19 or later, compared with 26% a year ago. Yet more recently, there's been an increase in such guarantees. The consulting firm Kurt Salmon told USA Today that 25% of retailers are guaranteeing free delivery by Christmas on orders placed one to three days beforehand.
Retailers typically have a series of deadlines and varying costs for shoppers who want delivery by December 24. Target says that customers who order by December 20 are guaranteed delivery by Christmas, but only "on select items." Target is also offering free standard shipping on all orders placed by December 20, but the policy stipulates that standard shipping is "3-5 business days." There are only four business days between December 20 and December 24 (including both of those days), so it wouldn't be surprising if some December 20 orders aren't delivered by December 24.
Many news outlets have reported Amazon's first deadline as Tuesday, December 16—that's the last day shoppers can get free delivery via Super Saver Shipping for non-Prime members who meet the minimum purchase threshold ($35). Yet Amazon itself is now listing Friday, December 19, as the final day for free (non-Prime) shipping. Prime members, meanwhile, get two-day shipping on all orders fulfilled by Amazon, so they can order as late as December 22 for delivery by Christmas Eve.
Free Shipping Day is Thursday, December 18. As of Monday, roughly 1,000 retailers said they'd be participating in Free Shipping Day, an annual event held about a week before Christmas, in which stores offer free shipping on all orders, with no minimum purchase. While that sounds terrific, it must be noted that the many retailers offer essentially this same exact deal before and sometimes after Free Shipping Day. Target has given customers free shipping on all orders for weeks, while retailers like REI are offering free shipping guaranteed to arrive by December 24, with no minimum purchase, for orders placed as late as 10 a.m. on December 23. In select areas, Banana Republic is even offering free same-day shipping thanks to a partnership with a speedy delivery specialist, Deliv.
There are other ways to get fast—and free!—shipping. As mentioned above, Amazon Prime members get free two-day shipping on their Amazon purchases, and if you've never had a subscription before ($99 annually), it especially makes sense to get a free trial membership during the holiday period. Students get six months free, while everyone else can enjoy Prime benefits for 30 days. Also, the December 2014 issue of Money offers all sorts of tricks for saving money on online purchases, including the tip that ShopRunner, another two-day shipping service, is free for American Express customers who register a card with the site. By subscribing to either of these services, every day is Free Shipping Day.