Meet the Woman Who Invented Fidget Spinners, the Newest Toy Craze Sweeping America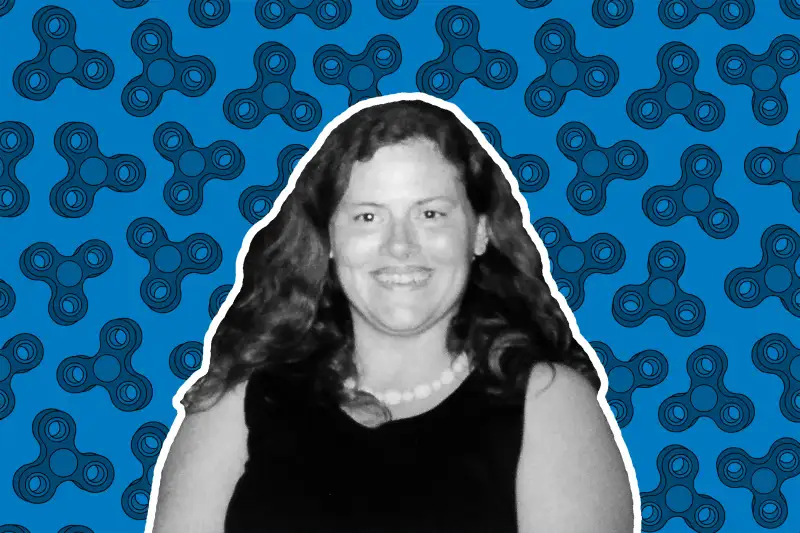 courtesy of Sara Hettinger; (background) Getty Images
Catherine Hettinger has an inventor's mind: When she notices a problem, she tries to imagine a toy or device that can remedy it.
So when she heard about young boys throwing rocks at police officers and people walking past them while visiting her sister in Israel, her wheels started turning. She started brainstorming devices that could distract young children and provide them with a soothing toy to play with.
First, she thought of a soft rock that kids could throw. But then she tossed that idea aside, still thinking about other options when she returned to her home in Orlando, Fla. It was there that she eventually developed the idea that would become the original fidget spinner — more than two decades before the wildly popular device became the must-have toy for both kids and adults this year.
Buy now: Fidget Spinner, $26, Amazon
"It started as a way of promoting peace, and then I went on to find something that was very calming," Hettinger, now in her 60s, told Money of the fidget spinners, which she first began imagining back in the 1980s.
The toys now come in different designs and have hit the mass market after the patent expired on Hettinger's original product in 2005, meaning companies can sell the product independently from her. But Hettinger isn't upset about the sudden popularity and capitalization of her invention. In fact, she's excited about it.
"Maybe if it was some kind of exploitative product — like a new style of cigarettes — and my only motivation was to make money, I'd have a different attitude," Hettinger said. "But I am just thrilled."
courtesy of Sara Hettinger
READ MORE: Meet the Fidget Spinner, a New Toy Craze Entrancing Kids and Grownups Alike
The modern iterations of the devices made out of metal or plastic and have a bearing in the middle that allows it to be spun. Some of the products have prongs on them, while others are circular. The spinners, which range in price from just a few dollars to hundreds, are intended to calm nerves and help with stress and anxiety. The handheld gadgets are now so popular that different versions of fidget spinners make up all of Amazon's top 20 best sellers for toys and games as of May 2.
"When you start seeing these things flying off the shelf at your local 7-11, you know things are heating up," Hettinger joked.
Hettinger grew up in Oklahoma and attended Rensselaer Polytechnic Institute in Troy, New York — a college known for its engineering and technology programs — before moving to Florida. The first fidget spinner debuted in 1993, and her patent approved four years later. But they didn't take off — instead, she made rounds at fairs selling a couple thousand devices and frequently tried selling them to toy companies.
Once she had her patent, she booked a meeting with Hasbro, the third-largest toy maker in the world, and even found herself using the fidget spinner to ease her nerves before the meeting with the company's vice president. "That was one good thing about this product: If I walked into their headquarters spinning it, it totally calmed me down," she recalled. "It's not an easy thing for most people to walk in and close big deals."
Hasbro didn't pick up the spinners, sending her a rejection letter after testing it on consumers. But now, Hasbro sells the fidget spinners — almost 20 years after it denied the original product.
So why the sudden boom in popularity? Hettinger isn't sure, but she speculates as a result of the recession in 2008, people may be looking for ways to calm their nerves and have fun. "That was always the concept — to help people," she said. "I experienced it for myself."
"There's a real need for this, " she added.
And given the device's sudden popularity, Hettinger is working on a way to sell her original spinners, which have not been on the market throughout the current craze. She's going to launch a a Kickstarter — called the Classic Spinner —soon and sell her version online.
While she's excited about the spinner's newfound popularity, she's still got an inventor's mind and continues to observe her surroundings and think up products that can make life easier for people.
Her latest project is a diet and fitness application for iPhones that she's working on with the help of the Inventors Council of Central Florida, a Florida-based group that she is a member of that works on new ideas together.
"The culture we live in now — the times now — everyone has a need for fun. People are realizing it — and it's true," she said.
Correction: A previous version of this story misstated the year Hettinger's patent expired. It expired in 2005, not 2017. Additionally, this story misstated what inspired her to create the fidget spinner. Hettinger was inspired after hearing about boys throwing rocks at people and police — she did not see it herself.