Here's Everything You Need To Know About Fidget Spinners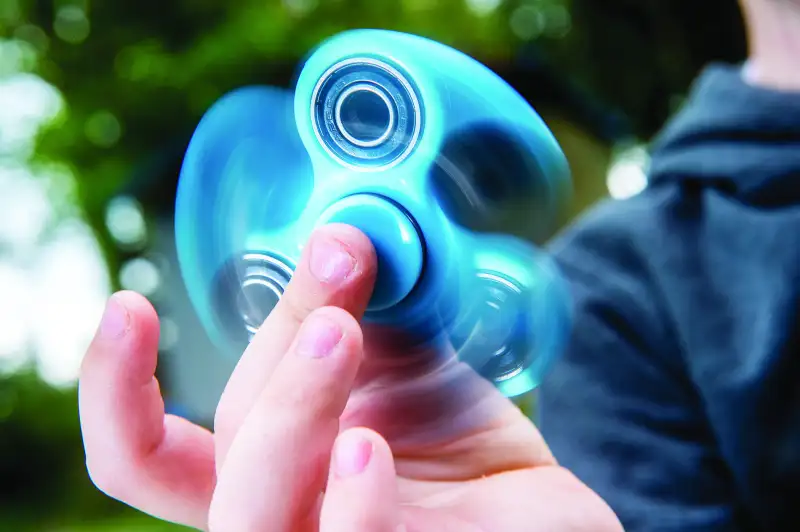 Fidget spinners are popular new toys, which are made to calm nerves and ease anxiety, that are selling out at stores across the country.
Chances are your child or someone else's has at least one spinner already. They've become so popular that teachers are banning the devices from classrooms, saying they're too distracting.
Here's everything you need to know about the new gadgets.
What is a fidget spinner?
Fidget spinners are small devices with a bearing in the middle that allows you to spin it in your hand. They're typically made from metal or plastic and come in a variety of designs and colors. Many of the most popular products have three prongs surrounding the bearing that, while spinning, makes for an entrancing sight.
Other popular versions of the product include ones shaped like snowflakes, throwing stars, the Batman symbol and a rainbow pattern.
Buy now: Fidget Spinner, $26, Amazon
Who invented the fidget spinner?
Catherine Hettinger, an inventor from Orlando, Fla., created the original fidget spinner in 1993 and patented the product in 1997. She created the toys as a calming device for children, and soon discovered adults enjoyed it as well. Her patent expired before the fidget spinner craze — meaning she has not made a dime off the product's recent success.
However, she sold a couple thousand of them in the 1990s at fairs in Florida and is planning to sell the original fidget spinner online soon. (The original device is more spherical and less technical.)
Despite not profiting off her creation, she's thrilled the product has taken the country by storm.
"I like the confirmation that I knew the product would work, and I knew people would use it," Hettinger told Money. "It takes money to make money. To actually launch the product nationwide is often beyond the reach for the original inventor."
READ MORE: The Woman Who Invented the Fidget Spinner Isn't Making Any Money Off Them
Why are they so popular?
No one knows exactly why fidget spinners are so popular — not even the product's inventor. (Hettinger speculates that maybe, years after the 2008 recession, Americans may now be looking for ways to relax and have fun.) The products have been touted as helpful for people with ADHD, ADD, anxiety and stress.
Google searches for the products spiked in April, and different versions of the toy occupy every spot on Amazon's top 20 best sellers list for toys (and most of its top 50 spots). In fact, fidget spinners have been out of stock at stores around the country due to their popularity. In schools, kids are apparently trading their fidget spinners with each other and playing with them in the classroom.
Where can I buy a fidget spinner?
Fidget spinners can be bought online or at a variety of stores. Amazon sells a variety of different versions of the product online — more than 18,500 results come up when you search for "fidget spinner." They can also be found at stores like Walmart and 7-Eleven, as well as specialty online stores like GoSpinner and Addictive Fidget Toys. Different versions can also be found on Ebay and Etsy.
Most fidget spinners can typically be found online for around $4. Some of the devices are free, but they can cost up to $1,000.
Why are they getting banned in schools?
The devices were created and marketed as a calming tool used to stay focused — but that might not be the case for some students. Teachers around the country are banning fidget spinners from their classrooms — calling them too distracting for their students.
Principals in at least 11 states have banned the devices from school, according to a blog post from Working Mother. Though the products are made to use with one hand, apparently some students are using both, making it more difficult to write or focus on their schoolwork.
"Frankly, we've found the fidgets were having the opposite effect of what they advertise," Kate Ellison, principal of Washington Elementary School in Evanston, Ill., told the Chicago Tribune. "Kids are trading them or spinning them instead of writing."