You Can Now Get a Fidget Spinner With Built-in Bluetooth Speakers For $4.50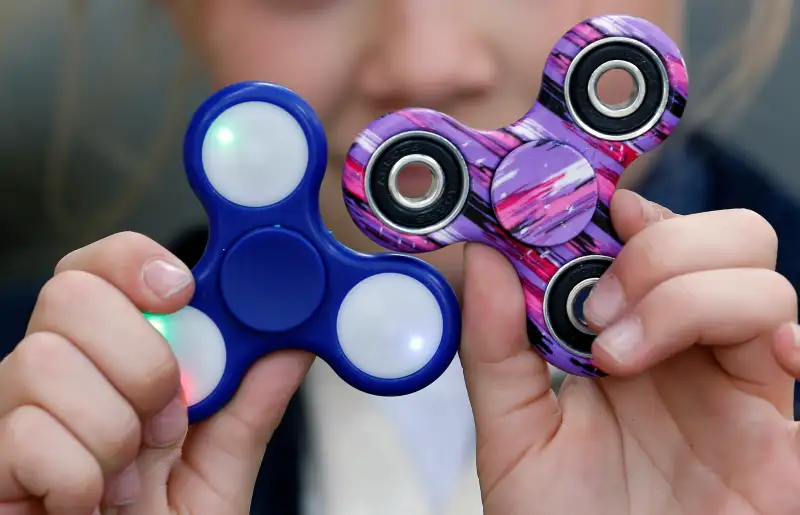 The fidget spinner became a phenomenon as a decidedly low-tech distraction. A typical spinner is little more than a few prongs of plastic with skateboard-style ball bearings at the center, and it uses simple mechanics to twirl and twirl—no batteries, wires, or electronics required.
While the claims that fidget spinners help people cope with stress and ADHD are dubious at best, some parents are fans of the gadgets because they at least helped keep kids away from iPhones and other electronics. But with the possibility of the fad's popularity fading, some manufacturers are trying to jumpstart a new wave of spinner mania by spicing devices up with flashing lights and even Bluetooth speakers.
In other words, it could be time to say goodbye to fidget spinners' status as an unplugged, quiet distraction. The next big thing for this recent next big thing is listening to Ed Sheeran (or any music you like) through the little tinny speaker on your flashing spinner.
While basic spinners sell for as little as $1, you should expect to pay a bit more for gadgets with speakers and lights. As of Friday at Amazon, 20 out of the top 25 best-selling toys were fidget spinners, including one equipped with LED lights for $3.99. Fidget spinners with LED lights and Bluetooth speakers are priced at about $4.50 and up at Amazon.
As you might expect with any hot fad—and any kind of cheap electronics—quality varies widely, so it's best to shop around, check out reviews, and consider paying something above rock-bottom prices. GoSpinner sells spinners with LED lights for $15-$18, and two of these spinners are among its bestsellers that are currently sold out. A new deal from Groupon is offering LED fidget spinners with Bluetooth speakers in a wide choice of colors at a clip of $9.99 for one, $17.99 for two, $24.99 for three, and $29.99 for four.
Also, be aware that injecting electricity into fidget spinners can increase the danger. One woman in Michigan said her Bluetooth fidget spinner didn't come with directions for charging it, and hers caught on fire and melted soon after she plugged it in to the same cord she uses for a baby monitor.
We've included affiliate links into this article. Click here to learn what those are.