Finally, a Subscription Service for Laundry Quarters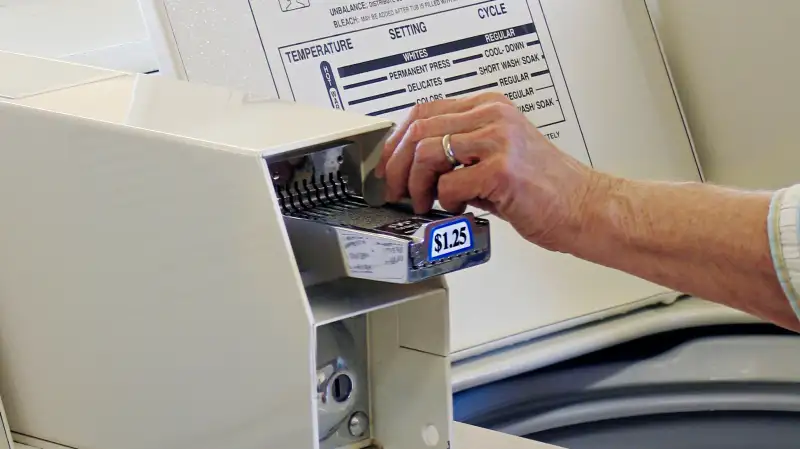 File this under the category of Solutions to Problems You Didn't Know You Had, or perhaps Ways for Extremely Lazy and Disorganized People to Drop an Extra $5 Per Month.
On Thursday, a startup called Washboard launched a quarter subscription delivery service, which is just what it sounds like. Customers sign up—OK, in theory, they sign up—for $10 or $20 worth of quarters to be delivered to them on a monthly basis. The service costs $14.99 for a $10 roll of quarters per month, or $26.99 for $20 worth of quarters monthly. The latter is the option that's "great for high volume folks, couples, or roommates," according to Washboard's website.
Understandably, the reaction at large has been one of puzzlement, with people alternately assuming that the service is a joke or pointing out the obvious—that such a subscription doesn't seem remotely necessary, and certainly doesn't seem anywhere near worth the money. "Ever hear of a bank?" a typical Twitter comment says of Washboard.
Washboard's founders, who say they already some customers ("less than 10"), are apparently cool with being a magnet for mockery in social media. "I'll admit, it's a little bit of a negative critique for the most part on Twitter, which is good," cofounder Caleb Brown told Valley Wag. "I think it's good. I think it's a polarizing thing."
He also insists it's a completely valid, practical, worthwhile service, because many of the young people he encounters would pay a few bucks in order to skip a regular trip to the bank. "Banks close at 5, maybe they're open Saturday, but they close at noon. I'm rarely out of bed by then," he said.
The company follows in the footsteps of many other startup subscription services, such as viral hit of 2012, Dollar Shave Club, which sends subscribers razors for as little as $1 per month (plus shipping and handling). But Dollar Shave Club offered more than just convenience; there was a true value proposition. The service saves time and money. By most accounts, it's been successful, and has even welcomed a sidekick subscription service, One Wipe Charlies, which are butt wipes for guys. (That's no joke either.)
Washboard must also be discussed in light of Silicon Valley's ongoing "bubbly race to wash your clothes better, faster, and cooler," as New York magazine, put it, with startups like Washio offering drycleaning pickup and delivery at your door, sometimes with cookies as a scrumptious bonus.
Such services charge a premium, of course, but they save the customer a substantial amount of time. Anyone using Washboard still must do his or her own laundry, and whatever time is saved on gathering quarters comes at a 50% premium on a $10 roll of quarters. Nonetheless, the founders claim that the service legitimately eliminates one of laundry's "pain points," and that therefore it's not silly. They also have ambitions to move on to detergent and fabric softener subscription services.
And who knows? The idea is probably pretty appealing to those who want to turn off their brains and never have to think about getting quarters for laundry ever again. But even after signing up for Washboard, you can't turn your brain off entirely. After getting your monthly shipment delivered, you still have to remember to actually bring the roll of quarters to the laundromat.