Forget That Dos Equis Guy, This Millionaire Was the Most Interesting Man in the World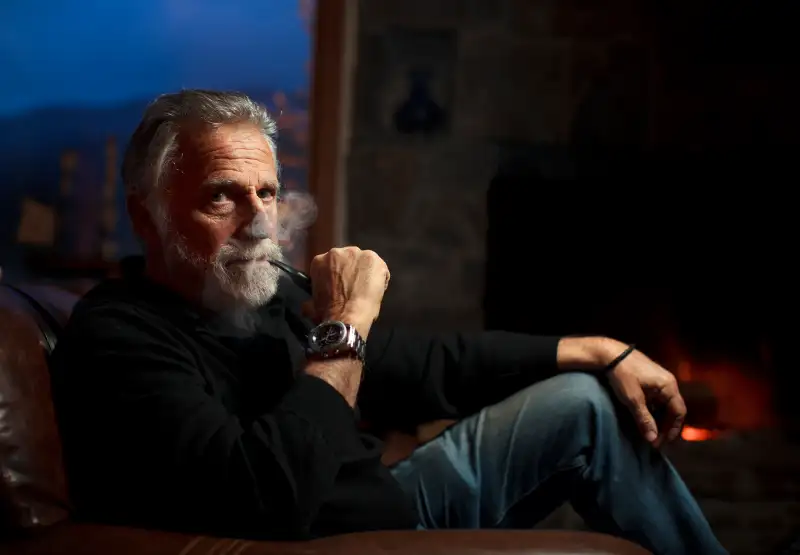 Dina Rudick—Boston Globe via Getty Images
Earlier this year, Dos Equis announced that Jonathan Goldsmith was ending his run as the iconic "Most Interesting Man in the World," the celebrated ad character who helped sell the brand's beer—and launch countless memes—for nearly a decade.
This week, however, a real world version of the Most Interesting Man in the World named Delbert Dunmire passed away at the age of 82. A rehashing of his exploits shows that while his blood might not have smelled like cologne, and he probably couldn't "speak French… in Russian" like the Dos Equis character, Dunmire was arguably more interesting because nothing about him was cooked up by some ad agency. In later life, Dunmire even had a salt-and-pepper beard that resembled that of Goldsmith's "Most Interesting Man."
Words like "eccentric" and "generous" are understatements when applied to Dunmire. After dropping out of college and a stint in the Air Force, he robbed a bank to pay off a poker debt. He later founded a machine shop in Kansas City and made a fortune selling parts to airlines like TWA. Then he spent most of his life trying to find fun ways to spend money—including inviting all of Kansas City to his wedding (where daredevil Evel Knievel was a groomsman) and covering the tab for his entire high school reunion to go to the Bahamas.
"He might have made $200 million in his lifetime, and he probably spent $205 million," Mark Dunmire said of his father, to the Kansas City Star. "He was the embodiment of the American dream."
Read Next: 10 Bizarre but Possibly Brilliant Money Tips You Must Check Out
Here's a rundown of some details from Del Dunmire's life, which are sure to make yours seem totally boring:
• He partied too hard to get through college. "I majored in beer drinking and minored in social life," Dunmire explained in a People article published in 1987. "So I left before they asked me to."
• He was a fighter pilot. After dropping out of college, Dunmire entered the Air Force and trained to be a fighter pilot. While in the service, he ran up a $5,000 debt playing poker.
• He robbed a bank. To pay off his debt, in 1958 Dunmire robbed several thousand dollars from a bank in Abilene, Kan., only to be caught by police after a brief chase.
• He founded a business and got super rich. Dunmire was released from prison after two years for good behavior. He then studied aeronautical engineering at the University of Kansas and made a fortune selling aviation parts through a business he founded called Growth Industries, which he originally opened in his garage.
• He invited all of Kansas City to his wedding. After inexplicably wearing $5,000 clown outfits to their engagement party, Dunmire and his fiancée, Debbie Lunsford, invited the entire city to attend their wedding in 1986, according to the Star. They rented rooms for thousands of guests and covered their room service bills to boot. The wedding band they hired featured Frankie Avalon, Fabian, and Bobby Rydell. Altogether, Dunmire spent more than $1 million for one night.
• Evel Knievel was one of his groomsmen. Naturally, the legendary stuntman hopped on a motorcycle and jumped over one of Dunmire's friends on the wedding day. But that was only after they sprang Knievel out of jail, because he'd been arrested for solicitation of a prostitute, Mark Dunmire said.
• He took his entire high school reunion to the Bahamas. As People reported nearly three decades ago, for his 35th high school reunion Dunmire covered the entire tab for 450 people to board eight buses and head to the airport for a private jet to Miami, where everyone then enjoyed a three-day cruise to the Bahamas. Dunmire attended high school in Punxsutawney, Pa., home of "Groundhog Day." It's unclear if Punxsutawney Phil was brought along for the party, but it wouldn't surprise us if he was.
Read Next: Lessons of a Serial Entrepreneur
• He handed out $100 bills randomly to employees. Workers at Dunmire's manufacturing plants say it happened fairly regularly, which surely kept morale high.
• He bought up nearly an entire town to bring it back to life. In recent decades, Dunmire has spent more than $10 million purchasing 52 properties in the faded downtown of Harrisonville, Mo., "almost like it was a Monopoly board," his son Mark said to a local TV station. He was stymied in his efforts to revamp the city into a thriving retail and entertainment hub, and a website was launched in 2013 putting everything up for sale. The properties appear to still be on the market. Speaking of which, anybody want to buy a town? Could be an interesting project.