Adorable New Dinosaur Fingerlings Just Went on Sale. Here's Where They're in Stock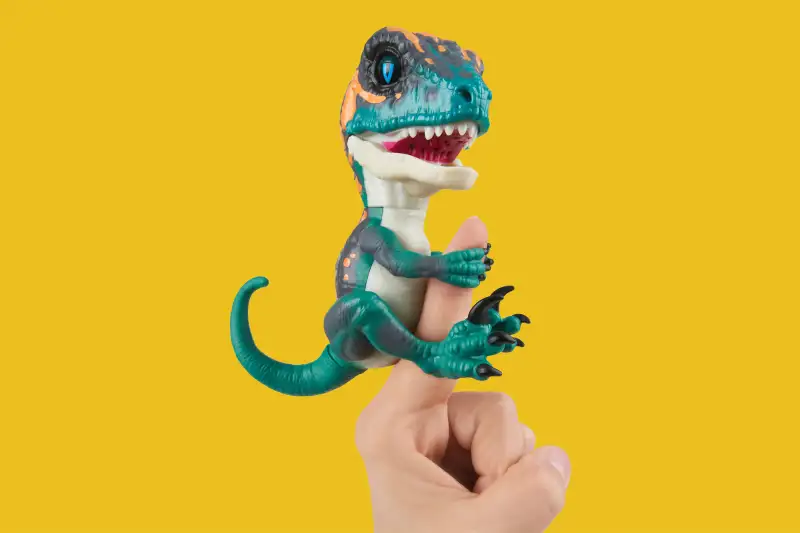 Fingerlings robotic critters were the breakout toy of the 2017 holiday season, and manufacturer WowWee is betting it can make lightning strike again with the release of a new Fingerlings collection today.
Fingerlings initially debuted as a family of six brightly-colored monkeys that could interact with kids and each other, as well as chatter, giggle, burp, and fart. Fingerlings monkeys were such a hit they sold out pretty much as soon as they hit shelves, forcing parents to pay huge markups to third-party sellers. WowWee later followed up with more varieties: a trio of Fingerlings unicorns and two Fingerlings sloths, as well as monkeys in different color combinations and with glitter.
The newest "untamed" Fingerlings are a quartet of feisty and adorable baby raptors: Stealth (green), Fury (blue), Razor (purple), and Blaze (orange).
As you can probably tell from the names, these diminutive dinos can be real wild things. Like the other Fingerlings toys, they respond to touch and stimuli, and have more than 40 friendly or fierce responses, from roaring and hissing to nuzzling and purring.
The trick to controlling them is how you pet the Fingerlings raptors, WowWee says: Pet the head of one of these baby beasts from front to back and it will switch back and forth between "tamed" and "untamed" modes. Like Fingerlings monkeys, they also have curly tails that can be used to hang them upside-down. (Oh, and also like the monkeys: These dinos also fart.)
The new Fingerlings have many of the same characteristics that made their predecessors such a hit, according to toy industry experts: They tapped into a trend towards interactive and animatronic toys, and their low price point (if not always their availability) encouraged a "collect them all" pitch (sorry, parents).
WowWee does have good news for parents who were stuck paying well above Fingerlings' roughly $15 retail price for previous collections, some of which were exclusive to a single retailer. The "untamed" collection of Fingerlings raptors is available at most major retailers including Amazon, Target and Walmart. But be warned: Just like the real dinosaurs, these prehistoric pets are disappearing fast — with some varieties already being displayed as out-of-stock Friday morning, or commanding hefty markups, with third-party sellers peddling them for as much as $35 on Amazon.
We've included affiliate links into this article. Click here to learn what those are.