Meet the Guy Who Flew From New York to Florida Just to Vote for Hillary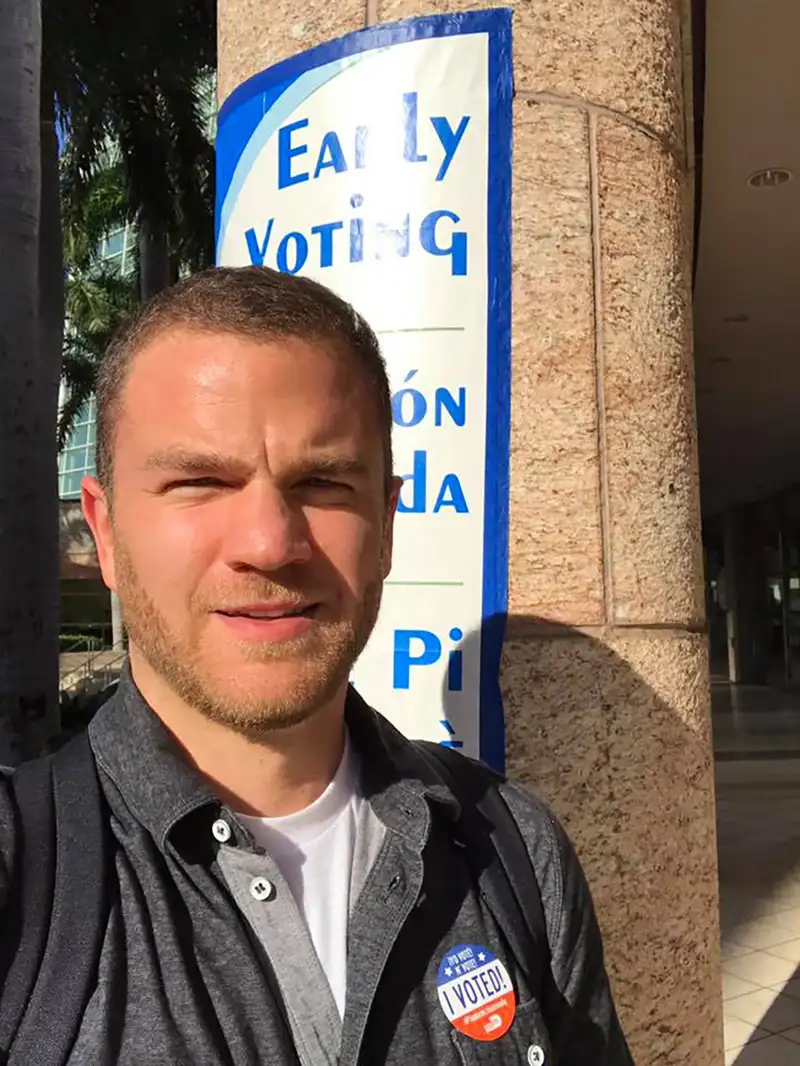 Every day for the last month, 36-year-old New York City resident Austin Allan—who is registered to vote in swing state Florida—waited anxiously by the mailbox for his absentee ballot.
Yet day after day, it turned up empty. Allan tried calling Miami-Dade County's Board of Elections, but failed to connect with election officials due to a high volume of callers.
So he decided to take a more drastic step: He pulled out his credit card and booked a flight from New York City to Miami to cast his ballot in person for Hillary Clinton.
After his brief sojourn to vote, Allan posted a selfie in a private, pro-Clinton Facebook group called Pantsuit Nation. "Eight hours of travel and several hundred dollars, but it was worth it," he wrote. The post got more than 150,000 likes.
Allan, however, remains nonchalant about the lengths to which he went to exercise his civic rights. "I didn't think it was a heroic effort," he said. "I just wanted to make sure my vote counted."
Money talked to Allan Tuesday morning about why he decided to spend more than $300 to cast his ballot in this year's presidential election:
Q: Tell us about your trip to vote.
A: I never got anyone on the phone at the Board of Elections, so I just decided to book a ticket to go down to Florida. I left New York on Friday morning and landed in Miami around 3:30. I went to the polling place, voted, and took a flight home a few hours later. I didn't think much of it. I told the flight attendant on the way home and she gave me some free wine. On Saturday morning, I posted the picture and couldn't believe how much attention it got.
Q: In total, how much money did you spend to vote?
A: My flight cost about $275 round trip. I took the subway to the airport and probably spent another $50 in taxis once I reached Miami, so I spent a little over $325. I work for myself, so luckily I didn't have to take a day off work and was able to work from the airport.
Q: Was there a limit on how much money you would have spent to vote?
A: I would have found a way to do it regardless. I wouldn't have spent, say, $1,000, but I could have used miles to pay for the flight, or looked to GoFundMe.com. When I posted on Facebook, at least 10 people commented that they would send me a check for the flight; they asked where to send it. I replied to all of them and told them, 'That's so sweet,' but I can afford to do it. Give that money to support people whose right to vote is being trampled on.
Q: What about this election your trip money well spent for you?
A: Four years ago, I left my job in New York and volunteered for the Obama campaign for six weeks. This year, I wasn't able to not work, so I thought the least I can do is make my vote count. I find Hillary very inspiring and tough and I just support her wholeheartedly. This was my way of finding that I made a difference.