Flight Delayed? Here Are 6 Great Ways to Kill Time in the Airport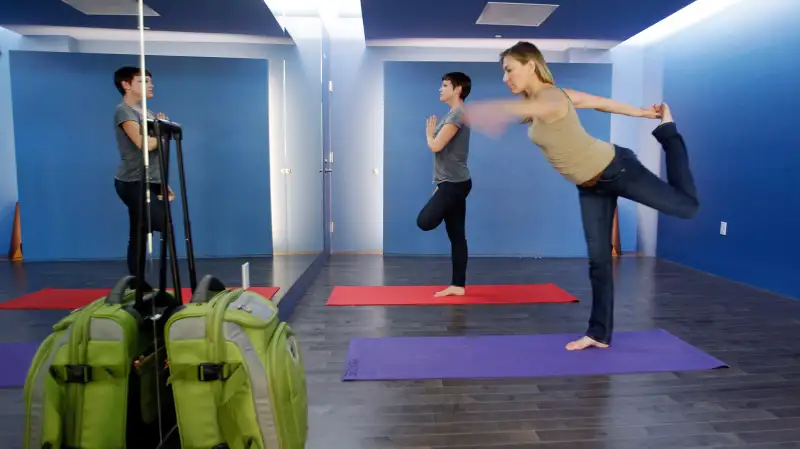 The only thing worse than being crammed with what feels like all of humanity into an airport terminal over Thanksgiving weekend is being stuck in said airport even longer if your flight is delayed or if you have hours to kill before making a connection.
At many airports, though, there are alternatives to drowning your misery over a delayed flight or long layover at the airport bar — and some even offer the promise of relaxation or rejuvenation for free. First stop: Your wallet. Check and see if any of your credit cards gives you access to an airline lounge. Beyond that, if you're wondering what to do in the airport, here are a list of facilities and activities, and the U.S. airports where you can find them.
Get your om on. San Francisco started the trend (are you surprised?), but airport yoga rooms have become more commonplace, popping up in places like Dallas, Chicago (both O'Hare and Midway Airports have yoga rooms) and Burlington, Vt.
Relax in nature. If you're stuck at O'Hare and greenery soothes you, you're in luck. The airport has an aeroponic "urban garden." Perhaps less unexpectedly, the Honolulu airport has a series of outdoor garden areas.
O'Hare's Urban Garden, where fresh herbs are grown and used in airport restaurants.
Admire art. A handful of places have carved out galleries for airport art. Miami's airport has an eclectic display of exhibitions that reflect the region's global culture, Atlanta's Hartsfield-Jackson International Airport has several small gallery-type spaces that showcase a rotating display of everything from contemporary art to photographs to sculpture, and traditional Japanese folk art (on loan from San Diego), exhibition will be up through the end of January in San Francisco. Some other cities that curate their concourses include Philly, San Diego and Tucson.
Get some exercise. Sure, you could just wander the terminal, but some airports let you track how far you've gone even if you don't have a Fitbit. The airport walking path at Dallas-Fort Worth International Airport clocks in at just under three-quarters of a mile, the one in Minneapolis-St. Paul is just under a mile and a half, and the ones in Cleveland and Phoenix are each a workout-worthy two miles. The Indianapolis International Airport has three walking paths, so you'll be able to switch your scenery multiple times during a long layover or delay. Some of the other airports with walking paths include Atlanta, Boston, Fort Lauderdale and Seattle.
Practice mindfulness. In addition to yoga rooms, which tend to include props like mats and blocks, there are a handful of airport meditation rooms (some serve as interfaith chapels where meditation as well as prayer, or just quiet reflection, are welcome). You can find them in airports including Albuquerque, Newark, Raleigh-Durham, and San Diego.
Work out kinks. A growing number of airports now have spa facilities, with services — think legs-and-feet massages, facials for parched skin — tailored specifically for harried travelers. XpresSpa has in-airport spas in a dozen states, and Newark Liberty International Airport has d_parture spa.
Read next: 10 Holiday Travel Mistakes to Avoid