Average Flight Prices to Europe Soar Past $1,100 This Summer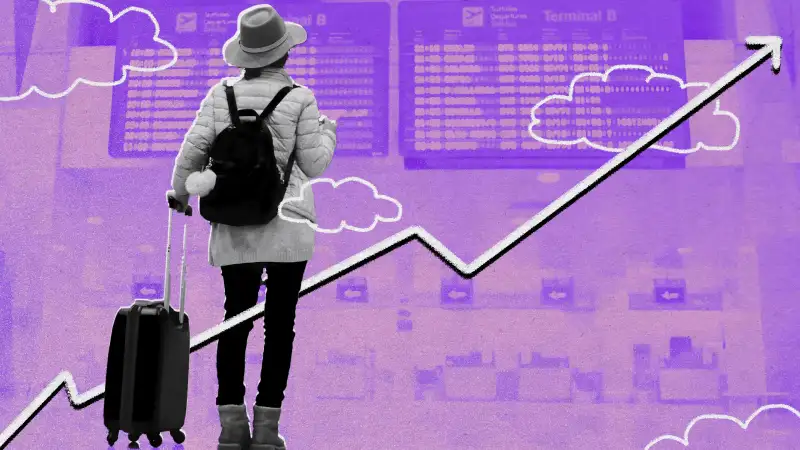 International flight prices for the summer travel season are at the highest level in more than five years, but with good timing and smart planning you may still be able to snag a deal.
The average summer 2023 round trip from the U.S. to Europe costs $1,167, while Asia trips are at an average price of $1,817, according to a new report from Hopper. Those fares are more than $300 higher than the averages for last summer. Europe flights are 36% more expensive than 2019, when the average price was $861.
Why are trips abroad so expensive this year? Hayley Berg, an economist for the travel app, says Americans are more interested in international destinations compared to 2022, when some travel restrictions and testing requirements were still in place.
What the research says
On the Hopper platform, 38% of summer searches are for international destinations, up from 32% last year. That increase in demand is driving fares higher.
Other factors include the high price of jet fuel — it's 16% more expensive than pre-pandemic levels — and airline seat capacity which is still below 2019 levels, according to Hopper.
With spring in full swing, you don't want to wait much longer if you're considering a trip this summer. "Prices are expected to rise in the coming weeks. Now is the sweet spot for getting a good deal," Berg says.
Advice from Money
There's no real way around it: Planning a trip to Europe this summer is going to be expensive, from the airfare to the lodging to everything you do while you're there. (One silver lining: The dollar remains strong against the euro and many other currencies.) You can avoid paying outlandish prices by making smart flight decisions.
There are still summer flights to major European cities from the U.S. for less than $400 each way, like a $342 flight from New York City to Frankfurt in August on Singapore Airlines, or a $226 flight from Washington D.C. to London in July on Norse Atlantic Airways, a Norwegian airline.
Keep in mind that you can often save more than $100 on a trip by flying midweek instead of on the weekend, according to Hopper.
Additionally, flying is usually cheaper before or after the peak summer season, which is generally consider mid-June through August. There are cheaper flight deals available right now if you can travel in September, according to Hopper.
Some travelers will be able to find more affordable flights on low-cost carriers, including French Bee, PLAY (an Icelandic airline), Aer Lingus (an Irish airline) and TAP Air Portugal, among others. But remember that flying internationally on a budget airline usually comes with tradeoffs, like the possibility of less legroom and more baggage fees.
More from Money:
50 Best Places to Travel in 2023