Four great tools for furnishing a summer house on the cheap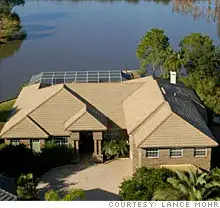 At this stage of the summer, many city dwellers are starting to head out to warm-weather weekend retreats — and realizing that the interiors need serious attention. But who wants to spend a bundle redoing a summer house, especially if the place is just a simple cottage?
If you'd rather save your money for more important things — yet refuse to live amid water-stained throw rugs, ratty upholstery, and shorted-out lamps — check out these three websites (and one app). They'll help you zero in on stylish furnishings that are cheap, but don't look it.
Apartment Therapy. Sure, you could troll through Craigslist looking for vintage furniture, but that needle-in-a-haystack search is a huge time suck. Let this decorating site do the work for you instead. Each week, it posts a hand-picked list of the best second-hand furniture for sale in six major metro areas (and counting). (www.apartmenttherapy.com; click on the name of your city, then click "Scavenger")
Affordable Style. Written by Canadian House & Home decorating editors, this blog is stuffed with ideas and resources for redoing rooms for less. One recent post picked six examples of summery wicker furniture that look much more expensive than they are.(www.houseandhome.com/blogs/affordable-style)
Copy Cat Chic. This site devotes itself to just one thing: Finding low-cost versions of home goods that look very similar to more expensive versions. One example: two alternatives to Madeline Weinrib's iconic black-and-white Zig Zag Rug, a flatweave cotton that costs about a thousand bucks for the eight-by-ten size. A very similar one from West Elm cost just $459; one from Rugs Direct ran $319. (www.copycatchic.com)
Yard Sale Mapper Yard and estate sales can be treasure troves of affordable furnishings, but finding them can be hit or miss. Got an iPhone? Download this free application, which combs Craigslist for listings of yard, tag and garage sales. The iPhone's GPS function will pinpoint your location; the app then displays a map showing all the sales in your vicinity.
Got your own tips for scoring great-value furnishings? Please post to comments.
Follow More Money on Twitter at http://twitter.com/moremoneyblog.