Here's How to Change Your Flight for Free Ahead of the Snowpocalypse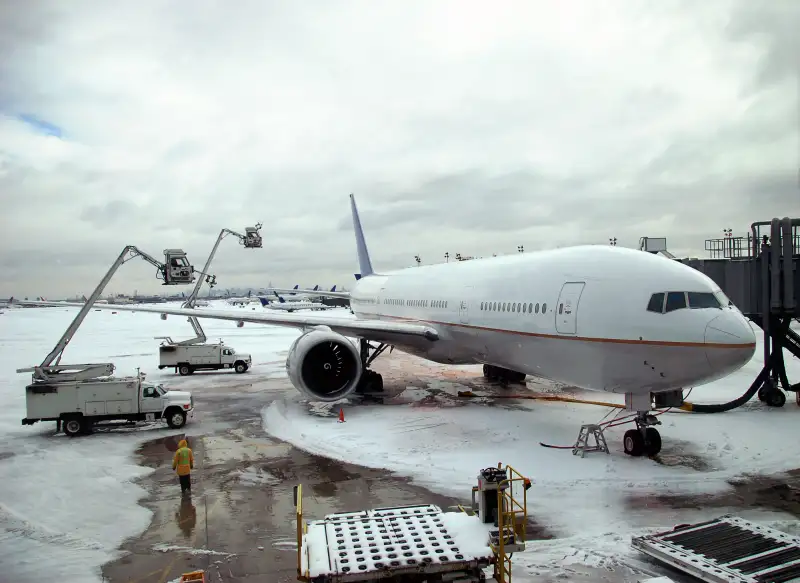 The next snowpocalypse is almost upon the East Coast. As of Friday morning, D.C. appears to be severely in the danger zone, and New York and Boston should see some serious action as well from Winter Storm "Jonas." Considering some of the nation's largest airports are squarely located within the storm's looming shadow, this is going to wreak havoc on many travelers' plans.
Thousands of flights have already been cancelled, with routes to and from Charlotte, Philadelphia, and Washington, D.C., airports affected in particular. As for passengers traveling via gateways that are likely to be affected but must wait to see if their flights will be cancelled or delayed as well, the airlines are allowing you to take the proactive step of changing your travel plans ahead of time.
Encouraging you not to roll the dice and risk being stranded in the airport, many carriers are currently offering flight changes without fees. Here's what you need to know:
American Airlines: If you're scheduled to fly between the 21st and 24th out of one of 42 airports, you can push back your flight until the 27th, free of charge. You can't change origin or destination, however.
Delta Airlines: Delta has the same deal as American, albeit with just 33 airports: You get a free change as long as the flight is by January 27th. After that you'll see a fee.
United Airlines: Free changes at 35 airports if you reschedule to fly by January 27th if your flight is between the 22nd and the 24th.
JetBlue: If you're flying out of Boston or New York on the 23rd, you can reschedule until the 29th for free. If you're going out of D.C. on the 22nd or 23rd, you can reschedule for free.
Virgin America: Virgin is giving travelers flying out of D.C., New York, Newark, and Boston more time to reschedule, with free changes as long as you fly by March 10th.
Southwest Airlines: Southwest has a similar situation to JetBlue--it depends by airport--but if you're in the path of the storm, you should have 14 days to reschedule. Make sure to check your airport's offer, however.
Frontier: If you're flying out between the 21st and 24th, you can make a free change if you depart by the end of the month. However, this only applies if you bought your ticket before the 19th. Frontier is rewarding weather geeks, but only a little: You only get one itinerary change. Use it well!
Spirit Airlines: Spirit's covering itinerary changes for people flying out of the Northeast on the 22nd and 23rd if you reschedule to fly by the 29th. But if you have to fly after that, the fees should be still reduced.
Now, if your flight does happen to be canceled, here are five strategies you should know to deal with it.
h/t: Consumerist