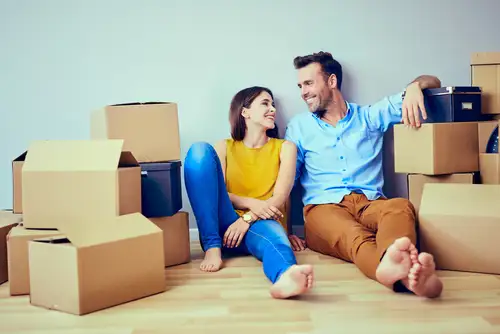 Freedom Mortgage is a mid-sized mortgage lender based in Mount Laurel, New Jersey. With mortgage offices nationwide, it offers a wide range of mortgage products and refinance loan options to clients throughout the country.
Let's take a closer look at its lending offerings.
Table of contents:
What does Freedom Mortgage do?

Is Freedom Mortgage a direct lender?

Loan options

Qualifications and fees

Pros and cons

Is Freedom Mortgage right for you?

Preparing your credit for a mortgage loan
What does Freedom Mortgage do?
Freedom Mortgage offers home loans and refinancing to clients throughout the U.S., including Puerto Rico, the U.S. Virgin Islands and the District of Columbia.
It's not a bank or credit union but a lender specializing in home loans for a wide variety of borrowers.
Freedom Mortgage excels in Veterans Affairs (VA) loans and services existing loans, something that's less common with most direct lenders.
While the lender has an informative website, you can't apply for a mortgage online. Instead, you'll need to access an application via phone or at one of its branches.
Most customers conduct business with Freedom Mortgage over the phone. However, some homebuyers prefer the personalized guidance of a loan officer. Freedom Mortgage is unlike its competitor Rocket Mortgage that offers convenient online access to achieve your homeownership goals.
First-time homebuyers, for example, often prefer assistance from a dedicated loan expert to help them navigate the complicated mortgage process. If you are seeking an all-inclusive lender, look elsewhere.
Is Freedom Mortgage a direct lender?
Compared with other mortgage lenders, Freedom Mortgage is a direct lender and loan servicer. So, what does this mean?
A direct lender is a financial institution that extends you credit to buy a home. A loan servicer handles the administrative side of the loan, such as collecting payments and managing escrow accounts.
There are many mortgage servicing companies that don't actually lend money. Some direct lenders only farm out their loan servicing.
Because Freedom Mortgage services its own loans, you'll work with a lender that's in control of every part of the lending process.
Loan options
If you choose to work with Freedom Mortgage, you'll have access to a range of mortgage options. Some include the ability to apply for conventional loans with either 15- or 30-year terms. The company also offers the same features for its refinancing products.
In addition to conventional loans, Freedom Mortgage provides government-backed loans. You can apply for U.S. Department of Agriculture (USDA), VA, or Federal Housing Administration (FHA) loans to purchase or refinance a home.
Here's more information about these loan types:
Conventional loans

: Borrowing relies on your credit score, debt-to-income ratio and monthly income to justify the loan. A minimum credit score of 620 and a minimum 3% down payment are required. Freedom has 15- and 30-year fixed rates, with adjustable-rate mortgage availability too.

FHA loans

: With backing from the FHA, you get competitive interest rates even with a poor credit history. It's also possible to get this loan with a credit score of 600. But you'll need a down payment of at least 3.5%. Paying mortgage insurance throughout the life of the loan is the only drawback.

USDA loans

: This loan is backed by the USDA, which means that Freedom Mortgage can offer no-down-payment options. You have to live in a rural area to qualify. The USDA defines this region as less than 20,000 people, with average incomes falling below 115% of the population's median earnings. This loan also requires a stronger credit history than an FHA Loan.

VA loans

: Only veterans and active-duty military members can apply for loans backed by the Department of Veterans Affairs. Applicants can access homeownership with no down payment or ongoing mortgage insurance premiums. Though Freedom Mortgage is an expert in VA loan underwriting, VA loans require an upfront funding fee, which can be as high as 3.6% of the loan amount.

Jumbo loans

: These loans help homebuyers finalize high-value real estate purchases. They exceed the maximum amount of a conventional loan, which is currently $647,200 in most U.S. counties. For this type of loan, you'll need a 10% down payment.
Many of these loans have various refinance options, including a cash-out refinance in some cases. The FHA, USDA and VA loans have streamlined refinance options with lower closing costs. The USDA and FHA mortgage programs exist to extend the stability of homeownership to more borrowers.
Since Freedom Mortgage doesn't publish its interest rates online, you'll have to get a quote from a loan officer when rate shopping. However, borrowers with excellent credit can expect competitive rates.
Qualifications and fees
When applying for a conventional loan with Freedom Mortgage, a minimum FICO score of at least 620 is required.
The higher your credit score, the better chance you have of getting approved for a loan with competitive interest rates.
Freedom Mortgage wants to make homeownership more accessible to American families coast-to-coast. So, it offers lower loan origination fees than its competitors.
As mentioned earlier, the lender doesn't publish its origination fees online. You'll find this information through reviews of previous and current borrowers.
Despite this, always consult a loan officer about your eligibility before applying for a loan, because if a lender rejects your mortgage application, it may damage your credit score.
To learn more about eligibility requirements with Freedom Mortgage, speak with a loan representative to discuss your credit history and other lending qualifications.
Freedom Mortgage pros and cons
As with any mortgage lender, you'll experience advantages and drawbacks when working with Freedom Mortgage for your real estate purchase.
Let's take a look at both.
Advantages
Comprehensive range of mortgage products

Direct access to loan officers

Strong Better Business Bureau (A+) rating

Expert in VA loans

Flexible underwriting and refinancing requirements

Committed to a streamlined loan process

Informative website content (freedommortgage.com)

In-house payment options

Meets public safety concerns
Disadvantages
Negative loan servicing feedback

No online application option

Average customer service

No home equity loan offerings
Is Freedom Mortgage right for you?
Perhaps you're wondering if Freedom Mortgage is ideal for your next home loan or refinance endeavor. While its clients benefit from access to a direct lender offering an array of mortgage products, there are some disadvantages that make the company an unattractive option.
First, you can't apply online. Instead, you'll have to make phone calls or visit a local branch office.
Many borrowers still prefer working with an agent or a lending officer. And the rise of online loan shopping means many of Freedom Mortgage's competitors can provide more convenient service.
Second, Freedom Mortgage isn't transparent about its loans, rates or application processes. You have to complete an online form and wait for a phone call from a loan officer to begin the application process.
Finally, this lender doesn't make it easy to compare rates with other mortgage companies.
Still, Freedom Mortgage has established itself as a reputable lender, and the company does loan underwriting in all 50 states. So, if you're looking for a traditional mortgage lender and don't plan to apply for a loan online, give Freedom Mortgage a call.
Preparing your credit for a mortgage loan
Though Freedom Mortgage specializes in helping potential homeowners get or refinance loans despite credit blemishes, you should work on your credit before applying for a home loan.
You'll find resources on how to rehabilitate your credit here. Read some of our most popular articles on this topic.
Ultimately, ensure that you focus on paying your bills on time — especially credit cards and personal loans. Also, pay down your credit card balances to 30% or less of the credit limit. If you have any inaccurate information impacting your score, get it removed.
Improvements of a few points on your FICO score could qualify you for a better interest rate, which will save you thousands of dollars over the life of your loan.
Update: This article has been updated to reflect the current conventional loan amount for 2022. Unverifiable information has been removed.
Disclaimer: This story was originally published on November 25, 2019, on BetterCreditBlog.org. To find the most relevant information concerning Freedom Mortgages, please visit their website: https://www.freedommortgage.com/