How to Buy Your First Home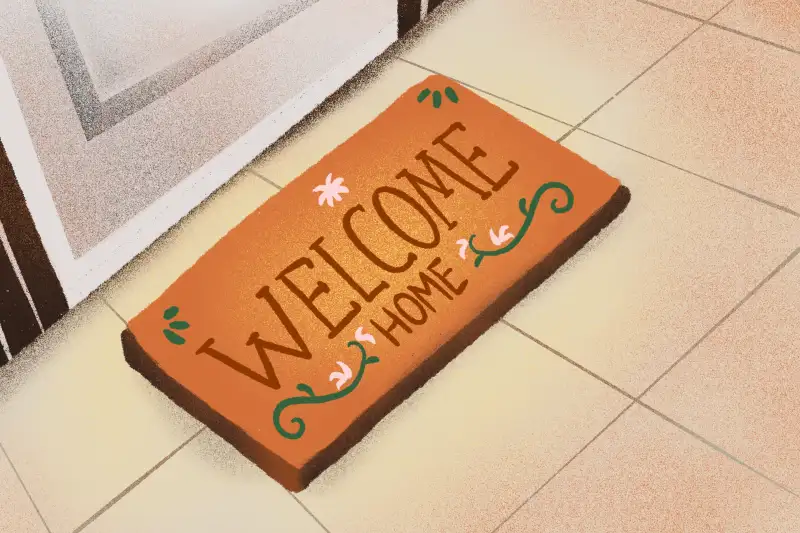 Buying a house is stressful enough for seasoned buyers, let alone first-timers.
You've probably got a bunch of questions running through your mind. Do I have enough saved for a down payment? Will I get approved for a mortgage? What's a good interest rate?
This is a life-changing endeavor to be sure. But the following steps will put you on the path toward homeownership — and hopefully ease some of the stress that comes with it.
Who is considered a first-time home buyer
A first-time home buyer is someone who buys a primary residence for the first time. When it comes to applying for government assistance programs, however, the pool of potential applicants widens to people who haven't owned a home for three years or longer, single parents who once owned a home with their ex-spouse and displaced homemakers who are no longer supported by their spouse.
What does a first-time home buyer need?
Before starting the home-buying process, you need to be financially prepared. Here's some info on how to suss out whether you're ready to take the plunge.
Income and employment documentation
Your mortgage lender (which can be a brick-and-mortar bank or an online lender) will need proof that you can afford monthly mortgage payments, and will ask for documentation of stable employment and income when you apply.
Request a letter from your employer specifying your position within the company, how long you have been working there and your current salary. Most lenders prefer a work history of at least two years. For proof of income, you'll typically be asked to submit your most recent pay stubs and W-2s. If you're self-employed, you'll have to submit your last two tax returns.
Credit score and history
Your credit score is one parameter lenders use to determine how risky it would be to provide you with a mortgage loan. Your score is based on a number of factors, like length of credit history and your record of on-time payments. If you've managed your credit well and have paid your debts on time, you should have a high credit score.
Most lenders require a credit score of at least 620, though some lenders will accept a lower one. However, the lower your credit score, the higher your interest rate will be, so it could be smart to work on improving it before trying to buy a home.
Debt-to-income ratio
Another major factor that influences your ability to obtain a loan is your debt-to-income ratio (DTI), a metric that compares how much you owe with how much you earn (calculated by dividing your total monthly expenses by your gross monthly income).
Your DTI tells your lender how much you are currently spending on paying down debt and how much you would have left over to put toward a mortgage.
The number to aim for here is 36% (the percentage represents how much of your monthly income goes toward paying all your debts plus your would-be mortgage). However, Many lenders will accept a DTI as high as 50%.
Timing
It's crucially important to take a step back and consider if now is a good time — both personally and economically — for you to buy a home. If you're constantly moving for work, or if high interest rates would be too much of a strain on your monthly finances, this probably isn't the right time to become a new homeowner.
If a home purchase isn't in the cards right away, take advantage of the extra time to improve your financial position, increase your credit score or save up for a larger down payment. All of these factors can make a home purchase easier and more affordable in the long run.
Steps for Buying a House for the First Time
Deciding you're ready to buy your dream home is just the first step in a long and sometimes confusing journey. This guide will prepare you for what comes next.
Prepare your finances
This is one of the biggest purchases you'll ever make. You should be confident that you are financially ready to buy before jumping into the market. If possible, start preparing your finances at least a year before officially starting your home search.
Check your credit score and credit report
One of the most important pieces of information your mortgage lender will look at is your credit score. Borrowers with excellent credit will usually qualify for the lowest interest rates and more affordable monthly payments.
Your credit score is based on your credit report. Check the report for negative and incorrect information that could be lowering your score
You can request a free copy of your report from each of the three major credit reporting bureaus at Annualcreditreport.com
Contact the credit bureaus directly if you find any errors.
Set a budget
Just because you qualify for a large mortgage doesn't mean you can actually afford it. Use a home affordability calculator to determine a reasonable budget. Pay attention to your local housing market — if homes are selling for above the asking price, it probably makes sense to focus on ones that cost less than your overall budget so you'll have room to negotiate in a bidding war.
Don't forget to factor repairs, new furniture and moving costs into your budget as well. A good rule of thumb is to sock away 1% to 4% of the home's value in a "repair fund" to keep your home in good condition for the years to come.
Save for a down payment
In surveys, more than half of potential buyers say not having enough for a down payment is one of the biggest barriers to homeownership.
The ideal down payment is 20% of the purchase price because it eliminates the need for private mortgage insurance (PMI). Most people don't save that much, though, and putting down the full 20% is rarely required
Conventional loans require a down payment of only 3%
You'll also need to pay closing costs upfront, such as origination, title insurance, appraisal and inspection fees, as well as attorney fees. All told, fees will typically run you between 3% and 6% of the loan amount.
Down payments are deposited in an escrow account until the date of closing
Choose a mortgage loan
There are many different types of mortgages available. Do your due diligence by researching them all to see which one fits your needs.
Conventional mortgages, also known as conforming loans, are not guaranteed by the federal government (though they still must meet the loan requirements set by Fannie Mae and Freddie Mac, which are government-sponsored enterprises). The minimum down payment required is only 3%, but credit requirements tend to be stricter than with loans backed by the government.
Federal Housing Administration (FHA) loans are guaranteed by the federal government and are designed to make homeownership available to low and middle-income borrowers as well as first-time homebuyers. Credit requirements are laxer than conventional loans. The minimum down payment required is 3.5%.
United States Department of Agriculture (USDA) loans are also backed by the federal government. They are designed for home buyers, most of whom live in rural parts of the U.S., that meet the agency's income requirements. USDA loans require no down payment.
Department of Veterans Affairs (VA) loans are also guaranteed by the federal government and are only available to qualifying members of the Armed Forces, veterans and some surviving spouses who meet eligibility requirements. VA loans do not require a down payment.
Shop for a mortgage loan
Now it's time to set your plan in motion. You should start the funding process two to four months from the date you ideally want to purchase a home.
Season your assets
Mortgage lenders want documentation of exactly how much cash you have at your disposal. If you're planning on using money from investment accounts or a cash gift from a family member to pay for a down payment, make sure you deposit it in your savings account at least 60 days before applying for a loan. This is called "seasoning your assets."
Shop multiple lenders
When it comes time to apply for a home loan, it pays to shop around. The best mortgage lender for you is the one that offers you a competitive interest rate and closing costs, as well as terms that fit your needs. Look into the different types of loans listed above to find the one that best suits your situation.
When shopping for a lender, compare the various mortgage rates and loan terms being offered by banks, online lenders, credit unions and mortgage brokers. Next, compare closing costs, late fees, and prepayment penalties. Sometimes, the lender offering the lowest interest rate isn't the best option.
Get preapproved for a mortgage
Once you've found a lender that you're comfortable with, ask for a mortgage preapproval letter. This certifies that your lender has thoroughly looked into your finances and will lend you up to a certain amount of money. Getting a preapproval also signals to home sellers that you are a serious buyer who probably won't back out at the last minute.
To apply for one, you'll need the following documents:
Identification - a driver's license or passport
Social Security number or card
Your most recent pay stubs
Recent bank statements for every account used within the last three months
Copies of your last two tax returns/W-2s
Monthly statements for any investment accounts you have
A list of all your monthly expenses
If you are currently renting, you'll need to provide landlord references and bank statements or canceled checks as proof of rental payment
If you're getting funds from a third party (like a parent) to help pay for the down payment, you'll also need a gift letter.
Preapprovals usually expire after 60 to 90 days. Make sure to ask your lender how long yours is valid for, and if it can be extended if necessary.
Other first-time homebuyer options
If you're having trouble affording a down payment, look into first-time homebuyer programs. Here are some of the most popular:
Down payment assistance programs. These are usually offered by state and local governments and provide first-time homebuyers with enough money to cover a down payment. DPAs can take the form of grants or low-interest loans (some programs offer zero-interest loans).
Good Neighbor Next Door. This program is sponsored by the U.S. Department of Housing and Urban Development and is designed for public service workers. It provides a 50% discount on the list price of HUD-owned properties in designated areas.
HomePath Ready Buyer. Through this program, first-time buyers can make a down payment of as little as 3% on foreclosed properties owned by Fannie Mae. Applicants can also apply for up to 3% in closing cost assistance.
HomeOne Loan. This Freddie Mac program lets first-time buyers purchase a home with a 3% down payment. There are no income or minimum credit score requirements, but you'll pay a little more in mortgage insurance premiums compared to other options.
Find the right home
Now for the fun part. It's time to go house-hunting! Here are a few words to the wise:
Scout neighborhoods early
Take some time to explore the different neighborhoods you're considering. This will give you an idea of home prices in each area, and if it checks all of the boxes on your list of "must-haves" — whether that's proximity to a good school, a host of nearby coffee shops, an easy commute or otherwise.
You'll also want to start homing in on the type of home you want (Move-in ready? New construction? Centuries-old?), the amenities that are important to you and your family (His and Hers bathrooms? Hardwood floors?) and the things you're willing to compromise on.
Hire a real estate agent
Look for a real estate agent that has experience selling homes in the neighborhoods you're eyeing. They'll know how competitive the local market is and whether a home there is within your price range. They can also provide information about property taxes and other costs that may be associated with the home, such as homeowners association fees.
A good realtor will alert you to potential homes, sometimes before they officially hit the market. They'll also be able to do a walkthrough and help identify any necessary repairs, potential defects in a home or items that may need replacement. Ask for referrals from friends and family.
Your agent will earn a commission when you buy, which can range between 3% and 6% of the purchase price of the home split between your agent and the listing agent. Typically the seller is responsible for paying this commission.
In some places, the agent you hire technically represents the house. Consider hiring what's known as a buyer's agent who will be obligated to represent your interests and work to get you the best deal.
Make an offer
Once you find the right house, you'll need to make an offer. In addition to how much money you're willing to pay for the property, you'll also need to decide how much earnest money you'll put towards the offer (an initial deposit that is later added to the down payment), what concessions you want from the seller and how long you're willing to wait to close. Your real estate agent will help you figure all this out, but ultimately, the decisions are up to you.
Request a home inspection
Home inspections are designed to evaluate the structural integrity, plumbing, electrical and heating/cooling systems of your new potential home.
As the homebuyer, you will be responsible for paying the home inspector, which typically costs between $300 and $800 depending on the size of the home.
Don't forget home insurance
Your mortgage lender will require you to get home insurance. Be sure to shop around to find the best homeowners insurance company for your needs. If you live in a flood-prone area, you'll need to get separate flood insurance as well.
How to Buy Your First Home FAQ
When is the first mortgage payment due after closing?
Your first mortgage payment is due on the first day of the month which falls at least 30 days after your closing date. So if you close on April 2nd, your first payment will be due on June 1st. (Subsequent payments will always be due on the first of each month.)
Your mortgage payments are paid in arrears, which means you're paying for the previous month and not the current one.
How long is the process of buying a home?
Most buyers spend an average of four months searching for their new home. Once your offer has been accepted, it can take another 40 to 50 days to close on your mortgage.
Which loan is the best for first-time homebuyers?
FHA loans are often recommended for first-time homebuyers because of the low down payment and minimum credit score requirements. Because they are guaranteed by the federal government, FHA loans also tend to have lower interest rates compared to conventional loans. However, they do require mortgage insurance premiums, which can increase the cost of the loan over time. VA and USDA loans are also good options for those who qualify.
The Bottom Line
Buying a home requires preparation and patience. Following these guidelines will keep you on track.