Women Are Spending Up to $20,000 to Freeze Their Eggs. Is It Worth It?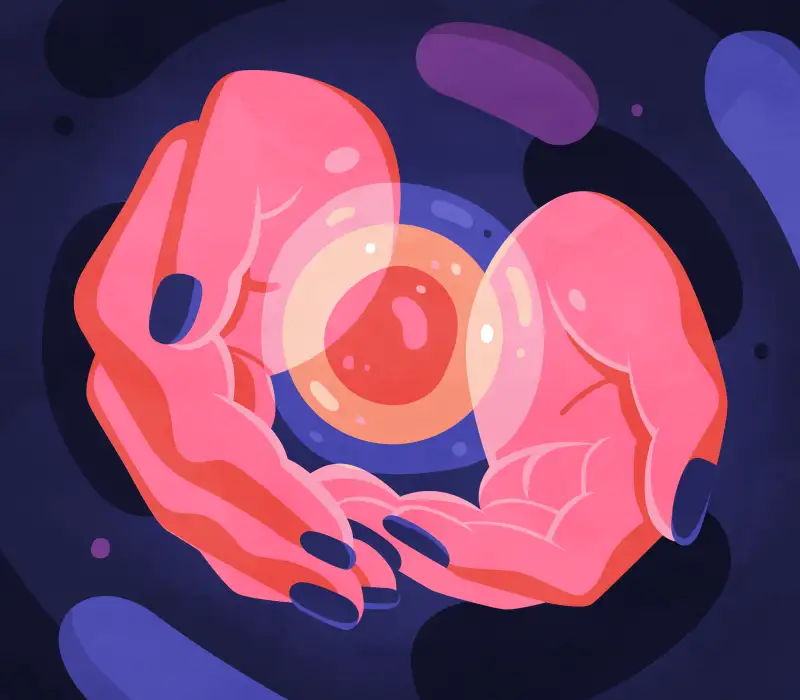 Illustration by Petra Eriksson for Money
When Meg He froze her eggs last year as a 29th birthday present to herself, she snapped a selfie for posterity. Wearing a surgical cap and gown, the startup cofounder posted the photo on Instagram from her hospital bed, looking elated, proud, and above all, confident in the decision she was making.
Her caption was even more enthusiastic: "After 25 injections in 12 days, 10 blood tests, 6 ultrasounds…these MEGglets are so ready to come out today!" she wrote.
Looking back, Meg calls the experience "one of the most empowering things" she's ever done. The popularity of genetic testing services like 23andMe proves people want more information about how their bodies work, and how they can ensure a healthier future. Meg considers egg freezing a logical continuation of this trend, and as an early adopter, she sees her decision to participate as a social good; a way to help it hit critical mass.
As for the cost? "I plunked it on a credit card," she says. "I'm going to worry about it in a year's time."
Assisted reproductive technology isn't new. In vitro fertilization (IVF)—a procedure that takes eggs from a woman's ovaries and combines them with sperm in a little petri dish—has been around since 1981, when the first "test tube baby" was born in the U.S. But egg freezing, which stores the eggs for future fertilization, sort of like IVF on retainer, is still a new frontier.
The American Society for Reproductive Medicine (ASRM) dropped the "experimental" label from the procedure in 2012—so there's not a lot of data about how many women are actually doing it. But the evidence is everywhere.
Today, more women like Meg are having frank, open discussions about reproductive health than ever before. They're sharing their "fertility goals" on public forums like Instagram, Facebook, and family planning websites like The Bump, JustMommies, Eggsurance. And they're shelling out thousands of dollars—sometimes tens of thousands of dollars—to bring those goals to fruition.
A single cycle of egg freezing starts at about $5,000 to $8,000. To get a viable number of eggs, some women need to undergo multiple rounds, paying double, or even triple, that price. The hormone prescriptions, injected daily into a patient's abdomen for at least a week prior to the procedure, can add thousands of dollars to the bill. So can doctor's visits and storage fees. And that's just the first part of the process: Most women are on the hook for at least another $10,000 when they thaw and implant the eggs down the line. If you're lucky, insurance might cover one or two consultations with a fertility doctor, but most patients have to pay for the procedure out of pocket, with the help of credit card debt, medical loans, and clinic-specific payment plans.
Those are hefty price tags for what basically amounts to a gamble. The odds an egg freezing patient will have a successful pregnancy varies, but research from the Society for Assisted Reproductive Technology (SART) shows that each frozen egg only has about a 4.5% to 12% chance of becoming a baby.
The odds a woman will actually use that egg are just as slim. The majority of egg freezing patients never return for the implantation: Studies published in 2017 in the academic journals Fertility and Sterility and Human Reproduction put that number at less than 10%.
All of this adds up to a big, open-ended question bubbling among twenty- and thirty-something women: How much is your fertility worth?
The High-Cost of Egg Freezing
As anxieties about motherhood, career trajectories, and "having it all" spill into an era of #MeToo, paid parental leave, and an unrelenting gender pay gap, egg freezing has crash-landed somewhere in the middle.
There's no overarching motive—the truth is, women turn to egg freezing for a myriad of reasons. Some want kids someday, or think they might want kids, but haven't found partners they're willing to co-parent with. Some stayed in a bad relationship too long, or tried to create a life with someone who didn't want children, and are now approaching the end of their fertility window partner-less. Some prioritized their careers over settling down. Some have hereditary diseases that make it difficult to conceive. Some just feel like it.
For better or for worse, the trend has found plenty of mainstream attention in recent years. Actresses Sofía Vergara, Whitney Cummings, and Olivia Munn have all spoken publicly about freezing their eggs. In January, Bachelorette Andi Dorfman released Single State of Mind, a memoir that chronicles her decision to do the procedure. A new Washington Post documentary series follows filmmaker Nicole Ellis as she explores the use of technology to "postpone having children until she's ready." And this past spring, when massive freezer malfunctions at fertility clinics in Ohio and California caused the loss of thousands of frozen eggs and embryos over the course of just a few days, stories from the 1,000-some patients affected sparked an onslaught of new, albeit tragic, headlines.
There's still a lot of uncertainty about who, exactly, is a good candidate for egg freezing. Type "should I freeze my eggs?" into Google, and you'll get bombarded with page after page of conflicting advice. Biology is mostly to blame here; the speed at which a woman's eggs deplete depends almost entirely on her own genetic makeup. Fertility testing can give doctors a snapshot of what her odds of conceiving might be, but not a complete picture.
Paying for the procedure is the next big question mark.
Unlike IVF, egg freezing is an expense a woman usually has to navigate on her own, without help from a partner's income. It comes with a laundry list of fees most patients don't know about until they're in the thick of it—like prescription costs ($3,000 and up) and "cryobank" storage fees (about $300 to $1,000 each year).
Still, for women considering taking the plunge, there are more financing options than ever before. Tech companies like Apple and Facebook have started covering the cost as an employee perk. And new, millennial-friendly clinics have popped up with new, millennial-friendly marketing grabs. This past March, the San Francisco–based clinic Spring Fertility sponsored a "Golden Egg Hunt," which sent about 100 participants on scavenger hunt–style challenges, like belting out Frozen lyrics and hopping like rabbits up a flight of stairs. The grand prize? A free egg freezing cycle and, per Spring's website, "priceless peace of mind."
Angella Nguyen, a 38-year-old Los Angeles resident, did a staggering amount of research before freezing her eggs in February. The Bay Area clinic she chose, Zouves Fertility Center, offers financial assistance, as did the pharmaceutical companies that make some of the prescriptions she was required to take beforehand.
Even with these discounts—which required applications and mailed-in tax returns—Nguyen spent about $13,000 out of pocket. If she chooses to thaw and implant the eggs down the line, she'll have to fork over even more money. But ideally, Nguyen says, she won't need to.
"I still want to have a natural birth," she says. "This is plan B to the plan B."
Some women who can't afford the hefty price tag borrow money from places like LendingClub, which doles out "fertility loans" with interest rates that swing from 3.99% to 24.99% (the average rate is about 10%, according to a company spokesman). In recent years, fertility clinics have started offering payment plans directly through their facilities, and it's paid off. Shady Grove Fertility, a national clinic with 31 offices throughout the U.S., saw a 19% spike in women interested in egg freezing after it launched a $195 monthly payment option, a spokeswoman says.
Shady Grove is one of the few companies that charts its pregnancy success rates publicly, on its website. For patients younger than 38, freezing 20 eggs equates to a roughly 80% chance of at least one live birth, according to the clinic. Ten eggs give them a 50/50 chance. This isn't a magic wand: Like the larger egg freezing population, most of Shady Grove's patients never return for IVF (of the 875 women the clinic drew that sample from, only 117, or about 13%, came back for implantation). But it does put things into perspective.
"We want people to be educated when they're doing this," says Joseph Doyle, a doctor at Shady Grove's Rockville, Md., office. "It's a big investment."
Leaning on debt for egg freezing costs can put women in a precarious situation. There's no collateral, and the uncertainty of whether or not the procedure will lead to a successful pregnancy makes it a murkier investment than the things people typically take out loans for—vehicles, homes, college educations.
Leslie Mallman, director of financial planning at Grove, an online financial planning service in San Francisco, has helped several clients budget for fertility expenses. For most people, she says, it's best to open up a high-yield savings account and pad it with extra income from a side gig if need be. Having kids is expensive—accumulating a bunch of debt while you're still trying to get pregnant can lead to endless financial stress down the road.
"Because it's so emotional, people come to a point where they want to put everything they have into it," she says. "It really comes down to knowing your own situation."
Women considering egg freezing, and contemplating how to pay for it, can look to IVF patients for some best- and worst-case scenarios. There are plenty of happy endings: Preliminary data from SART shows that more than 70,000 babies were born in 2016 with the help of lab assistance (mostly through IVF). But there are also complications, both financial and emotional, that are impossible to rectify.
When 25-year-old Kiaya Cali-Cummins got pregnant with triplets through IVF, she signed an agreement to pay back the $6,000 she borrowed from a fertility clinic in monthly $250 increments. She and her wife, Marissa, took out another $5,000 loan from a bank to cover the miscellaneous doctor visits and medications the clinic's payment plan (and their insurance) did not.
Cali-Cummins had a healthy pregnancy—every test, scan, and ultrasound showed three healthy baby girls. But she went into labor at just 23 weeks, and her daughters died shortly after. Cali-Cummins was rushed into surgery immediately after giving birth, so she never even got to see them alive.
In the aftermath, Cali-Cummins stopped paying the fertility center. "That wasn't the top thing on my mind," she says. "None of my bills were." A year later, she has six frozen embryos left, but says the clinic won't let her use any of them until she pays her balance in full.
The reality of fertility debt is that it underwrites a very thorny promise. Cali-Cummins knew that when she took it on, but the hope that it might enable her to have children was enough to press forward.
"My dream has always been to be a mother," she says. "I would spend any amount of money to have the time I had with them."
The Power of Choice
For outsiders, it's hard to separate egg freezing as a concept (an insurance policy you might never need and will probably never use) from the very real price tag that comes with it.
Forty-one-year-old Chanté McCormick has been thinking about freezing her eggs for the better part of a decade, lingering around online "fertility support forums" for nearly that long.
Over the years, she's noticed a steady increase in the number of women in these spaces who are taking the plunge. But she's still not convinced it's money well spent.
"It feels like playing Russian roulette with your future," she says.
Women who have gone through the procedure see things differently. For many, the question of whether or not egg freezing is "worth it" lies outside the statistics. It's not about blind optimism or a gambler's mentality. It's about choice.
Tai Beauchamp, a New York– and L.A.-based media strategist, TV host, and producer, froze 11 of her eggs in 2013. She took an extra hosting job to cover the cost, which hit nearly $15,000 (not including the $1,200 a year she pays in storage fees).
Beauchamp doesn't know if she'll ever use those eggs—she's 40 now and isn't in a committed relationship. But like many women who freeze their eggs, her decision to pay for the procedure was less about fulfilling a lifelong, undying need to be a mom, and more about having a say in the matter. Leaving that door open. Just in case.
"It's about options," she says. "Not just for reproductive health, but for how you see yourself as a woman. Whether or not you choose to work and be a CEO or an entrepreneur or a teacher. And whether or not you choose to become a mother."