Making a Friend in HR Can Help Your Career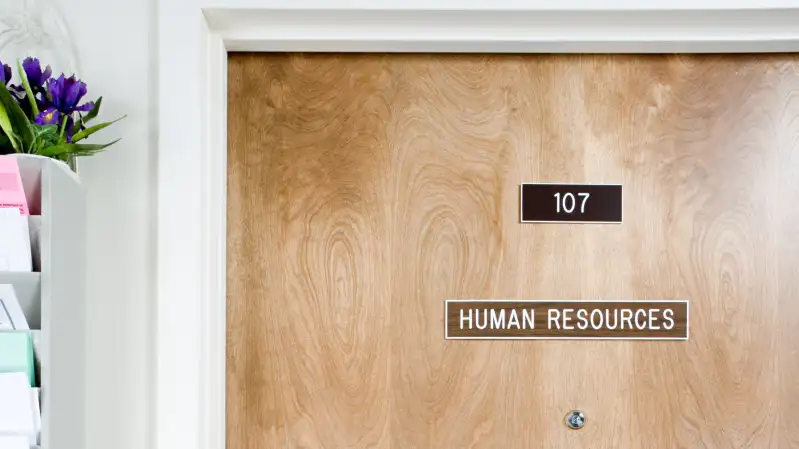 Image Source—Getty Images
If you don't have friends who work in human resources, you might have a very narrow view of what happens there: It's the place to go during benefits selection time; it's the place where people get fired; it's a mouthpiece for the company.
Like most people, you probably only contact HR is when you have a problem.
But as someone who has worked in the field for more than 20 years—both inside companies and outside as a consultant—I can tell you that getting to know the people who work in your human resources department can be very valuable. HR professionals work on career-related issues every single day. And you can take advantage of that expertise to better manage your own career.
Don't yet know anyone in HR well enough to ply them for insights? Invest some time to build a connection: Invite someone to lunch whom you've worked with on matters related to work—say, filling an open position or promoting a star. Also, look at your LinkedIn and Facebook connections to see if you know someone in HR even if not in your own company; they can still be helpful to you. And the next time you're contacted by a recruiter, return the call and suggest meeting up.
Once you've got your lunch planned, here are five areas you might want to talk to your HR buddy about:
1. What the straight story is on company benefits
Better than a hotline, your friend in HR can translate the doublespeak from the benefits guide into information you can use. Your friend might not know every nook and cranny of the guide, but if you have a specific interest (say, elder care issues), he or she can probably point you to the expert on her team who knows this well. Medical benefits is definitely a company perk you want to understand well.
But you might also ask if there are other benefits you're entitled to that you are likely overlooking. There may be training and development opportunities, or even discounts to local attractions or consumer services (e.g., cell phone plans) that your company offers its employees. Your friend in HR knows about these because it's part of his or her day-to-day.
2. How the decisions that affect your pay are made
What data is used to establish pay ranges? When are raises and bonuses decided? Are promotions granted at specific times only? Does every department do performance reviews at the same time, in the same way?
If you want to keep your career moving on an upward trajectory, you need to know how decisions are made around raises, bonuses, and promotions. This includes when decisions are made (if it's once a year, start planning now so you don't miss the next cycle), who decides (it's not just your boss) and how your group compares with others (maybe you're in a department with little upward movement and need to switch).
You can't ask your boss or immediate colleagues for this information without revealing your intentions, and they may not know the whole story. Someone in HR, however, deals with these issues frequently, and across different areas of the company.
3. When exceptions are made to the rules
In addition to knowing how the processes typically work, your friend in HR probably also knows about any exceptions to the rule.
Any decent professional keeps confidentiality, and HR issues are absolutely confidential. However, your friend in HR can let you know if exceptions have occurred and how likely they are.
For example, you could find out if bonuses really are paid out only at year-end. Your HR friend may not be able to reveal who got the special spot bonus or how much it was, but might say, "I've seen it happen from time to time" or "I did hear of one case when…" And if you're working on an extra assignment and feeling undervalued, your pal may suggest you lobby your boss for special consideration. At least you know an exception is possible, and it's on you to press on for what you want.
4. How things compare between your company and others
Are you fairly paid? Is every company in this industry restructuring so frequently? Are work-at-home opportunities just not available in your line of work?
Your friend in HR doesn't just look at career-related trends inside your company. He or she also needs to have a sense for what other companies are doing to ensure your firm stays competitive. Use that competitor knowledge as a shortcut for your own research.
5. How to approach your boss with requests
Now that you have all this useful knowledge about what benefits you might select, how decisions are made, possible exceptions that could apply to your situation and what competitors are offering, you may want to ask your boss for something—access to that special training conference, a promotion, a special bonus. But you don't want your meeting with your boss to be the first time you practice this ask.
It is incredibly helpful to role play what that negotiation will look like with someone other than your boss who is experienced in career negotiations. This is another perk of having a friend in HR. He or she has sat through offer negotiations, performance reviews, and other career discussions much more frequently than you (and maybe even your boss). He or she can pepper you with questions you can practice in advance, or give you tips on what works and what doesn't.
__________
Caroline Ceniza-Levine is co-founder of SixFigureStart® career coaching. She has worked with professionals from American Express, Condé Nast, Gilt, Goldman Sachs, Google, McKinsey, and other leading firms. She's also a stand-up comic. This column will appear weekly.
Read more from Caroline Ceniza-Levine:
10 Easy Ways to Make Yourself More Hireable
Your Career is Your Biggest Asset. 5 Ways to Protect it
New Degree, No Job? 4 Steps Grads Should Take to Jumpstart the Search