Where to Buy 'Game of Thrones' Oreos, Clothing, and Lannister-Approved Booze for an Epic Season 8 Premiere Party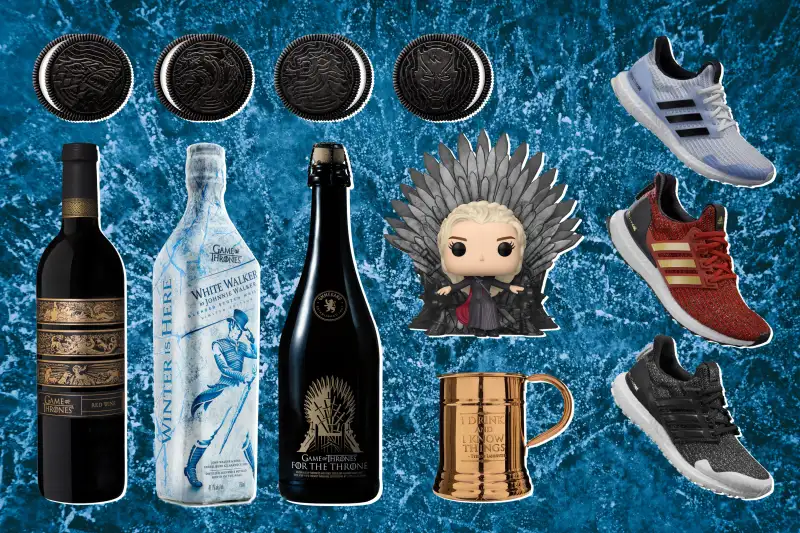 Getty Images (1); (products) Courtesy of Oreos, Adidas, Amazon, Johnnie Walker, Ommegang, Folsom + Associates
Game of Thrones is finally coming to an end, and most fans are anything but happy about it.
Since its premiere in 2011, the HBO series has been delighting everyone who loves fantasy, George R.R. Martin's still unfinished series of novels, and epically violent and sexy television. But along the way, through numerous licensing deals, the show has transformed its dark aesthetic into some inventive and just plain strange merchandise.
From Tyrion Lannister-approved libations to—yes—Oreos and actual swords, here is the wildest GoT merchandise you can grab before the show's final season debuts on April 14. (And if you're still catching up, here's how to watch every Game of Thrones episode for free before the premiere.)
Adidas X Game of Thrones Night's Watch Ultraboost sneakers, $180
If Jon Snow wore sleek, modern trainers rather than whatever cumbersome footwear he surely has on now, he would probably rock these kicks from Adidas.
The recently unveiled collaboration between Adidas and HBO is available in unisex sizing and various colors, though this monochromatic version is undeniably the flyest, and could work for either the gym or a casual outing. Positive customer reviews rave about the shoe's comfort, ideal for running away from White Walkers as rapidly as possible.
Ommegang "For the Throne" beer, $25
The acclaimed Ommegang brewery has been releasing Game of Thrones beers for years. The good news is that they're surprisingly interesting and delicious.
For the eighth and final season, as you try to piece together who will take the Iron Throne (Jon? Dany? Tyrion? No one? The Night King?!), settle your nerves by drinking Ommegang's latest batch: the aptly titled For the Throne. This golden ale co-fermented with pinot grigio and viognier grape juices reportedly has an aroma hinting at honeysuckle, toasted grain, pear, and apricot, while on the tongue you'll get sweet malt and honeydew.
"With this offering, we have bent the traditional boundaries of beer-making, co-fermenting traditional ingredients with juices normally destined for fine wines, going to great lengths to create a truly unique, special beer," Ommegang president Doug Campbell said in a release. Plus, it packs heat at 9.5% alcohol by volume, so slip more slowly than Tyrion would.
The brew is available where you'd normally find Ommegang beers and can also be bought and shipped online.
"I Drink and I Know Things" copper stein, $20
Tyrion is hands down the most quotable Game of Thrones character, and his wit and boozing are honored with this officially licensed copper stein from Calhoun. Its gleam and sheen gives off an appropriately impressive vibe, and works for drinking everything from Moscow Mules to your morning coffee.
Any GoT viewer can tell you that vino is the preferred beverage in Westeros. The alcohol-soaked HBO show has recognized that by releasing three official wine varieties created by award-winning California winemaker Bob Cabral, who sought to "match the strength of the characters and the terrain of their kingdoms," according to the wine website.
While the Cabernet Sauvignon is sold out, fans can still grab two other options: The 2017 red blend combines six varietals, including Petite Sirah and Zinfandel, and is robust and dry. And the 2016 Chardonnay is fruity and slightly acidic.
The wines can be purchased online or at a local retailer. Perhaps best of all, the wine is shipped with a free Game of Thrones-branded corkscrew sure to impress the friend in your life who casually drops George R.R. Martin quotes out of nowhere.
Johnnie Walker White Walker whisky, approximately $40
The Scotch producer Johnnie Walker has come out with a liquor-cabinet statement piece for the last season of Game of Thrones. The White Walker whisky blend is 41.7% alcohol by volume and utilizes different single malts with notes of caramelized sugar and vanilla.
The brand recommends pouring it chilled, while the striking bottle contains "thermochromic ink to give fans a frosty surprise message when frozen." You can order it from your local liquor store and on Drizly.
Game of Thrones Oreos, $3 to $4
Thrones-branded…Oreos? Sure, it's a little odd, but you'll need something to pair with the seemingly endless Thrones alcohol collaborations. The addictive Nabisco-owned cookie has announced limited-edition Oreos for the final season, and they hit stores Monday, April 8.
Nabisco also teamed up with HBO to make a mock version of the show's opening credits featuring Oreos because...why not, right? The cookies come in four different designs honoring the three houses still vying for the Throne and the White Walkers who threaten to upend it all.
Headless Ned Stark Funko Pop! vinyl figure, approximately $2,300
While all the Funko Pop! figures depicting Game of Thrones characters tend to be beloved for their cuteness, perhaps none is more coveted than a particular Ned Stark version.
The brand released a limited 1,008-item run of this figure, which comes with a detachable head nodding to Ned's gruesome and untimely demise. But now only deep-pocketed Thrones viewers can pony up for the collectible item. Headless Ned Stark currently goes for more than two grand on eBay. Just make sure you're getting the authentic, bloody thing, and not a knockoff.
Luxury Game of Thrones-inspired John Varvatos clothing, up to $2,698
As beheaded Ned proves, Game of Thrones merch runs the gamut from highly affordable to highly unaffordable.
The luxury menswear brand John Varvatos recently unveiled an 11-piece capsule collection for dudes who want to look like a Westeros fighter except...fashionable. Distressed textures fit right in with the Varvatos aesthetic, and the muted color scheme is appropriately medieval. There's a Winterfell leather jacket for $2,698, and a more modest Heritage Henley linen shirt for $198.
Valyrian steel swords, around $300
Wow. This show's gear has gone as far as actual swords.
The HBO-endorsed Valyrian Steel collection from the internet company Jalic Inc. might not be as mighty as the Valyrian steel as seen on TV, but the reproductions are still quite impressive. You can adorn your home with the $250 Longclaw sword of Jon Snow (wall mount included) or the $300 Ice sword of Eddard Stark.
Please do remember to keep these sheathed, though.
We've included affiliate links into this article. Click here to learn what those are.