Here's How Low Gas Prices Could Go This Summer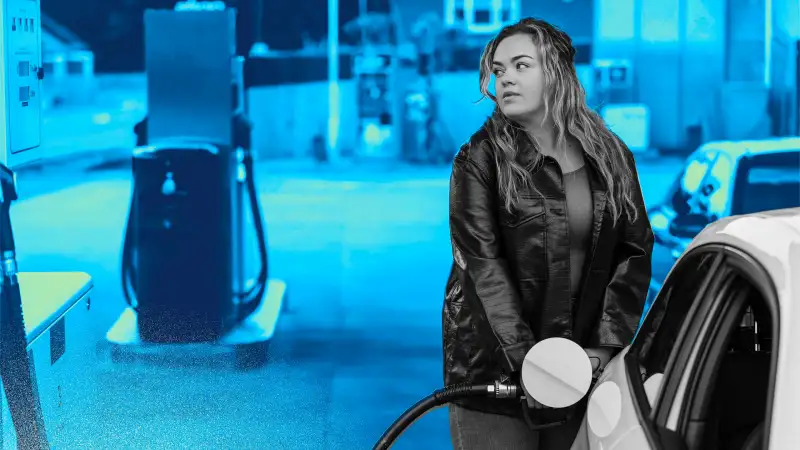 Almost a year ago, gas prices reached a record high over $5 per gallon. While prices could very well rise in the months ahead, experts say the national average isn't likely to pass $4 this summer.
The average gallon of gas in the U.S. now costs $3.55, which is 2.7 cents more than a week ago, according to GasBuddy. The price comparison app forecasts in a new report that the national average will hover between $3.35 and $3.85 during the warm months.
That means the average cost for gas could rise by about 30 cents per gallon, but prices are not expected to shoot up in the near term, nor should they come anywhere near the record highs of last summer.
"Gasoline prices have drifted higher in the last week due to some relatively minor refinery kinks and low gasoline supply, but it may not be a trend that lasts too much longer," said Patrick De Haan, GasBuddy's head of petroleum analysis.
What experts say
Increased demand for gas around the holiday may have caused prices to rise last week, according to Andrew Gross, a spokesperson for the auto club AAA. But he said in a recent report that prices "could stabilize or fall once this long weekend is in the rearview mirror."
However, later in the summer, gas could get more expensive if oil prices rise. That's a possibility if Congress passes a debt ceiling deal, or if a recession starts to appear less likely, according to GasBuddy. The idea is that positive economic news this like would signal higher oil demand, potentially leading to higher oil and gas prices.
Other hypotheticals like gasoline demand being higher than expected this summer or weather events impacting refineries could lead to higher prices.
Crude oil, which accounts for 51% of what you pay for a gallon of gas, was trading just below $70 per barrel on Tuesday, down about $6 in the past month, according to the West Texas Intermediate measure.
Where gas prices are highest (and lowest)
Gas prices are more than $1 lower than they were at the same time last year when the national average was $4.60 and on a rise toward a record high just above $5 in June.
While gas prices have only been this high a few times in the past decade, today's costs may feel less shocking to drivers who've been paying high prices for more than a year at this point going back to Russia's invasion of Ukraine in early 2022.
As always, what you pay for gas depends a lot on where you're filling up. State-to-state differences in gas taxes and fees are among the reasons that prices tend to vary widely.
The average price of gas is currently below $3 in just one state, Mississippi, while the highest 10% of stations in the U.S. have an average price of $4.73 per gallon, according to GasBuddy.
The most expensive states for gas right now are California ($4.77), Hawaii ($4.71), Washington ($4.60), Arizona ($4.47) and Nevada ($4.21).
The five cheapest states are Mississippi ($2.96), Louisiana ($3.09), Texas ($3.09), Arkansas ($3.12) and Alabama ($3.14).
More from Money: