Gas Prices Probably Aren't Going to Get Any Cheaper in 2016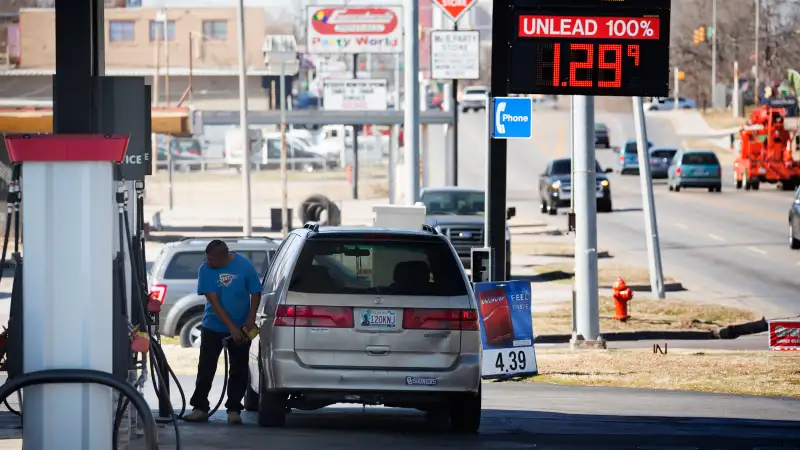 J. Pat Carter—Getty Images
The average price for a gallon of gas in the U.S. is just under $1.70, according to AAA. It's an astonishingly cheap price point, considering that it's less than half the average national price for the entire years of 2011, 2012, and 2013.
The current average is the lowest point since January 2009, Gasbuddy.com reported this week. But the gas comparison website also predicts that prices at the pump will soon rise, as oil refiners in some states have already cut back production.
As the week began, more than 30% of gas stations in the U.S. were selling gas for under $1.50 per gallon. The cheapest gas was being peddled in Oklahoma ($1.35), Missouri ($1.39), Kansas ($1.41), Minnesota ($1.45) and Arkansas ($1.48).
But it might be a good idea to fill up your tank soon, because GasBuddy predicts these record-low prices will not stick around for long. Since refiners in Midwest states have already slowed production volume, it doesn't think the national average fuel cost per gallon will dip below $1.59—the price that would signify a 12-year low.
"More and more increases will be coming to pumps in days near you," GasBuddy's Patrick DeHaan explained. "I'll call it our pump 'transition week,'" meaning that most gas prices around the country are unlikely to get any cheaper than they are right now.
If this is true, drivers can't complain: We've had quite a run of incredibly cheap gas prices. And the U.S. Energy and Information Administration recently forecast that the national average for all of 2016 will be under $2 ($1.98 to be precise), roughly 25 cents cheaper than last year.
Read More: Cheap Gas Prices Creep Closer to $1 Per Gallon
For the sake of comparison, the biggest savings drivers are enjoying right now compared to the same time last year are being seen in Illinois (83 cents), Indiana (77 cents), Kentucky (75 cents), Michigan (74 cents) and Minnesota (74 cents). Only five states—Hawaii ($2.62), California ($2.41), Alaska ($2.24), Nevada ($2.09) and Washington ($2.04)—offered prices above $2 per gallon as of Monday.