Dear Twitter: Please Stop Harassing Financial Planner George Papadopoulos
Money is not a client of any investment adviser featured on this page. The information provided on this page is for educational purposes only and is not intended as investment advice. Money does not offer advisory services.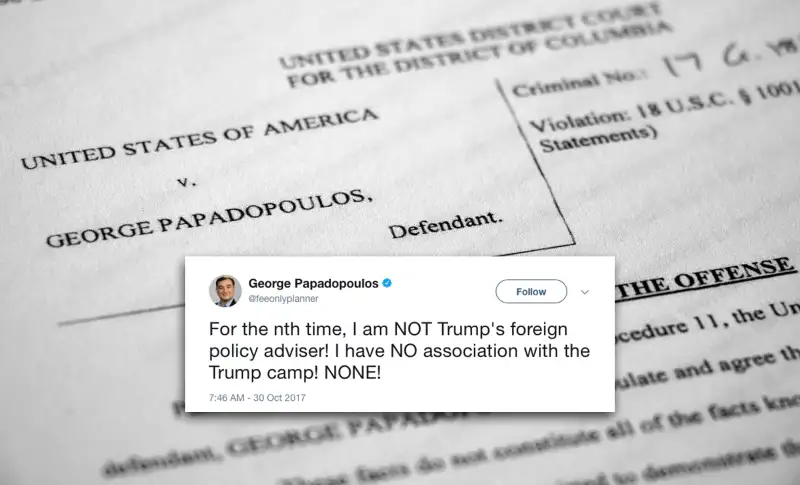 Jon Elswick—AP; (inset) @feeonlyplanner via Twitter
It's not every day that your name turns up in a national news story. But Michigan financial planner George Papadopoulos wishes that his name—one shared by many other Greeks—had not also appeared in reports of guilty pleas and lying to the Federal Bureau of Investigation.
The case of mistaken identity stemmed from news that broke Monday morning that a different George Papadopoulos—this one a former advisor to Donald Trump—had pled guilty to charges that he lied to the FBI. That George Papadopoulos took several meetings with an individual with Kremlin ties, who promised "dirt" on then-presidential candidate Hillary Clinton in the form of "thousands of emails," according to documents unsealed Monday.
The former Trump official was quietly arrested in July and has since been cooperating with special counsel Robert Mueller's investigation, according to the documents.
In the wake of the documents' release, Internet trolls lashed out on social media, taking "George Papadopoulos" to task. And despite a Twitter handle that clearly identifies him as a fee-only financial planner, the Michigan-based George Papadopoulos had to field more than a several queries about his involvement.
As it turns out, Papadopoulos-the-planner was in Greece when the story broke.
Money reached out to him about his reaction to the news and the fallout on social media.
Where were you, and what were you doing, when you saw the first tweets today?
I am visiting Greece to help my mother go to some doctor appointments, find her a new place to move to, and other affairs. Of course I am enjoying her home cooking. I had just finished my lunch and the deluge of emails and tweets started. It has not really stopped.
Was it a bit of a shock to see your name in the news?
Of course it was. Especially when you see it associated with words such as indictment, felony and lying to the FBI! I always wanted to see what it is like to go viral one day, but definitely this was not the way I envisioned it. But I am trying to make the best of it and have some fun along the way.
Has this happened before?
Yes. This particular Trump advisor was in the news before, so I had also posted on social media that this is just a coincidence and that I have absolutely nothing to do with this person or the Trump campaign and administration.
How many George Papadopouloses do you know?
George Papadopoulos in Greece is the equivalent of John Smith in the U.S. It is a very common name. Every one knows someone with this name.
Just today while I am visiting Greece I ran into two cousins of mine with the same name. The news just hit here and I have already seen joking references such as 'We George Papadopoulos men are so powerful we are in the White House AND the Kremlin!"
Has this had any impact on your business? Have clients asked about it?
A few clients have joked about it and asked me if I was okay, and how I was handling it. I do not focus on things I cannot control.
I just hope the hysteria dies down so my life can get back to normal.