3 Smart Strategies to Get the Best Deal on Everything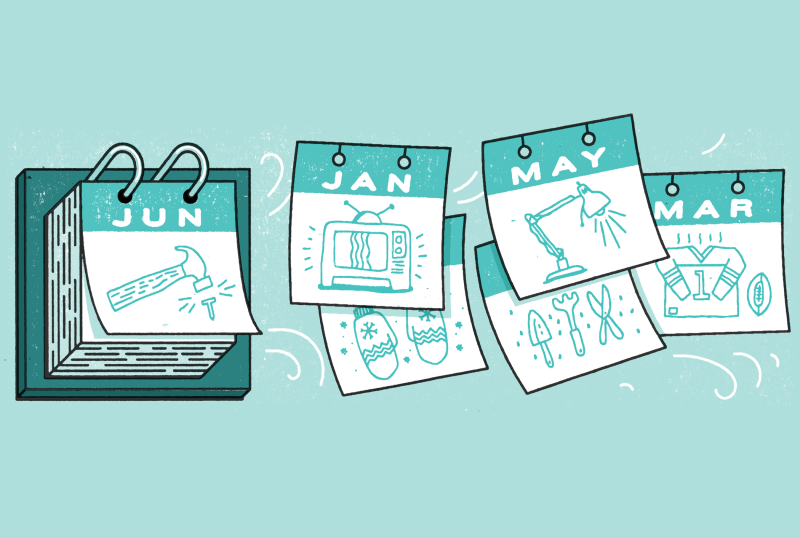 Illustration by Mikey Burton
Thanks to the ease of comparison shopping online, almost anyone can suss out a 10% discount these days, and 20% isn't all that tough either. But if you're looking for major-league savings—the kind that can reach 30% to 50% off or more—then you need a special weapon. You need intel.
Sometimes that just means knowing when a product's "season" ends and therefore goes on super sale. That's obvious for some purchases. Outdoor furniture is half off in September, once summer is fading. But TVs get discounted by as much as 30% in late January. Why? Because once the Super Bowl is over, demand drops faster than another Peyton Manning misfire.
Then there are the sales that pop up when you'd least expect—when demand is still strong. It may be counterintuitive to discount tools in time for Father's Day, but June is when they go for up to 60% off. "High demand should lead to high prices," says University of Rochester's Avery Haviv. But brick-and-mortar companies know they have to work harder to win a sale. "It's all a way to drive you into the store," Haviv says.
Keeping track of all these shopping sweet spots can be a job of its own. That's why Money created a month-by-month calendar of the best time to buy everything. It's based on data from DealNews and FatWallet, sites that track prices all year long. Download the whole list as a handy chart, then use these strategies to make finding a steal an everyday event.
Buy at peak demand
Clearly the juiciest sales are the ones that, like Father's Day tools, arrive in high season—not only because they come just in time to save your gift-buying budget, but because there's plenty of inventory still available. "The chances of getting savings on higher-quality items are better," says FatWallet shopping expert Brent Shelton. Among the products that fall into this category: home fitness equipment, which retailers typically discount by up to 50% in January, in time for those New Year's workout resolutions. Cookware, kitchenware, and gardening supplies are 40% off in May, for Mother's Day, says Shelton. Perhaps the biggest shocker: toys. You'll find prices up to 75% off in the first part of December, just as the holiday-shopping frenzy commences.
Wait for the post-season
There are plenty of items that don't go on sale until after their prime time, but the discounts are often bigger. You can find winter clothes for as much as 80% off in January, and even more than that come February. Outdoor equipment, such as grills, go for half off or more if you wait until those Labor Day sales. The downside: By then the inventory will be picked over, so you'll have to take what's left. If you don't want to get stuck with the dregs, you can cheat a bit by starting to look about two months after the season has begun. By then retailers may have begun to drop prices on slow-moving items, says Benjamin Glaser, features editor at DealNews.
Follow the tech calendar
Electronics follow their own seasons. Samsung and other non-Apple companies unveil their new models in October, which is when you'll see prices on older versions dip, typically by 50%. The hype around the shiny new things at the Consumer Electronics Show (January) and the Mobile World Congress (February) will also drive down prices on older lines.
Apple typically introduces its new iPhone in September, which is when the prices of last-generation models start to drop. And while the company rarely discounts new products, retailers find ways to sweeten the deal. Because Apple gadgets are such magnets for shoppers, stores offer their own gift cards along with an Apple purchase. Last year, Target gave a $250 card with the purchase of an iPhone 6s. "It's fascinating that people will pay full price for a new iPhone out of the gate," Shelton says, "when they could just wait two months" and score a Black Friday deal.
Check out the full month-by-month calendar here.
Alexandra Mondalek contributed additional reporting.