Give charity on the cheap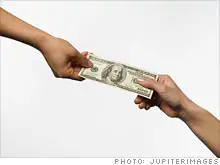 One of the standard disappointments of writing for a magazine is that you don't have space to include all the fascinating people you talk to and interesting things you learn as you report a particular story. My December 2009 Money article "How to Give When the Giving is Tough" was no exception. Although I was able to use a lot of what I heard about innovative ways that people are supporting, on a shoestring budget, the charities and causes that are important to them, inevitably some insights my sources had didn't make it into the print edition.
One was how easy it can be to raise money and have fun, too. That's what I learned from Marilyn Price, a financial consultant in Orchard Lake, Michigan -- a northwest suburb of Detroit. At the depths of the financial meltdown late last year, she and her husband, along with three other couples that were longtime friends, decided they ought to do something different from their usual holiday party and gift exchange. "We still wanted to have a nice party and enjoy our friends," she said, "but we decided, 'Let's make it a benefit for charity.'" They ended up deciding on the Salvation Army, which had sentimental value for Price because her father, who served in World War II, had credited the organization with saving his life. So they got an official bucket from the organization's local division, sent out invitations to friends for the fundraiser, and scrambled to assemble food and drink. They managed to get some donations from local merchants -- a grocery store, for example, supplied a customized Salvation Army cake -- and spent a total of $445 of their own money. "That's less than what we would have spent on gifts to exchange with each other," she said.
The party, held at Price's house the night of a big snowstorm last December, was a wild success. Though the hosts had thought about charging $75 a couple at the door, they went with a noisy soft sell instead: Several times they rang a bell in the Salvation Army tradition, thanked people for attending, and reminded them of the party's beneficiary. "But that was the only hint of it," Price said. The night's proceeds were $8,000 -- at about $150 per couple, a haul that was well beyond the hosts' expectations.
This month, Price said, she and the other couples are planning a similar fundraiser -- this time for South Oakland Shelter, which assists homeless individuals and families in the Detroit area. (Price sits on the board.) "It was just a wonderful experience," Price said about last year's party. "It set the tone of the whole holidays for us." Like a lot of other holiday traditions, this one is worth repeating.
Add More Money to your favorite RSS reader. Subscribe at http://rss.cnn.com/moneyfeatures.rss.