The $64,000 GMC Sierra Denali Shows How Pickups Have Gone Crazy Luxe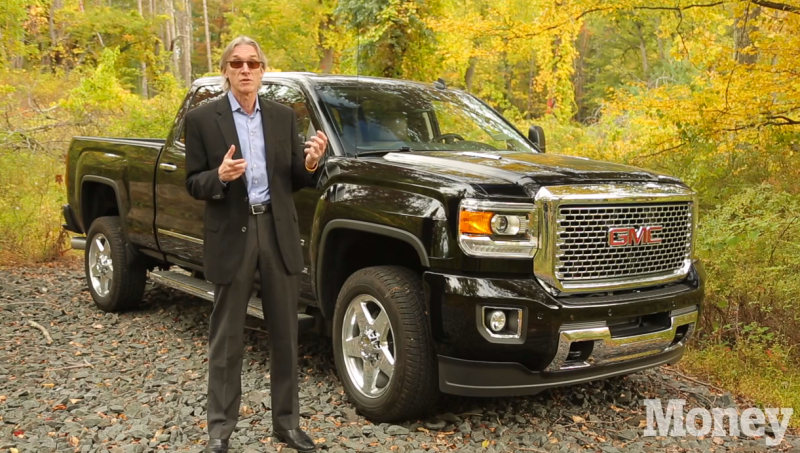 Even in the darkest days of the American automobile industry, pickup trucks came through. Detroit couldn't build profitable cars to save its soul, but pickups always delivered sales and profits.
In the last couple of years, with agriculture booming and construction recovering, the auto companies have been outdoing themselves to hang on to this lucrative turf. Ford is about to launch a new, aluminum version of its top selling F-150. Chrysler has had to increase production of its Ram 1500 to keep up with demand. Meanwhile, GM is about to debut two middleweight contenders, Canyon (GMC) and Colorado (Chevy).
GMC also rolled out new versions of its heavy duty 2500 and 3500 Sierra HD models that highlight another trend: the pickup gone crazy luxe. For the successful farmer who now pilots a climate-controlled, $325,000 John Deere 9370R tractor with mission-control computer display terminals, the fully-equipped Sierra Denali 2500HD that we tested might be no less than the minimum required. This diesel-driven, high-waisted brute feels more like a working Escalade, and at $64,000 for the crew-cab, diesel version, it's priced in the neighborhood.
Who would drop $64,000 on a pickup? Look, I'm a car guy so I really can't answer that question, but if I had to get up at 4 a.m. every day and do actual labor on a farm or ranch, or at construction sites, I'd like to think I'd earned a cushy ride. And in the Sierra Denali you'll get one. Once you adjust to sitting a mile high and towering over mere cars — and in Manhattan (New York, that is, not Kansas) it's kind of a cool perspective — you realize that the Sierra doesn't feel like a truck. On the highway, it's one of the quietest vehicles on the highway that I've tested this year.
That's even more surprising considering that this particular Sierra Denali is powered by a 6.6 L V8 Duramax diesel tied to a 6-speed Allison Transmission. But this combo, odd to say, doesn't shout its 397 h.p. worth of trucky-ness. Because the diesel delivers bigtime torque at low revs, (765 lb. ft. @ 1,600) the pickup's power sounds more oceanlike as it gathers force. You'll pay for that power, with the diesel package adding $8,845 to the standard price of $53,740. Since you are already in luxury car territory, why not throw in a power sunroof ($995), aluminum rims ($850), and 20-inch tires ($200)?
You are now styling in four-wheel drive and your buddies will appreciate it: You can fit four of them in the Sierra Denali 2500HD, and they will be properly seated in the more-than-roomy-enough crew cab. You, though, will have the best seat, one that's heated and air conditioned and equipped with its own alarm system: The seat shimmies to keep you alert in slow traffic or if it senses you are drifting out of your lane. And because this is a work truck, the center console is loaded with storage for files, laptops, or even power tools; there's also a power panel that includes USB ports, a couple of 12-volt ports, and a standard electrical outlet.
It would be silly of me to try to tow a trailer around New York City, but the Sierra Denali 2500HD can haul one weighing up to 13,000 lb. On the other hand, we did manage a brief four-wheel drive test on a rough patch of Harriman State Park about 50 miles north of New York. The fall foliage was beautiful and the pickup handled the high brush easily given its substantial ground clearance. I'd be looking forward to winter driving in this thing if I worked outside. Although I wouldn't be looking forward to working outside.