With Gogo's New In-Flight Wi-Fi, You Can Stream Netflix, Spotify, and YouTube at the Same Time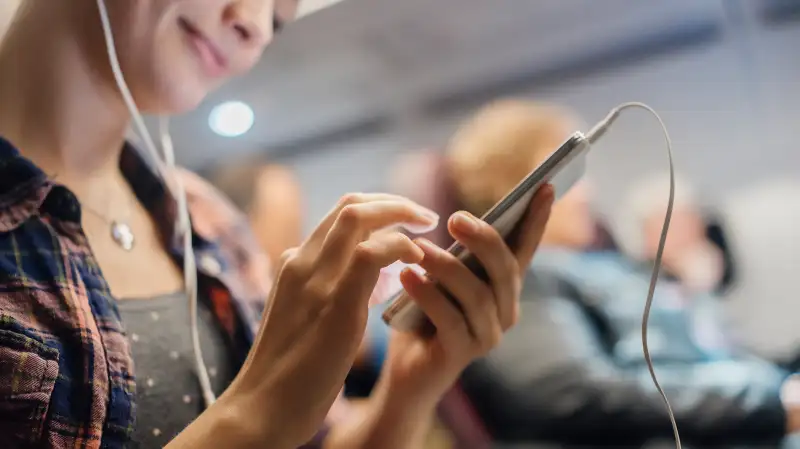 A plane is probably the closest thing to a time machine that we have. In addition to being able to actually fly across the international date line, climbing aboard an Airbus, flipping open your laptop, and connecting to the wi-fi is essentially like traveling to 1997 and trying to download a song on a 56k modem. It's like the golden age of dial-up is still alive.
But according to the Verge, a change is coming. Gogo, the company that provides much of the in-flight wi-fi these days demoed its new lightning fast service, which allowed the reviewer Chris Welch to simultaneously stream Netflix, YouTube, and Spotify, all at once.
The new Gogo service, called 2Ku satellite internet, is in its testing phase and will be implemented on over 550 planes starting in 2016. The bandwidth for a plane is 70Mbps, which is around the same speed as Comcast's fastest offering, though it must be split among all the passengers. According to Welch, it is fast enough for 40 devices to simultaneously stream video. It's unclear how the service would be affected if more devices are connected, nor have prices for the new service been announced.
Virgin America has been rolling out a faster (non-Gogo) wi-fi service on its planes, and JetBlue has ramped up its (non-Gogo) wi-fi offerings as well, but for the most part, Gogo has been responsible for the lion's share of airline wi-fi. Last year AT&T decided not to chase the in-flight wi-fi market, so Gogo hasn't exactly been forced into rapid innovation. But with the coming arrival of the new service, Gogo seems to be getting up to speed.
Read Next: Your iPhone Keeps a List of Everywhere You've Ever Been. Here's How to Delete It