How to 'Go Green' and Become the Least Wasteful Person In Your Office — for Cheap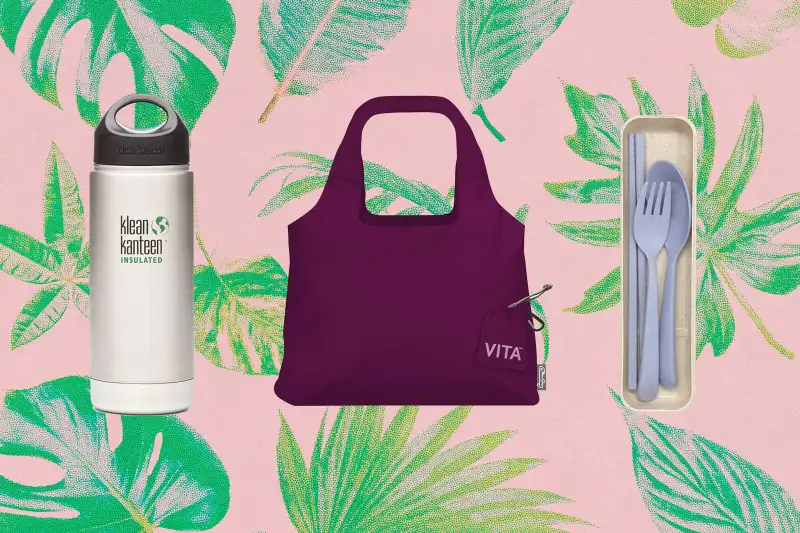 Photo illustration by Lixia Guo
Eco-friendly tips are everywhere.
But figuring out how to integrate them into your daily life can seem overwhelming. So I have a solution: Start at the office. Since a majority of us spend most of our waking hours in an office setting, it's a great place to start getting eco-conscious—and will have a bigger impact than you might think.
Here are eight things you can do—that won't cost you much, or anything at all—that can help make your office a little bit greener.
Scope out the recycling bins.
The first thing to do is identify the location of recycling bins in your office and cafeteria, if you have access to one. I try to use bins that are the most clearly marked, which might not be the ones closest to you.
Often, corporate spaces have unclear recycling signage, which leads to many bins being contaminated by people hurriedly walking by and tossing in items without reviewing what actually belongs there.
I don't generate a lot of trash, but when I do, I bring it to a larger bin on my floor, rather than my desk-side bin, to lessen the chance that the cleaning crew will toss an entire plastic bag into a landfill-bound truck because it contains one banana peel.
Carry around a reusable insulated bottle.
Many people have more insulated drinking vessels at home than they use on a regular basis. Bringing a couple of those to work (one for cold beverages, one for hot) allows you to avoid using countless plastic and plastic-lined paper cups throughout the day. (This Klean Kanteen bottle is a good option.)
You can also bring a ceramic mug to work if you want to avoid taking a lid on and off to sip your tea.
Swap out your utensils for a better-looking pair.
Recycling each piece of single-use plasticware used at lunch doesn't give you a Mother Earth-friendly hall pass. Something that lives for 400 years and is used for 15 minutes should give us all pause.
So instead of grabbing a new set of utensils for your salad every day, consider making a tiny investment in reusable cutlery. I have a full set (fork, knife and spoon) and reusable chopsticks in my desk drawer. My set is plastic, but bamboo sets with cases and even reusable straws and straw cleaners are easy to find. You can also bring your cutlery to the cafeteria, if you have one.
I occasionally do get stuck with a new piece of single-use cutlery; I wash and store it with my set, and it's ready to go if a coworker asks for a fork or spoon.
Say goodbye to handfuls of paper napkins.
Consider how many napkins you use every week: one dozen? Two dozen? There's a quick way to cut that number down to zero. By keeping a cotton cloth napkin at work, you can avoid using paper napkins for all those office meals and snacks. And it's easy to clean: I bring mine home on the weekends to toss in the laundry and bring in a fresh one the following week. (These cost less than $12 for 6, and will last for years.)
When I use a paper towel to dry my clean hands in the restroom, I bring it back to my desk and eventually add it to the paper recycling. Or you can keep a drawer of these paper towels for when you or your desk mate inevitably spills coffee on a keyboard. This happens more often than you'd think, and you'll feel much better adding a twice-used coffee-soaked paper napkin to the trash.
Give your breakfast or lunch a new home.
You've heard it before: Preparing and packing food saves you money and is almost always healthier. Now you can check the eco-conscious box, too.
I recently saw someone throw out the "trash" from their light breakfast and I'm certain the packaging weighed more than the contents of his meal. Coffee with lid and sleeve, napkins, yogurt container with foil top, plastic-wrapped set of cutlery, orange juice carton, straw with paper wrapper, that's not to mention a paper bag that was then put in a plastic bag. It's madness!
Multiply this by two meals a day, and all the people in your office building—and all the office buildings in the area—and you start to see the magnitude of our addiction to convenience.
Bringing even one meal to the office can make a big difference. For breakfast, I bake a large dish of oatmeal with nuts and fruit on Sundays and pack a warmed portion daily in my stainless steel, BPA-free, vacuum-insulated food canister. It works great for yogurt and granola, and more savory snacks, too. The silver container is easy to clean, though it can't be placed in the freezer or microwave.
Keep a nice-looking bowl around.
Shared snacks are the norm in most offices (how many Girl Scout cookies have you eaten this month?). But rather than grabbing another paper or plastic plate, I use a microwave-safe ceramic bowl, which I keep in the office. I'm not always close enough to my desk to use it on every occasion, but I'm particular about steering clear of Styrofoam, as in most cities it is not recyclable.
Think about whether you really *need* that plastic bag.
If you're toting back your lunch from outside your building, consider refusing that plastic bag and the mind-boggling fistful of paper napkins that are common with takeout. A reusable bag weighs next to nothing in your backpack (and costs less than $10), and can replace the plastic bag you'd have to dispose of after 10 minutes of use. If you do find yourself with a plastic bag, there should be plastic bag-recycling bins at your local supermarket.
Finally, leave no office snack behind.
Food sharing happens often in our office, including the always-popular Bagel Fridays. There are usually a few bagels left at the end of the day, and I encourage coworkers to take the extras home if they are able and want to (I do it often).
If there are no takers, I walk the leftovers to the central floor-wide pantry, where it's far less likely they'll go to waste or end up in the trash bin. And who doesn't love free food? Especially when you can consider that extra snack a productive act of recycling.
We've included affiliate links into this article. Click here to learn what those are.