This Old-Fashioned Sport Is Using Margaritas and Karaoke to Attract Millennials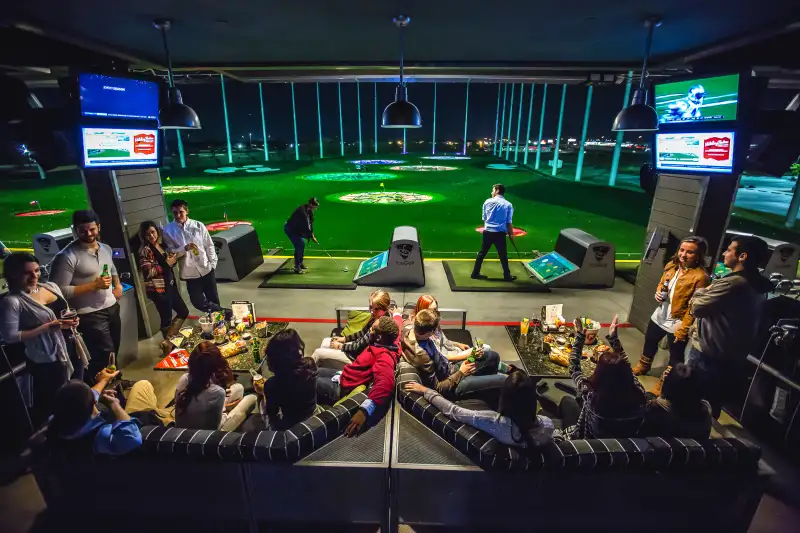 Are you a millennial who thinks golf is a good walk spoiled? The golf industry is desperately trying to change your mind and get you out on the links.
Golf equipment sales have been sinking, and the number of golf courses closures is outpacing the number of those opening. So naturally, many golf-related companies are wondering how they're going to stay in business amid waning interest in the sport. Golf has suffered due to a confluence of factors, including the fact that Americans have less leisure time and money to spare, and that the sport is considered by many to be too difficult and boring.
However, golf insiders are making a conscious shift to appeal to the next generation. Media brands like Golf Digest are trying to appeal to younger people by highlighting recognizable celebrities like Jimmy Fallon on its covers. Apparel company G/FORE has been attempting to draw millennials in with brightly-colored clothing and flashy accessories.
Another example is Topgolf, which was created when two brothers, Steve and Dave Jolliffe, found themselves on a driving range wondering how they could make a game of golf less boring. The result is a game that uses microchip technology inside golf balls that are shot at several targets. Players receive instant feedback on the distance of each shot, and are given points based on length and accuracy.
Topgolf locations—seen as a low-cost millennial hangout and date night option—also feature a bar and grill on site. There are now 21 locations across the U.S., with 11 more slated to open this year and next, including one in Las Vegas that will roll out in May.
The country club operator ClubCorp is another company making a concerted effort to reach out to millennials, with reduced-cost memberships for people who aren't golfers--plus plenty of activities that are unrelated to golf.
Read More: Fore! No, Make That Five! 5 Reasons Golf Is in a Hole
Many of ClubCorp's more than 200 properties have added activities and events that might incorporate live music, karaoke, and Margarita Golf, which includes a cocktail and group instruction. Some clubs also offer local wine and craft beer tastings, movie nights, and cooking classes.
The company says at least half of the members in its "golf and country club segment" are not golfers. "We don't like to consider ourselves a golf company," Clubcorp CEO Eric Affeldt told the Dallas Morning News. "We're in the membership business."