Here's How Much It's Costing Me to Run the NYC Marathon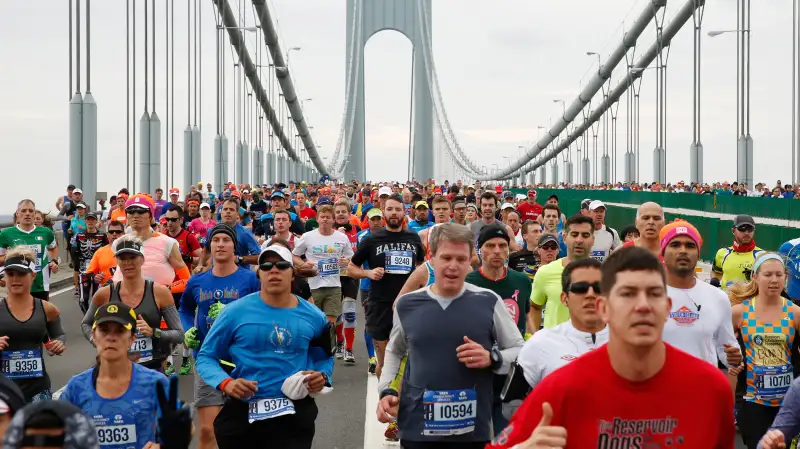 This Sunday, about 50,000 runners -- myself included -- will take to the streets of the Big Apple for long distance running's flagship event: the New York City Marathon.
Like many runners, I've dreamed about running New York for years. The crowd support -- from the opening notes of Frank Sinatra's "New York, New York" at the start on the Verrazano Bridge, to the finish in Central Park -- is unlike any other race in the world. Adding to my enthusiasm was the fact that as a resident of Hoboken, N.J., the race is held just across the river from my home.
Training for a marathon, however, wasn't without its costs. These include the physical toll of hours-long training runs, the self-induced isolation of staying in on Friday nights in preparation for said training runs, and of course, the not-insubstantial hit to my wallet of paying for the race and covering peripheral costs.
Luckily, since the race is so close by, I largely avoided paying for transportation and lodging. If I did hail from out of town -- as many runners do in a field that draws from all 50 states and 125 countries -- my costs would go up significantly. Around marathon time last year, the price tag of a round-trip domestic flight from New York -- when you average the costs from local airports JFK, LaGuardia and Newark -- was $408.97, according to the Bureau of Transportation. Adjusted for inflation this year, flights will run the average marathon runner about $416.77.
Visitors also need to factor in the cost of hotels, which typically jack up rates during marathon weekend. If you booked a stay early at the Hilton Midtown or Sheraton Times Square, one of the hotel partners recommended by race organizers, you could lock in rates of $339 and $369 per night, respectively. Assuming you'll stay in New York at least three nights, your hotel bill could run as high as $1,017 plus taxes and fees.
Read Next: 4 Ways to Beat the High Cost of Bicycling
Even without the burden of travel, though, I experienced a healthy dose of post-mortem sticker shock after I crunched the numbers on my long-distance running hobby. Here's a breakdown of how much it's costing me to run the New York City Marathon this year:
Qualifying costs
Given the race's intense popularity in the running community, more people want to register than the marathon can accommodate. So New York City Marathon hopefuls have to earn their bibs via one of several means, including qualifying by time or winning a spot in the lottery. I gained access to the race through the New York Road Runners' 9+1 program, which gives members guaranteed entry to the following year's marathon if they complete nine club races and volunteer at a tenth. In 2015, I spent $40 on my NYRR annual membership fee, plus $250 on entry fees for my nine qualifying races. Total: $290
Entry Fee
After I gained my guaranteed bib for the race, I still had to pay the marathon's race entry fee. I paid a discounted rate of $216 for NYRR members, plus a $11 processing fee. Total: $227
Transportation
My transportation costs are very low compared to those of most runners. I'm sharing a van to the start on Staten Island with some members of my running club in Hoboken, which will run me $5. After the finish at Central Park, I'll take two subway trains -- which each cost $2.75 -- to get home to Jersey. Total: $10.50
Gear
I'm an over-pronator, which means my foot tends to roll inward after each step. I've found a shoe I like, the Asics GEL-Kayano 23, which provides enough support to correct the problem. Unfortunately, at $160 a pair, my kicks aren't cheap. Experts say you should replace your shoes every 300 to 500 miles you run, so I subbed out my sneakers twice during my 16-week-long training cycle in which I averaged about 30 miles a week. So shoes alone set me back $320.
Read Next: ClassPass Just Devastated Its Members
Since I've been a runner for a while and have accumulated a fair amount of gear, I didn't spring for new clothes while training for the marathon. However, I did purchase about $20 of gels to fuel me on long runs, as well as on race day, and a couple of new pairs of thick running socks, for $15. Total cost: $355
Training
I don't belong to a gym, so I exclusively run outside, where it's absolutely free to lace up your shoes and pound the pavement. However, I did sign up for one half-marathon last month, both to gauge my current fitness and to break up the monotony of training. That race cost me $45.
I also tend to order more take-out food when I'm in training: After a 20-miler, all I want to do is put my feet up and order a boatload of carbs on Seamless. Let's conservatively assume I spent $30 a month on delivery during my four months of training, amounting to $120 in extra food costs. Total: $165
So in total, running the New York City Marathon will set me back a cool $1,057.50. Yikes! Seems like my feet won't be the only thing that hurts after running 26.2 miles.