5 Reasons Why Tennis Should Keep Paying Men and Women Equally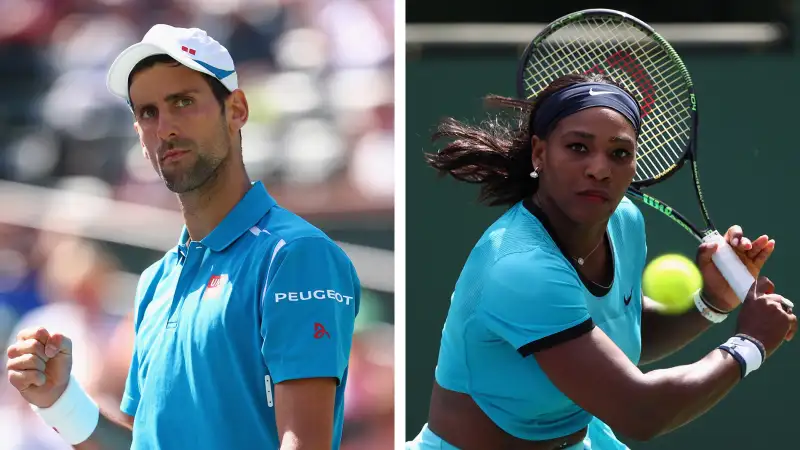 This weekend's BNP Paribas Open tennis tournament saw a stunning upset of #1 ranked Serena Williams in the championship match. But the most compelling action may have happened off the court, when two high-profile tennis personalities served a few sexist comments in post-match interviews.
The controversy started when tournament CEO Raymond Moore said female players in the Women's Tennis Association "ride on the coattails of the men." He followed up by suggesting that women should "go down every night on [their] knees and thank God that Roger Federer and Rafa Nadal were born, because they have carried this sport. They really have."
His recommendations were understandably met by anger from female tennis players, most notably Williams, arguably the greatest woman to ever play the game, who fired back that women "shouldn't have to drop to our knees at any point."
"I think Venus, myself, a number of players—if I could tell you every day how many people say they don't watch tennis unless they're watching myself or my sister—I couldn't even bring up that number," she added.
Moore has since issued an official apology for his "erroneous" comments that were in "poor taste." But Novak Djokovic, the world's top men's player, who won on the men's finals this weekend, added more fuel to the fire, saying that men should "fight for more" money because their matches have more spectators that those played by women.
To be fair, Djokovic did say that women should "absolutely" be paid more if ladies' tennis became more popular and lucrative than the game on the men's side. He also backtracked by, somewhat bizarrely, acknowledging that women who play the game face unique challenges in the form of "hormones and different stuff."
The battle over equal pay in sports has been waged for years, and tennis is one of the few spheres in which women have won clear victories. Tennis icon Billie Jean King created the WTA in 1973 to advocate for equal pay; that same year, the U.S. Open became the first major tournament to offer equal prize money to men and women. After years of outcry from female champions like Chris Evert and Maria Sharapova, in 2007 Wimbledon became the last Grand Slam tournament to offer the same prize purse to male and female players.
Read next: Why 'Leaning In' Won't Help Women Get Equal Pay
What Djokovic and Moore's comments reveal, however, is that there is still a lot of ignorance about how the rise of female stars from Martina Navratilova to Steffi Graff to Kim Clijsters has helped make women's tennis equally—and at times, more—popular than the men's sport. While men's tennis has historically been more watched than the women's game, that dynamic is rapidly shifting—and as such, female contributions to the game should be compensated equally to those of men.
Here are a few more reasons why female tennis players should receive equal pay:
1. Female tennis players work just as hard as men.
One of the most popular arguments for paying women less is that men play longer matches than women, and therefore deserve more money. The International Tennis Foundation, which runs the Grand Slam tournaments, dictates that men play best-of-five-set matches, while women play only best of three sets. Women have no say in this matter.
Professional players—including some men, like Andy Murray—have argued that women's matches would be more interesting and fairer if women and men played the same number of sets. The rule has also created a false perception that women lack the toughness and endurance to handle five sets.
A similar phenomenon was seen in track and field throughout much of the 20th century, when women were not allowed to participate in long-distance running events. That changed in the 1980s, when the sport's governing body finally let go of antiquated prejudices that women were not strong enough to compete in marathons. Similarly, female tennis players are able and eager to play five-set matches; WTA chairwoman Stacey Allaster has repeatedly said that women would be willing to switch to longer contests.
With the exception of Grand Slam tournaments, however, three sets is the norm for male and female matches. Since 2008, the Association of Tennis Professionals, which represents male players, has held three-set matches during its masters' series, for instance. Some tennis pros have even proposed making all matches three sets. They argue that five-set matches do considerable damage to muscle and joints and can shorten players' careers. Although women play fewer sets than men in Grand Slam events, women train just as much as as men do—and they have the endurance to prove it. The women's 2005 Wimbledon final, for instance, lasted 45 minutes longer than the five sets played by the men in the championship that year.
2. Longer contests are not worthy of higher pay.
If women were paid less because they play three-set matches in Grand Slam tournaments, that would mean that men are paid extra because they play more points per match. By that logic, champions would be given more prize money for winning a closer match that extended to four or five sets, than if they shut out an opponent in three sets. That's not consistent with how the sport of tennis rewards champions and dominance, regardless of gender.
Read next: See Which States Have the Biggest Wage Gap
In the same vein, if all sports rewarded players based on the amount of time they spent in games, baseball players would receive more money for matches that extend to extra innings and hockey and football players would get paid extra for games that go into overtime. Perhaps NBA players would even expect to receive extra pay for playoff series that go seven games rather than four—which just doesn't make sense. Athletes are paid for winning, not for how long it takes them to win.
3. It's a myth that fans are always more interested in men's tennis.
Djokovic isn't wrong to imply that men's matches, in general, sell more tickets and attract more TV viewers. But the tide is turning in favor of women. Since the 1980s, women's Grand Slam matches have become as hotly contested as men's and made women's tennis equally, if not at times more, popular than the sport on the men's side. Just as many women's tennis events are televised as men's, and women play on the same main courts as men do. In 2015, the U.S. Open women's tournament, which featured a nail-biting showdown between Serena and Venus Williams, sold out more quickly than the men's tournament. In 2013 and 2014, the women's U.S. Open final garnered higher TV ratings than the men's final. In 2005, the Wimbledon final between Venus Williams and Lindsay Davenport drew 1 million more viewers than the showdown between Roger Federer and Andy Roddick.
Still, popularity is no guarantee of a bigger paycheck—that is, if you're a woman. The U.S. women's soccer team's World Cup victory against Japan in 2015 was the most-watched soccer match in American history. Yet on average, U.S. female soccer stars earn far less than their less-successful male counterparts. The salary cap in the National Women's Soccer League is $265,000, about 11 times less than the cap in men's Major League Soccer.
4. Men get paid the same as women in figure skating and gymnastics.
If you follow the logic of Djokovic's argument that increased popularity should mean a bigger paycheck, then male figure skaters and gymnasts—who participate in sports in which the ladies' side generally attracts far more spectators—should be paid less for their achievements than women. However, in a BBC analysis of sports that pay prize money, male and female figure skaters and gymnasts earn the same purse for winning world championships. The study also found that of 35 sports that offer prize money to champions, 25 offer the same amount to male and female victors, regardless of which gender attracts more viewers or sponsors.
Read next: Women's Soccer Gets a Parade & Huge TV Ratings, but Not Equal Pay
In any event, should popularity translate to higher pay? Certainly, it pays off in the form of sponsorship and endorsement deals. But it seems absurd to argue that more popular athletes or teams should be better compensated for winning. Would the NFL, for instance, award players on more popular teams larger bonuses if their squad won the Super Bowl? In the 2016 Super Bowl, however, all Denver Broncos players received a $102,000 bonus from the league when their team took home football's top prize. Had the game gone differently, players on the New England Patriots would have received the same amount of money—and so would any player on any Super Bowl-winning team. Just as a Super Bowl title is an impressive accomplishment no matter which team triumphs, winning a Grand Slam tournament is a stunning feat regardless of how much support the champions get from fans and sponsors.
5. The fact that women's sports are (sometimes) less popular is a vicious cycle.
Many women's sports suffer from an endless loop of low popularity. If women's sports attracted more interest, then media outlets and sponsors say they would invest more time and money in covering them. If there were more sponsorships and media coverage, then ladies' sporting events would surely draw in more viewers.
In 2013, the Women's Sport and Fitness Foundation found that female sports received 7% of coverage and 0.4% of the total value of commercial sponsorships. What's more, because they're receiving less money in sponsorships and endorsements, many female athletes also have to take second jobs to support themselves, drawing away from their time training for sports.
Fans' apathy toward women's sports, however, is changing: 61% of sports enthusiasts say they believe top female athletes are just as talented as their male counterparts, and more than half said they think it's just as exciting to watch. As more people become more interested in female sports, it might not be far-fetched to make the argument that Djokovic and other male athletes should eventually be taking home less money than women.
The irony in Djokovic's comments is the fact that a man is clamoring to earn more money than women. Female tennis players, who have been waging the same struggle for decades, and with far more reason to be upset, already realize that both genders should receive equal pay for equal work.