3 Reasons Google's Same-Day Shipping Looks Like a Game Changer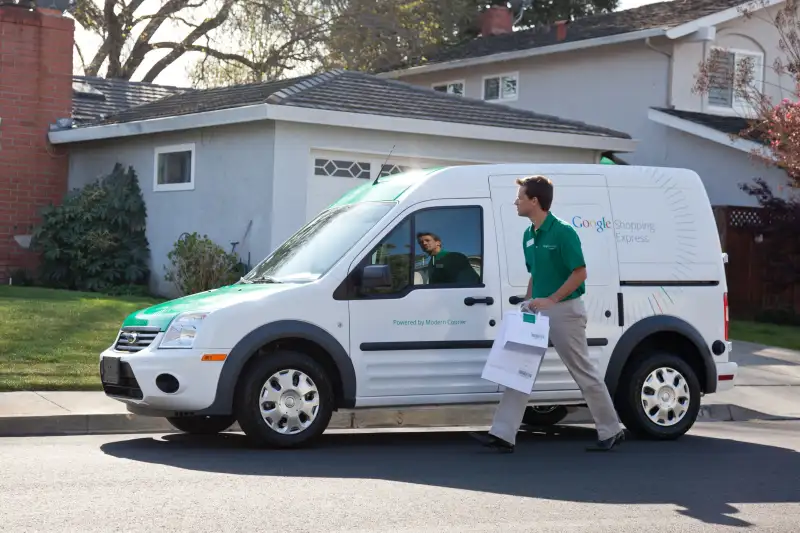 On Monday, Google announced that the express online shopping-and-shipping service it has been testing for months in northern California and parts of Los Angeles and New York City is expanding to three more cities: Boston, Chicago, and Washington, D.C. The service, originally dubbed Google Shopping Express and now shortened to just Google Express, allows shoppers to place orders online or via mobile device with partner retailers such as Walgreens, Costco, Staples, Barnes & Noble, and Sports Authority. Google promises same-day shipping on all such orders, at a cost of $4.99 per delivery or flat subscription plans of $10 monthly or $95 a year.
Former Google CEO Eric Schmidt mentioned this week at a conference that Google's biggest rival isn't Yahoo or Bing but is in fact Amazon.com, and the expansion of Google Express into Amazon's online shopping turf is a clear indication that Google takes this rivalry very seriously. While Amazon is still the most dominant player in e-retail, Google's newly expanded service is arguably superior and a better value compared to anything Amazon currently offers. Here are three reasons why Google's service is particularly compelling:
1. Same-day delivery that's "free." Consumers increasingly demand free shipping with online purchases. Things have gotten to the point that free shipping is so readily available—via a coupon code here or reaching a minimum purchase threshold there—that the idea of paying for delivery can now be a deal breaker.
Thus far, the phenomenal success of Amazon Prime has most clearly demonstrated the power of shipping when it's not only reliably free but speedy as well. Prime subscribers receive free two-day shipping on most orders placed via Amazon.com, and the service has proven so popular and indispensable that enrollment numbers have continued to climb even after prices rose recently from $79 to $99 annually.
Overnight and same-day shipping are more costly services than two-day delivery, however, and Amazon Prime members must pay extra for these expedited options—typically $5.99 for same-day shipping, where and when it's available. That's on top of an annual subscription fee.
Like Amazon Prime, Google Express is available via subscription, priced at $95 per year (just a smidge under the cost of Prime) or $10 per month. Members then get free same-day delivery of all orders with a minimum purchase of $15. (As an alternative, nonsubscribers can pay a flat $4.99 delivery fee per order.) One of the big differences between Amazon Prime and Google's subscription service is that the former includes two-day shipping at no additional charge, whereas the latter covers same-day delivery. Prime has many other benefits—free video streaming, for instance, not to mention a much broader selection of products than Google's service—but in terms of speedy shipping, Google Express has the edge.
Bear in mind that you're paying for whichever service you choose. These services are presented as featuring "free" shipping, but that's silly. Subscribers pay a membership fee to cover the costs of shipping, and there's nothing free about it. "Prepaid" may be a better way to describe the shipping offered by these services. A subscription is a potentially good value in the same way that an all-you-can-eat buffet is a smart buy for someone who eats (or orders online) a lot, but it can be a waste of money for others.
2. Same-day delivery of stuff you actually need that day. Based on the success of Amazon Prime, plenty of consumers are more than OK with two-day shipping on the vast majority of online purchases. After all, when you're buying a new TV, or a winter coat, or batteries or coffee pods or a Christmas gift for your aunt, or any other thing you might purchase at Amazon, there are generally no pressing needs that might require you to be in possession of them on the very day you place the order.
Likewise, same-day shipping would seem to be less of a necessity for the products typically purchased from Google Express partners such as Sports Authority, Guitar Center, and Toys R Us. It's often a different story, though, for the goods one needs from drugstores and supermarkets, because when you need cold medicine or diapers or food on the dinner table, you tend to need them right away—not two days after placing an order. The normal approach in these situations is to handle the errand the old-fashioned way, by making a physical run to the store. But because Google Express's early partners include Walgreens and grocery chains such as Giant, Stop 'n Shop, and Whole Foods, these kinds of everyday errands can be crossed off your list quickly online, without even the need to pay extra for same-day delivery. (Same-day delivery from another Google partner, 1-800FLOWERS.com, is probably even more of a necessity among certain shoppers on certain anniversaries and birthdays.) For the sake of comparison, Amazon has already introduced an online grocery service in select markets with same-day and overnight delivery, but its subscription runs $299 per year.
3. Same-day delivery on stuff that's a hassle to buy in person. Another intriguing partner of Google Shopping Express is Costco. The warehouse membership club giant is beloved by bulk-size-loving patrons, yet much about the shopping experience is less than ideal—starting with the huge size of much of its merchandise and ending with the absence of shopping bags for carrying one's purchases. What's more, Costco has had some trouble attracting younger customers because fewer millennials have cars, which are all but necessities for any Costco shopping trip, and they tend to want to live in urban areas rather than the suburbs where most Costcos are located.
Many of these issues disappear when Google and its same-day delivery service enter the equation. If Google is handling the pickup and delivery, customers no longer have to worry about being strong enough to maneuver gigantic tubs of laundry detergent into shopping carts, then into one's car. Heck, there's no need for a car at all because, again, Google is taking care of the shipping.
While Google's service is still in its infancy, it's probably being helped greatly by the fact that that a popular retail brand like Costco is a partner. But who knows: Down the line, it could be that Costco membership numbers rise because same-day delivery is available via its partner, Google Shopping Express.
Read next: Google Express Expands its Same-Day Delivery Reach