Google Fiber Adds $10 Phone Service to Help You Avoid AT&T and Comcast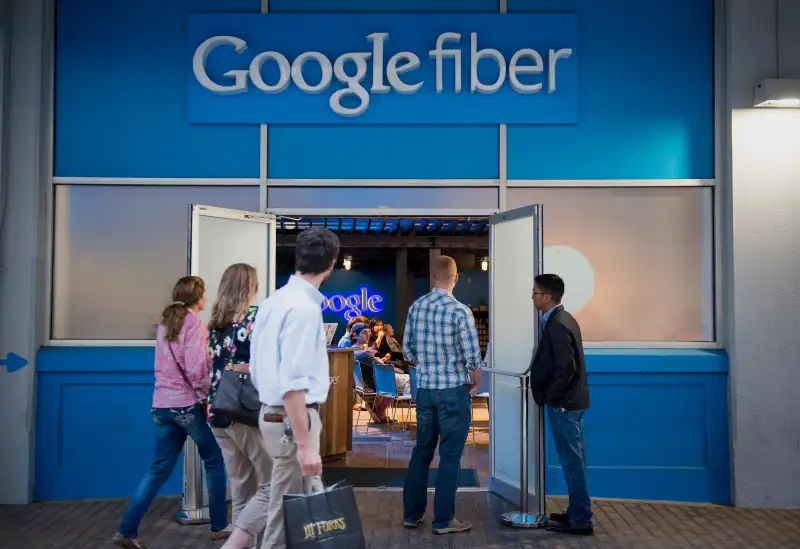 Matthew Busch—Bloomberg/Getty Images
Landlines have been steadily dying off since as early as 2004. Back then, only a few percent of Americans survived solely with a cell phone. As of the CDC's 2015 survey, 46.7% of adults and 55.3% of children were wireless-only.
Google, however, is trying to make it easy and affordable to have a landline again. The company is adding a phone option to Fiber, the high-speed Internet and pay TV service Google offers in select cities around the country.
Or rather, Google is offering customers the option of going for a triple play of Internet-TV-phone services in one monthly bill, just like Comcast, Verizon, and other providers do. Currently, a combined high-speed Internet and pay TV package from Google Fiber costs a total of $130 per month. Adding a phone line with unlimited calls nationwide tacks on another $10, for a monthly bill of $140.
Mind you, the prices above are based on Google's super-fast Internet, which costs $70 per month. Google also offers free Internet service to everyone basic access in the places it's available.
Speaking of which, Google Fiber is only available in a few parts of the country. But where it is offered, the service has been very popular. It's ridiculously fast, it allows you to avoid Comcast and other unpopular telecom companies, and it has Google's trademark sleekness. Perhaps most astonishing to customers accustomed to poor treatment by Internet and pay TV providers, Fiber's customer service generally gets stellar reviews.
As for Google Fiber's new phone service, it is like a standard landline, with 911 support, caller ID, and voicemail—which is transcribed and emailed like Google Voice. The service also allows people to have calls automatically forwarded to a cell phone.

Fiber Phone features unlimited nationwide calling, which is considerably cheaper than the comparable options provided by national carriers like AT&T, which would run around $50 per month, though bundling in a package can provide a discount.