One in Six May Lose Health Insurance Under the GOP's Obamacare Replacement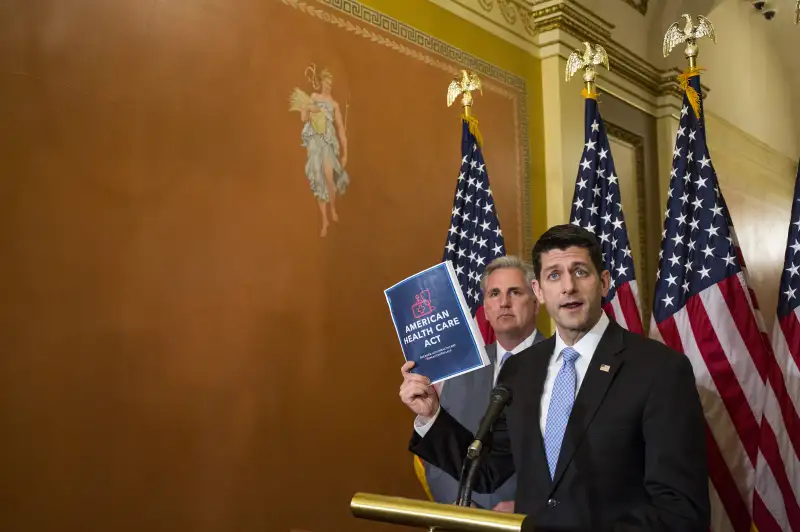 Bloomberg via Getty Images
A new study has some good news and some bad news about the GOP's new health care proposal:
Average health care insurance premiums would go down for marketplace customers, but at least one out of six consumers covered under the Affordable Care Act's individual marketplace would no longer have their insurance under the GOP's replacement, according to a new report from S&P Global Market Intelligence.
Republican lawmakers debuted their proposal on Monday, potentially ending the ACA's current mandate to buy insurance, while reorganizing Medicaid funding.
S&P, which expects a decline in enrollment in the individual marketplace and in those covered under Medicaid, estimates that the GOP's changes would result in 2 million to 4 million fewer open marketplace enrollees, as compared to an estimated 12.2 million who opted into the ACA's individual marketplace in 2017.
S&P is also expecting a 4 million to 6 million decrease in those covered by Medicaid between 2020 and 2024 if the new proposal passes. Roughly 51.6 million in 32 states and Washington, D.C. that participated in the Medicaid expansion were covered by Medicaid at the end of 2016, S&P reported.
Those lower enrollment figures would decrease premiums for consumers, but only for some groups.
The declines will result in "increased affordability for the eligible younger population, and reduced affordability for the older population," the report stated.