8 Common Grocery Items That Are at Least 10% Cheaper Than a Year Ago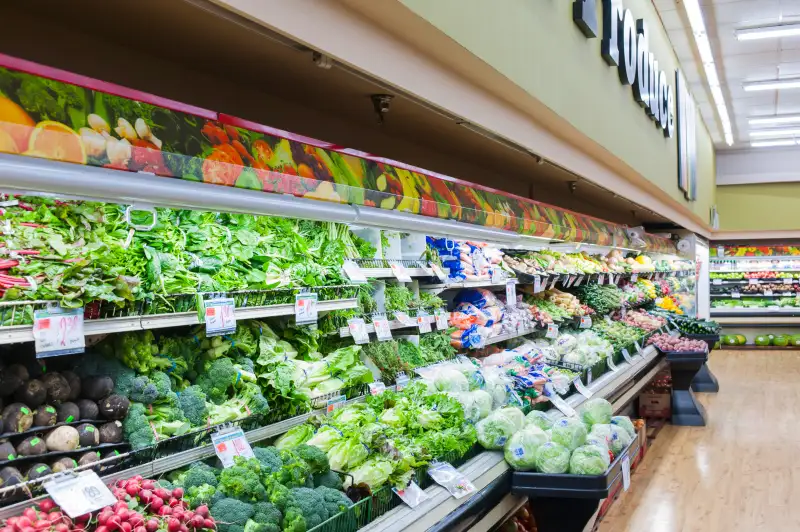 According to the Bureau of Labor Statistics, supermarket prices were down 2.2% in September compared with the same month one year ago. That's the biggest year-over-year drop since 2009, USA Today reported, while also noting that grocery prices have retreated on an annual basis for 10 consecutive months—the longest such streak since 1960.
While grocery prices decline, restaurant prices have been headed in the opposite direction. Prices in the "food away from home" category, which includes restaurants, convenience stores, and such, are up 2.4% year over year.
The CEO of Darden Restaurants, which owns the Olive Garden and LongHorn Steakhouse chains, recently said that the combination of cheaper groceries and more expensive restaurant bills isn't going to mean that more Americans wind up cooking at home. But other restaurant industry experts aren't quite so sure.
"Consumers aren't going to eat out less because peanut butter is cheaper, or because bananas aren't as expensive," Nation's Restaurant News columnist Jonathan Maze wrote this week. "But they would choose to eat at home because they bought a package of steaks for a lower price."
Read Next: Why Nobody Does Their Grocery Shopping at Target
And yes, steaks—and meat in general—are among the groceries that have gotten much less expensive in recent months. Meat prices are down 6.3% year over year, and some grocery staples are significantly less expensive than that. Here are eight items that have seen prices drop by 10% or more over the past year.
Beef Stew: -10%
Round Roast: -10.4%
Ground Beef: -11.2%
Broccoli: -13.5%
Strawberries: -15.3%
Peppers: -20.3%
Iceberg Lettuce: -22.3%
Eggs: -50.4%
Eggs are down so sharply because of price increases following a bird flu outbreak last spring. And while the decreases are less dramatic, many other common grocery purchases, such as beans, coffee, cheddar cheese, pork chops, and prime and choice steaks are at least 5% cheaper than a year ago as well.