13 Halloween Costumes for Finance Geeks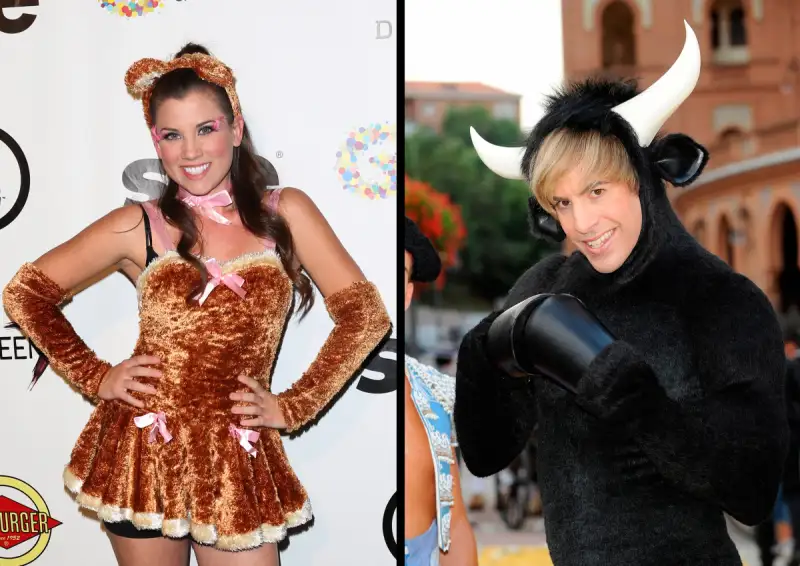 Paul Archuleta/FilmMagic (left);Fotonoticias/WireImage (right)
Still not sure what you're dressing as for Halloween? Don't despair. We've got a bunch of costume ideas that are right on the money. These finance-themed getups are accessible for a general audience (so you don't have to spend your evening explaining, "No, the other kind of black swan..."), cheap, and quick to pull together.
For some tried-and-true ideas, you could go as Zombie Lehman Brothers, the London Whale, or characters from Dave Chappelle's classic "Wu Tang Financial" sketch. Or you can try one of the more timeless 13 suggestions below. Then again, you could just dress up as prerecession government regulations and stay in for the night.
1. Money. Let's be honest: Dressing as a giant bill or stack of bills is kind of boring. The concept is improved if your homemade costume is a reference to the "made-of-money man" in those Geico ads—or if you are an adorable baby swaddled in a sack of money. (Mom and Dad, throw on a mask and a badge, and voila! A cop-and-robber duo.)
2. A market crash. If Halloween season sneaked up on you like the October stock swoon did on traders, you can craft a "market crash" costume in five minutes by taping a fever line on a t-shirt with some masking or electrical tape. Use light-up accessories, and you've got a flash crash. This costume can be modified for a couple or group—just extend the fever line across your torsos—and it pairs nicely with a "broke broker."
3. The Federal Reserve Chair. Mimic Janet Yellen's signature white bob with a wig and her go-to outfit with a black blazer over a black dress or pant suit. Don't forget a gold necklace. If people ask whom you're dressed as, throw fake money at them and yell, "Loose monetary policy!" To turn this into a group costume, grab yourself a Ben Bernanke and Alan Greenspan. Wear matching "chair" shirts for solidarity.
4. Bull & Bear (couples costume). Like salty-sweet snacks and Brangelina, this costume combination is greater than the sum of its parts. Relatively inexpensive store-bought costumes are easy to find, assuming you don't want to spend hundreds of dollars, or you can always build a DIY ensemble with homemade horns and ears. Hang little signs with upward and downward trending fever lines around your necks for extra clarity. The only hard part will be deciding who gets to be which animal.
5. "Bond" girl. Personify this pun by dressing as your favorite 007 lady-friend and adding a hat, sign, or other accessory that reads "T-Bill" or features an image of a (now-technically-obsolete paper) Treasury bond. Jill Masterson's "Goldfinger" look might be most recognizable: You can do it with gold spandex or body paint.
6. Wolf of Wall Street. See bull and bear, above. You just need a suit and tie, a wolf mask, and pockets brimming with fake money. And maybe some fake Quaaludes.
7. Cash cow. Unless your name is actually Cash (like this little guy), channel the Daily Show's Samantha Bee and decorate a cow suit with dollar symbols.
8. A mortgage-backed security. This one might seem a little 2007, but there's evidence these investment vehicles are coming back in vogue. Start with a shirt that says "security" in front. If you're handy, you can then turn a small backpack into a "house" and wear that around. If not, just write "mortgage" on your back, and you're done.
9. Gross domestic product. Just wear a "Made in America" t-shirt covered in dirt and fake blood.
10. Dogs of the Dow (group costume). Grab up to ten of your friends and dress as dogs. Wear tags with ticker symbols for each of the current Dogs of the Dow.
11. Distressed securities. Similar to #8, start with a shirt that reads "securities," then layer on some dramatic makeup, to make yourself look, well, distressed.
12. Naked position & hedge (couples costume). This idea is pretty inside-baseball, but will be a fun challenge for your finance-savvy friends to guess at. The person dressed as the "naked position" can wear flesh-toned spandex, while his or her partner dresses like a hedge, as in shrubbery. Here are DIY instructions.
13. Spider / SPDR fund family (group costume). This one is pretty easy, since instructions for homemade spider costumes abound. You could go as a solo arachnid, with "ETF" painted across your chest, but dressing up is always more fun with friends. In a group you can each represent different funds; for example, the gold fund spider can wear a big gold chain and the ticker symbol GLD, and the high-yield bond spider can glue candy wrappers and bits of tinfoil all over himself and wear a sign that says JNK.