Why Americans Have Gotten a Lot Less Happy Over the Past Decade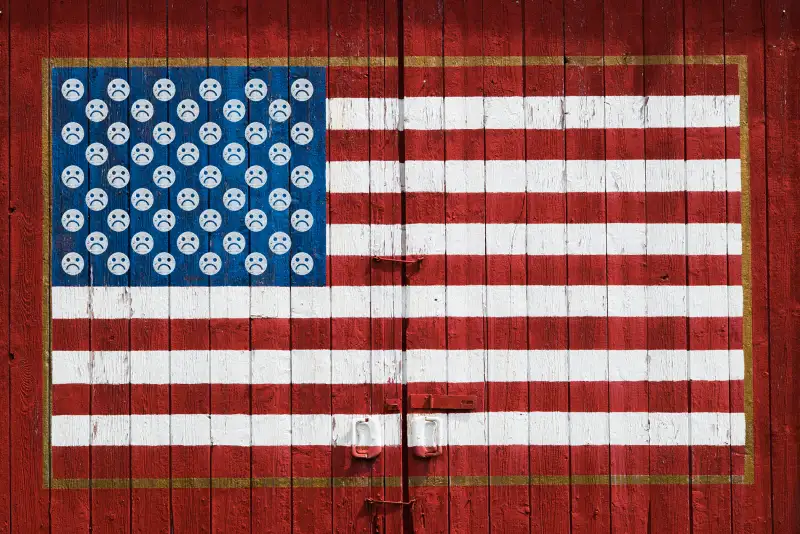 Photo illustration by Sarina Finkelstein for Money; Getty Images (1)
People in the United States are less happy than they were a decade ago, a new global study finds. We don't even rank in the top 10 happiest countries.
The new World Happiness Report 2016, released just before UN World Happiness Day on the 20th, determined that the United States came in 13th in a ranking of countries as measured by happiness. The report's happiness index uses a seven-point scale to measure each country that includes GDP, social support, healthy life expectancy, the freedom to make choices in life, generosity, and the perception of corruption, as well as a "dystopia" score.
While 13th isn't bad, relatively speaking, another measure puts this into perspective by noting that the U.S. happiness level dropped sharply over roughly a decade. In a list of 126 countries, with No. 126 the economically troubled Greece, the U.S. came in 93rd, indicating that we're much less happy since an earlier measurement taken between 2005 and 2007.
What's more, the U.S. doesn't just have income inequality: It has happiness inequality, too. The report found that the gap between the most and least-happy Americans was significant: We came in 85th out of 157 countries
"There is a very strong message for my country, the United States, which is very rich, has gotten a lot richer over the last 50 years, but has gotten no happier," Jeffrey Sachs, head of the Sustainable Development Solutions Network, which developed the report, told Reuters. "The message for the United States is clear. For a society that just chases money, we are chasing the wrong things. Our social fabric is deteriorating, social trust is deteriorating, faith in government is deteriorating."