The Senate Health Care Bill Could Lead to More Personal Bankruptcies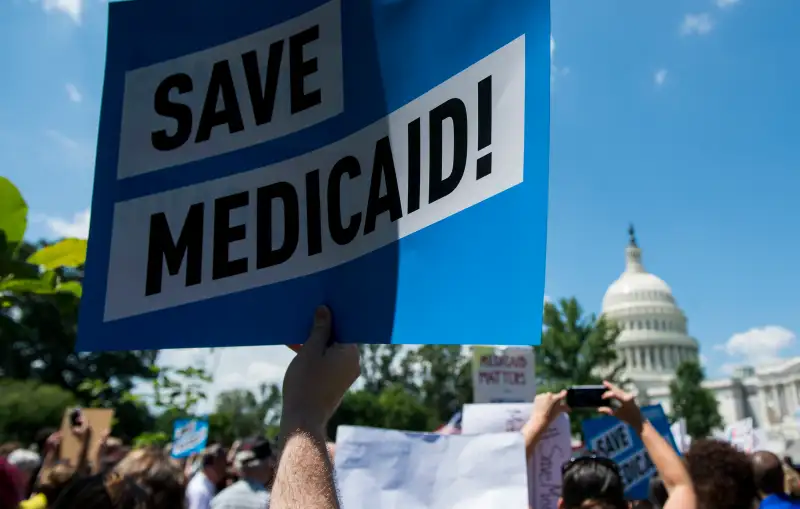 Bill Clark—CQ-Roll Call,Inc.
The revised health care bill drafted behind closed doors by Senate Republicans includes massive cuts to Medicaid that would leave 15 million fewer people enrolled in the program by 2026, according to the Congressional Budget Report released Monday.
Those drastic cuts could result in more personal bankruptcy filings from Americans, reversing course from a decrease after the Affordable Care Act was implemented, health care and bankruptcy experts said.
Unpaid and costly medical bills are a significant contributor in the decision to file for bankruptcy, experts said. And even if the finanical distress from being uninsured doesn't send someone into bankruptcy, high and sometimes unexpected medical costs can still send Americans into a lot of debt.
"The evidence here is to the point where it feels like a pretty robust fact," said Matthew Notowidigdo, an associated professor of economics at Northwestern University who specializes in health and labor economics.
"If you were to roll back the Medicaid expansion, that's going to lead to more bankruptcies," he added.
The largest single health insurer in the U.S., Medicaid covers 74 million low-income Americans — about a fifth of the entire country that includes predominantly low-income adults, children, elderly people receiving long-term care and people with special needs.
Former President Obama's signature health care law, which Republican lawmakers have aimed to dismantle since its inception, included hefty Medicaid expansions through the use of federal funding and other measures.
The number of personal bankruptcy filings fell from 1,536,799 in 2010 to 770,846 in 2016 — in part due to Medicaid expansion. But the new Senate bill, called the Better Care Reconciliation Act, proposes phasing out federal contribution to Medicaid for states, which under the ACA was used as an incentive for states to have Medicaid cover more Americans. The bill also would lower the annual income limit for subsidies.
Personal bankruptcy offers a remedy for indebtedness—but not a long-term one. While there is no definitive estimate on how many filings come as a result of predominately high medical costs, it is a "significant reason" why consumers may file for personal bankruptcy, said Lois Lupica, a bankruptcy expert and Maine Law Foundation Professor of Law at the University of Maine School of Law.
"It seems absurd that we're using the statutory benefit of debt discharge rather than using a statutory benefit of health insurance, because the people who get sick and defer preventative medicine are going to be sicker," Lupica said.
The CBO score of the revised bill notes that 16% fewer Americans under the age of 65 would be insured through Medicaid if the bill becomes law. In total, the CBO estimates 22 million fewer Americans would be insured in 2026 than those would if the current law stayed in place. The cuts to Medicaid would reduce federal spending on the program by $772 billion by 2026.
"This will make a hugely negative impact on many American lives," Lupica said. "It's scary. If it ever gets to the point where it's law, it will have ripple effects throughout the economy."
One of those effects could land on hospitals, which are often hit with extra costs to cover when medical bills go unpaid. Emergency rooms will not turn away uninsured patients, but prices can quickly reach thousands of dollars just from one visit, both Lupica and Notowidigdo said.
Before the CBO score was released Monday afternoon, the National Association of Medicaid Directors, a bipartisan group of directors of state Medicaid programs, came out against the federal spending cuts Monday, calling it "insufficient and unworkable."
"No amount of administrative or regulatory flexibility can compensate for the federal spending reductions that would occur as a result of this bill," the group said.