Meet Iceland's Soccer Coach, a Part-Time Dentist Who Led the Team to Its First-Ever World Cup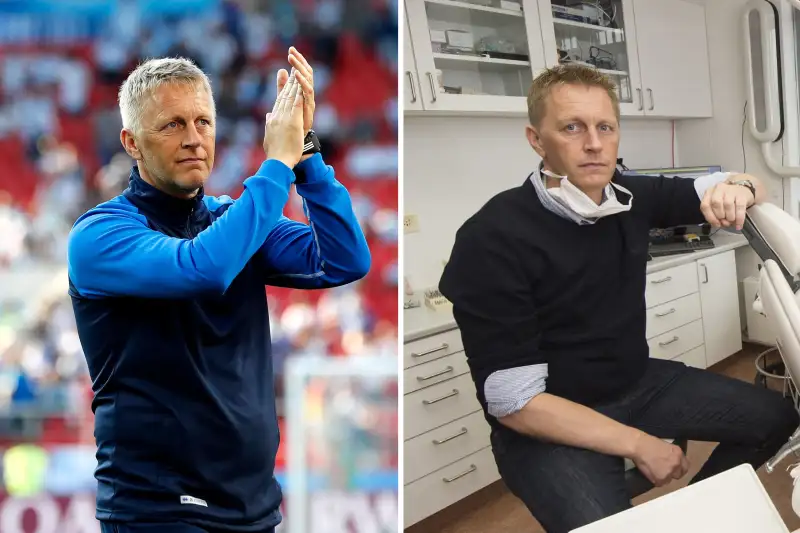 Iceland's national soccer team, the beloved underdogs of the 2018 FIFA World Cup, has an eclectic coach known for his widespread fanbase — and teeth cleaning.
Heimir Hallgrímsson has led Iceland's national soccer team to its first-ever World Cup this year. And when he's not coaching, Hallgrímsson works part time as as a dentist and sometimes dresses up as an Icelandic troll during Christmastime in his hometown. (He couldn't wear the costume for the mythological creature Gryla this past year, however, as he was out of the country with his team, according to the New York Times.)
Hallgrímsson, 51, helped push Iceland through an exciting 2016 European Championship appearance — another first for the nordic country. Iceland stunned Argentina, 2014's runner-up, with a 1-1 tie in its 2018 World Cup debut.
Here's what to know about Hallgrímsson ahead of Iceland's second World Cup match on Friday — this time against Nigeria. Depending on how that match goes, Iceland could set itself up for a possible shot at advancing to the elimination rounds, thanks in part to Argentina's disastrous loss to Croatia earlier this week.
Hallgrímsson is the first coach to lead Iceland to the World Cup
Felipe Trueba/EPA-EFE/REX/Shutterstock—
With a population of around 350,000, Iceland beat the odds and joined the coveted list of 32 nations participating in the 2018 World Cup. (The United States didn't qualify for the world's most-watched sporting event for the first time in three decades.)
Hallgrímsson became the team's only coach after Iceland's successful run at the European Championship 2016. Before then, Hallgrímsson was co-coach of the team alongside Lars Lagerbäck, who now coaches Norwegian's national team. He also coached both men's and women's youth teams throughout his career.
And he's a dentist
REX/Shutterstock—REX/Shutterstock
It's unlikely that many other national team coaches in the World Cup has this set of skills. Hallgrímsson is a dentist and still practices part-time in Vestmannaeyjar, an archipelago off the coast of Iceland and his hometown.
One benefit of having two gigs? Job security, he told TIME in an interview earlier this year.
"You know the world of football coaches, where you wake up tomorrow and don't have a job?" Hallgrímsson said. "Don't apply to me."
In school, Hallgrímsson was originally interested in studying computer science and becoming a software engineer, according to the New York Times. But his plans changed when he decided to follow his friend into dentistry.
"It's a good way to relax," he told the Times. "Some coaches play golf, shoot reindeer, whatever — everybody has something. But I really enjoy going back home to my clients."
Hallgrímsson reveals his starting line-up at a pub before each game
Thibault Camus/AP/REX/Shutterstock—Thibault Camus/AP/REX/Shutterstock
Several years ago, Hallgrímsson began going to pubs near the Laugardalsvöllur national stadium in Reykjavík before games to draw support, as TIME reported. Now, at Ölver, a pub near Laugardalsvöllur national stadium in Iceland, Hallgrímsson shows fans motivational videos and gives them details about his starting lineup and strategy against that day's opponent, according to Sports Illustrated.
"For seven years I've done it now, and nothing—I repeat, nothing—has leaked on social media, even though the information they are getting is quite huge and is probably sellable," Hallgrímsson told Sports Illustrated. "It wouldn't be possible unless it's a community that trusts each other like here."
He did, however, keep his strategy mum when the team faced Argentina on the 2018 World Cup stage earlier this month.
His hometown honored him with a special beer
Every so often, locals in the town of Vedstmannaeyjar on Heimaey, an island off the coast of Iceland, toast Hallgrímsson with a beer with a label that includes a sketch of the coach, according to CNN.
Hallgrímsson grew up in the town and still practices dentistry there. The Brothers Brewery, located on the islands, first made the pale ale after Iceland's success in Euro 2016, according to the Iceland Review.