Here's How Much More Expensive Being a Cubs Fan is in 2017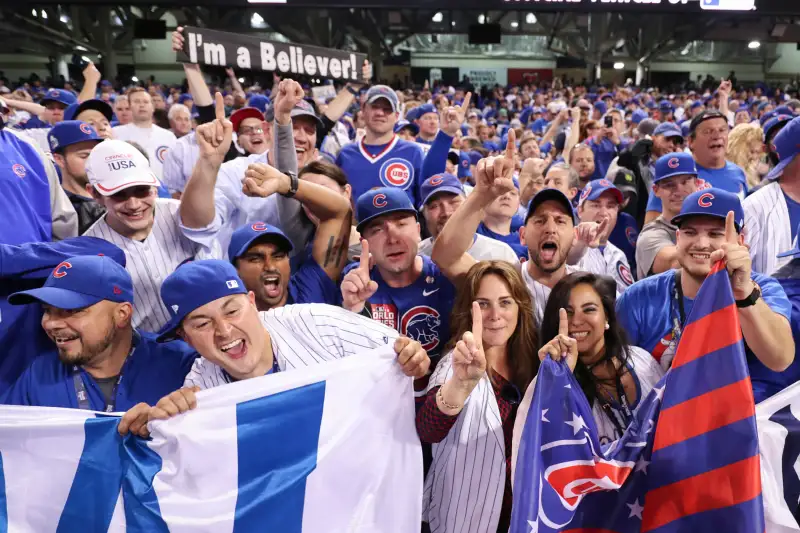 There's a new curse for Chicago Cubs fans. It's called winning.
That original curse never would've happened in 2017. It's not economically possible. Back in 1945, Chicago tavern owner William Sianis paid $7.20 for box seat tickets at Wrigley Field for himself and his pet billy goat. They made it to the 4th inning before getting kicked out—ostensibly because his goat smelled too goaty—which resulted in him making some vague curse-like comment about the Cubs never winning another World Series.
That story is so 20th century Cubs. If Sianis showed up at Wrigley today, he wouldn't even make it through the front gate.
"That'll be $300," they'd tell him at the box office.
"For two tickets?" Sianis would bark back. "What the hell? Am I also getting a foot massage from Joe Maddon?"
"Do you want the tickets or not?"
"Forget it," Sianis would say. "I'd try to curse you, but I'm afraid you'd just charge me a service fee."
That price tag is not meant to be satiric. TickPick, a popular ticket resale site, last week revealed their ranking of the most expensive tickets in baseball, and the Cubs came out on top, with an average ticket price of $150.63. In a distant second place was the New York Yankees with a $106.05-per-ticket price tag. The average face value—not that you'd find a 2017 Cubs ticket for sale for face value anymore—is $58, which is still well over the major-league average of $31 a game.
Even longtime season ticket holders didn't escape the price gouging. When they received renewal invoices this past December, they learned that the average price was going up by 19.5 percent. And that was for the so-so seats. Club box infield tickets are up by 31 percent.
Ticket prices aren't the only way that Cubs fans are being screwed in 2017. Thanks to the always progressive mind of Chicago Mayor Rahm Emanuel, if you're lucky enough to find street parking near Wrigley, it'll now cost you twice as much during Cubs games. Instead of $2 per hour, you'll get to enjoy "surge pricing" during Cubs games, paying $4 for every hour you're eating overpriced hot dogs and hoping for another baseball miracle.
Speaking of food, Wrigley menus are being priced like they just got a Michelin star. In an analysis last year by personal finance website GOBankingRates.com, a pre-World Series Wrigley Field was ranked as the second-most-expensive ballpark in the United States, with an average of $11.50 for two hot dogs and $15.50 for two beers.
Let's just say, hypothetically, that I want to take my 6-year-old son to Wrigley Field this summer as a regular father-and-son thing, like I did with my dad when I was growing up. We'd drive into the city, and my dad wouldn't go anywhere near the liquor stores selling parking spaces for $5, because he thought they were all crooks. Instead, we parked a half dozen blocks away, for free, and walked to the stadium. He paid $6 for a pair of center field seats, and we'd dine on a Roman Banquet of nachos, popcorn, peanuts and hot dogs. The Cubs always lost, sure, but my dad never spent more than $20 at any given game.
Compare that with what you can expect to shell out this season at the friendly confines. Let's crunch the numbers: There are 81 regular season home games.
If I took my son to every game and paid $301.26, the average price for two tickets, and somehow always got one of the coveted 820 street parking spaces near Wrigley, and at every game I only drank the two allotted beers (my 6 year old can find a water fountain), and we'd both be okay with just a single hotdog per game (which of course we wouldn't), and we never bought anything else, including t-shirts, programs, or even a damn pennant, the annual cost for being a loyal Cubs fan and sharing that experience with my son comes to exactly $15,684.03.
That's roughly the same as a year's tuition at a prestigious private elementary school in Chicago.
There is some glimmer of hope. This is the Chicago Cubs we're talking about, so it's not unreasonable to think they'll start losing again. Maybe even losing hard. It happened for another Chicago team. Remember the Chicago White Sox? They were World Series champions in 2005. That was 12 years ago. Things haven't been working out so well for them ever since. Today, according to that same TickPick report which named the Cubs as the most expensive ticket in baseball, the Sox came out at the very bottom, with the least popular and expensive ticket.
You can see a Sox game in 2017 for just $30.26. That's $120 less than what you'll pay for another team, in the same city, just 8 miles to the north, which used to be a much more affordable ticket back when it was still baseball's laughingstock because it once kicked a goat out of its stadium.
The Billy Goat Curse may be gone, but now the Cubs have to deal with the White Sox "apparently you can't be awesome forever" Curse. I don't want my Cubbies to lose. But I also want to go to Wrigley Field without worrying that having a third beer could financially ruin me. I'm willing to wait for it. C'mon, Cubs. Meet me halfway?