How This Tech Giant Is Slimming Down to Grow Faster
Money is not a client of any investment adviser featured on this page. The information provided on this page is for educational purposes only and is not intended as investment advice. Money does not offer advisory services.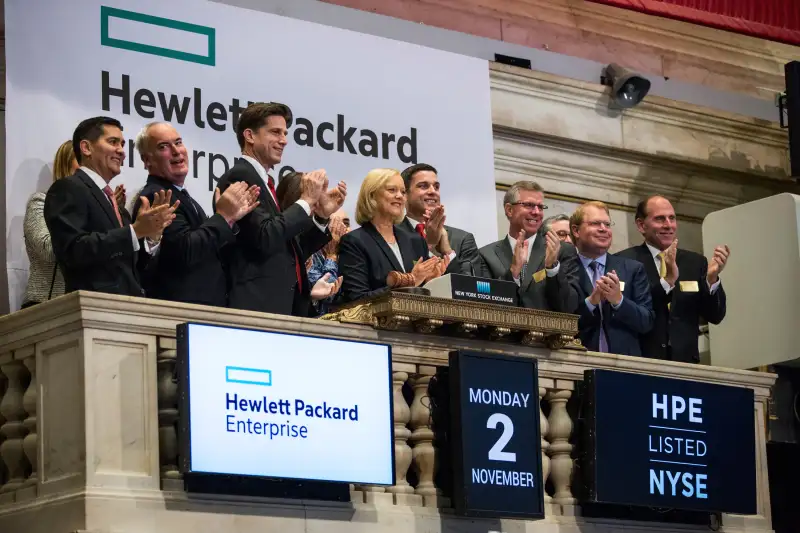 Andrew Burton—Getty Images
Hewlett-Packard, founded in a Palo Alto garage in 1939, was a storied Silicon Valley fixture for more than 60 years. Unfortunately, the last 15 weren't so hot, which is why CEO Meg Whitman split the company in two in 2015, leaving the slow-growing printer-and-computer business to HP Inc. . Hewlett Packard Enterprise got the faster-growing software and service company—and Whitman. She chose wisely, as HPE shares have soared 32% in the past 12 months vs. 3.6% for HPQ. But is HPE nimble and big enough to fight off new competitors and threats?
Fighting Weight
Whitman continues to look for ways to shed legacy businesses.
Six months after parting from HP Inc., Hewlett Packard Enterprise is jettisoning another slow-growing unit. HPE will spin off its enterprise services group—which provides IT assistance to corporations—and then merge it with an outside company.
One thing's for sure: HPE has shown how fast it can boost profits without its printer-and-laptop business weighing it down. Earnings are up 49% over the past 12 months, according to Standard & Poor's. And spinning off enterprise services should help propel growth further, says Angelo Zino, technology analyst for S&P Global Market Intelligence. "It's been a laggard for years," Zino says. With the extra cash from the deal, HPE should be able to shift focus to higher-margin businesses.
Calculator: What is my risk tolerance?
---
Pounded by Brexit?
With big U.K. exposure, HPE shares were hit hard after Britain's EU vote.
In the days following Britain's vote to leave the European Union, HPE shares sank nearly 13%, double the drop for the tech sector. Why? Like the typical tech firm, HPE generates more than half its revenues abroad. But a bigger-than-average 10% comes from the United Kingdom. And the British pound has plunged from $1.48 to $1.32 post-Brexit, which will eat into HPE's U.K. earnings once they are repatriated into dollars.
Read: The Real Reason Warren Buffett Is Loading Up on Apple Stock
On the plus side, the company's British exposure is expected to decline slightly after the spin-off of its enterprise services unit, according to analysts at Jefferies. Moreover, the company hedges some of its currency exposure already. And if the pound and the euro start to recover, HPE's revenues should see a lift.
---
Stiff Competition
After streamlining, the company's giant rivals come into sharper focus.
HPE is a hard stock to judge since no company has the same mix of storage, software, and enterprise technology. But without enterprise services, HPE now goes head-to-head against giants IBM and Microsoft.
While value investors may be enticed by HPE's modest price/earnings ratio of 10—vs. 17 for Microsoft and 11 for IBM—be careful. HPE's rivals are sitting on tons of cash and can afford to dole out much bigger dividends. And even after the Brexit slide, HPE shares have risen three times as much as tech stocks overall. The average HPE analyst has a 12-month target price of $20. The stock is at $19.77 now. So even though the shares look cheap on paper, you may want to wait for another market swoon to buy.
SOURCES: Bloomberg, Morningstar, Jefferies