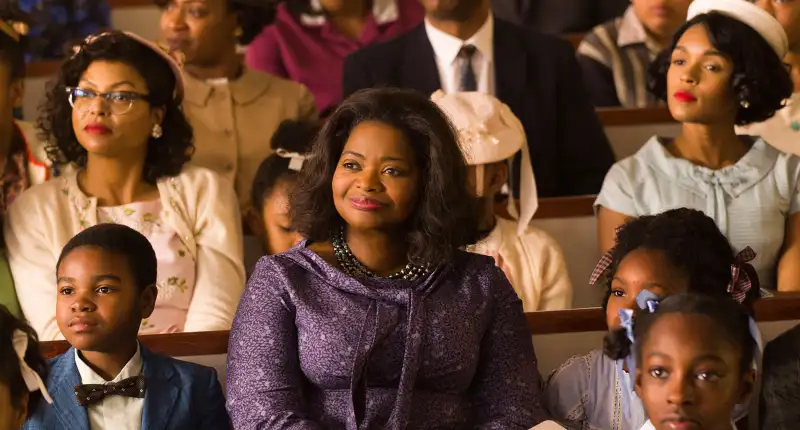 Courtesy of 20th Century Fox
This Sunday, Hidden Figures will vie for Best Picture at the 89th Annual Academy Awards. It's a film that turns the spotlight not only on the forgotten African-American women who were integral to the "space race" in the early 1960s, but the gender and racial discrimination they faced on a daily basis.
But interestingly enough, for all the work Hidden Figures does to educate moviegoers about the segregation black women endured while employed at NASA, the filmmakers largely omit the unfair salary practices experienced primarily by the film's three main protagonists: Katherine Johnson (Taraji P. Henson), Dorothy Vaughan (Octavia Spencer) and Mary Jackson (Janelle Monaé).
When it comes to racial and gender discrimination, the movie doesn't sugarcoat the way Johnson, Vaughan, Jackson and their fellow female African-American colleagues were treated by NASA. They were relegated to segregated bathrooms and dining areas. And in the Jim Crow South (the film is set at the Langley Research Center in Hampton, Virginia), a gaggle of white men thought nothing of making Johnson drink coffee from a separate percolator marked "colored."
(It should be noted that Hidden Figures does take dramatic license with the timeline: By 1961-1962, when the movie takes place, the segregated facilities had already been abolished at NASA, and some of the career barriers the characters were up against were no longer an issue: Vaughan was promoted to supervisor in 1949, and Jackson became NASA's first black female engineer in 1958.)
But what the movie doesn't mention: They were also expected to work for less money than their male counterparts. "A 'girl' could be paid significantly less than a man for doing the same job," writes Margot Lee Shetterly, who wrote the book that the film is based on.
Hidden Figures does a great job documenting how unfairly women of color were treated in the workplace, but it would've been fascinating to learn more about the detriments of taking home salaries that did not match the employee's degree of labor. Unfortunately, we don't know exactly what the pay gap was.
According to a NASA archivist, the pay rates for scientists and engineers in 1962 ranged from $9,475 a year to $12,000 a year. "It seems reasonable to assume that these women engineers were in that range," he told Money in an email.
In the movie's defense, there wasn't much time left over to focus too much on paycheck discrepancies. But it was brought up at times. Case in point: Henson's character, mathematician Katherine Johnson, was a single mother struggling to raise three children on a salary that was determined by the color of her skin. But the only opportunity she had to voice a complaint about her low wages, was to say that "coloreds" weren't paid enough "to afford pearls."
No doubt Johnson, who is quickly established in the film as the smartest person in the room, deserved a string of pearls (and more, for that matter). But her character was someone with far more important things to worry about than jewelry when she had the one chance to call her male superiors on her substandard pay level.