Tom Brady Isn't the Highest-Paid NFL Player by a Long Shot. Here Are the Top 5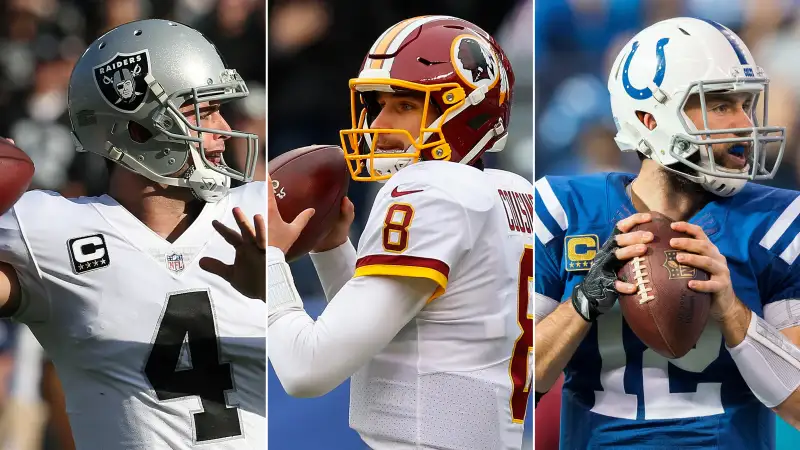 Super Bowl LII will pit the underdog Philadelphia Eagles against the New England Patriots dynasty led by quarterback Tom Brady on Feb. 4.
But it may surprise you that Brady, considered by some to be the greatest quarterback in NFL history, is not among the top 10 highest-paid NFL players, according to NFL salary and contract analysis site Over the Cap. Even more surprising about Brady's absence from the list is that the 16 highest-paid NFL players are also quarterbacks Brady only ranks at No. 15 with an average salary of $20.5 million a year.
The average salary of an NFL player is $2.1 million, according to Forbes, but Brady's salary still ranks far below some of his peers.
So if a five-time Super Bowl-winning quarterback who has never had a losing season in the NFL can't crack the list of highest-paid players, who can? Here's a look at the top 5 NFL players making the most money in 2018.
5) Kirk Cousins, Quarterback — Washington Redskins
Despite leading the Redskins to only one playoff appearance — in 2015 when they lost in the first round Wild Card game to the Green Bay Packers — Kirk Cousins is one of the highest-paid NFL players. He earned $23,943,600 in 2017 — a contract that was 100% guaranteed due to a franchise tag, which binds upcoming free agents to the team for another year, according to Over the Cap.
Cousins' contract is up in 2018, which means he will be a free agent again. And despite not being seen as a marquee quarterback, he is likely to be one of the more desired players at the position in a subpar free agent quarterback market.
4) Drew Brees, Quarterback — New Orleans Saints
Mike Windle—Getty Images for Verizon
Drew Brees is consistently one of the best-performing quarterbacks in the league and his contract reflects that.
He signed a one-year contract extension with the Saints in late 2016, which netted him a 100%-guaranteed salary of $24.25 million, Over the Cap reports. He is also set to become a free agent in 2018, but the Saints might be keen to hold onto their Super Bowl winner, who almost led New Orleans to this year's NFC Championship game before a miraculous last-second win by the Minnesota Vikings.
3) Andrew Luck, Quarterback — Indianapolis Colts
The Colts' franchise quarterback signed a massive six-year deal in 2016, which temporarily made Luck the highest-paid NFL player of all time.
The total deal is worth $122,970,000, with at least $47 million of that guaranteed, according to Over the Cap.
But Luck stands to miss out on some of that money if he can can't stay healthy. The once-promising star did not play a single game in the 2017 season due to a lingering shoulder injury that required surgery.
2) Derek Carr, Quarterback — Oakland Raiders
Thearon W. Henderson—Getty Images
In June 2017, Derek Carr became the one to usurp Luck's status as the highest-paid NFL player of all time, but that status wouldn't last long (more on that later).
Nevertheless, Oakland's 26-year-old franchise QB signed a whopping $125,025,000 contract extension over five years, of which he'll see at least $40 million. It will be interesting to see how Carr makes the most out of that stability under incoming head coach Jon Gruden, who was just made the highest-paid coach in the league with his recent signing.
1) Matthew Stafford, Quarterback — Detroit Lions
Just a couple of months after Carr signed his record-breaking contract, Lions quarterback Matthew Stafford made history with a five-year, $135 million deal that earned him the top spot on the list of highest-paid NFL players. He gets paid $27 million annually — the NFL's highest-ever salary.
Stafford is also guaranteed to make at least $60 million, which is another NFL record.
But despite the major investment in Stafford, the Detroit Lions could not manage to make the playoffs this season.