After Matt Lauer's Firing, 2 of the 3 Highest-Paid TV Anchors Are Women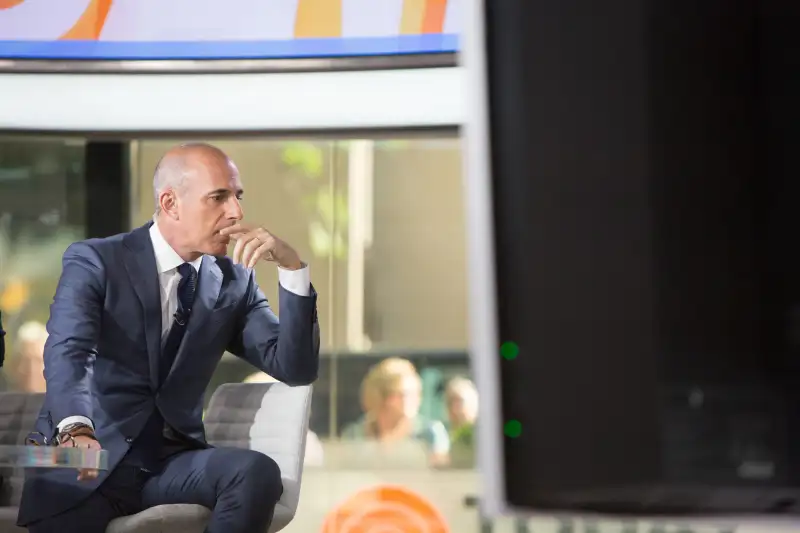 NBC—NBCU Photo Bank via Getty Images
Longtime Today Show host Matt Lauer was ousted from his coveted role Wednesday following allegations of sexual misconduct.
Amid a growing movement that holds powerful men accountable for instances of sexual harassment and assault, Lauer's dismissal means two women now rank within the top three highest-paid television anchor positions.
Robin Roberts and Megyn Kelly, who work for ABC and NBC, respectively, join Fox News's Sean Hannity as the top three highest-earning television news anchors. Hannity is the highest-earning TV news anchor by a mile, making twice as much as Roberts and Kelly, who are the second- and third-highest earning anchors.
That ranking has shifted significantly in recent years, with Lauer's ouster and that of former Fox News anchor Bill O'Reilly, who still earned $37 million in 2017 despite his dismissal, according to Forbes. Lauer had earned $20 million for his Today show position, though Forbes and Variety have estimated it to be closer to $25 million.
While Kelly and Roberts are paving the way for high-earning women in media, a number of male news anchors follow close behind them, including ABC's George Stephanopoulos, who earns $15 million, and CNN's Anderson Cooper, who earns $12 million, according to Variety.
But with Lauer's ouster, here's how Hannity, Roberts and Kelly stack up.
Sean Hannity: $36 million
Paul Zimmerman—Getty Images
Despite consistently slamming fellow TV anchors as "overpaid" elites, Hannity is the television's highest earning news anchor. The Fox News host earned a stunning $36 million between June 1, 2016 and June 1, 2017, according to Forbes. That's up several million from recent years, when Hannity earned closer to $29 million.
Hannity hosts his 9 p.m. Fox News Show "Hannity," as well as his talk radio show "The Sean Hannity Show,' which is the second-most listened to commercial radio show in the country.
Hannity has the top-rated cable news show in the country, and this year rose to more prominence within the Fox News world with the significant departures of Kelly and O'Reilly. In recent weeks, the anchor spoke with Roy Moore, the embattled Republican Alabama U.S. senate candidate accused of sexual misconduct with underage girls, in a controversial interview.
Robin Roberts: $18 million
Roberts, who has co-anchored ABC's Good Morning America since 2005, earns $18 million, according to Forbes. In her time at ABC, Roberts led her team to win four Emmy Awards for Outstanding Morning Program, as well as the 2017 People's Choice Award for Favorite Daytime TV Hosting Team.
Roberts herself holds a number of titles, including her induction to the Broadcasting & Cable Hall of Fame, as well as her Walter Cronkite Award for Excellence in Journalism.
In 2007, Roberts was diagnosed with breast cancer and was later diagnosed with Myelodysplastic syndrome (MDS). In 2012, she underwent a bone marrow transplant, in which her sister was the donor. Roberts has since worked significantly to promote cancer research, recently with a five-part web series she created with WebMD.
Megyn Kelly: $15 million to $20 million
NBC—NBCU Photo Bank via Getty Images
Once a Fox News anchor herself, Kelly moved to NBC this year in a move that shocked viewers. With Lauer's ouster, Kelly is now also the highest-earning NBC host.
While her exact earnings from NBC have been disputed, her salary likely ranges from $15 million to $20 million, according to several media outlets. Though Fox News had offered her $20 million to stay with the network, NBC offered Kelly somewhere between $15 million and $20 million. According to Variety, Kelly ties with Roberts with an $18 million salary.
Kelly has received mixed reviews since her switch to NBC, where she hosted a Sunday night newsmagazine show called Sunday Night with Megyn Kelly over the summer and now hosts in the mornings with Megyn Kelly Today.